In the modern era, solar lanterns are more than just practical. They're a staple of a warm environment, and an elegant model is sure to add a perfectly comfortable ambiance to any outdoor setting.
The best solar powered lanterns are also pivotal in emergencies. The first thing that breaks down is electricity, so solar-powered lanterns are indispensable for survival even today. A solar lantern that can be charged outdoors and then brought indoors for nighttime illumination is a powerful tool for emergency preparations.
One of the most popular options for lanterns is solar-powered models. They need no outlets to charge, and they shine in the wake of the most detrimental disasters, giving life-sustaining light and beauty to all those who need it.
We tested and reviewed the best solar powered lanterns so you can get your hands on an age-old tradition of beauty and safety. 
Our Top Picks
|   | Product | Details   |   |
| --- | --- | --- | --- |
| | Best For Emergencies: LuminAID Solar Inflatable Lanterns | This lightest solar lantern collapses flat with a solar panel on top for charging. It can charge through the solar panel or the USB charger and can output 75 lumens. The light shines up to 24 hours on a full charge. It's our favorite solar lantern for emergency kits, camping, and bug-out bags. | Check Price |
| | Best Solar Fairy Lights: Solar Mason Jar Lights | These solar lanterns are the perfect combination of otherworldly light and the comforting coziness of mason jars. If your goal is to feel like a down-to-earth fairy, we'd highly recommend these solar lanterns. | Check Price |
| | Best For Outdoor: TomCare Solar Lights | We love the dancing flame appearance of the LED lights in these solar lanterns. The bright LEDs are controlled by a light-sensing automatic on/off switch, and the solar lantern is weatherproof so you can enjoy it in any season. | Check Price |
| | Best For Style: Edison Bulb Outdoor Solar Lanterns | These solar lanterns have the industrial feeling that every Steampunk enthusiast loves, but they will fit with any modern-style home. Whether you want to decorate your exterior with a modern flair or have the sudden urge to live your Victorian fantasy, this is a great choice. | Check Price |
| | Best For Camping: LETMY Camping Lantern | We love that these solar lanterns have so many charging options – solar, USB, and AA batteries. No matter the circumstance, you'll always have light, and considering this is especially made for camping and emergencies alike, the multiple power option is vital. | Check Price |
| | Best For Travel: HISVISION Solar Powered LED Lantern | This collapsible solar lantern leaves more packing space if you're on the road. We love how it has 4 options for lighting intensity, which will allow for longer battery life and lighting needs. What's more, it gives you an option to charge your phone if needed. | Check Price |
How We Chose the Best Lantern
Since solar lanterns have so many potential uses, we had our work cut out to narrow down the list. In the end, we mainly considered the practicality and versatility of the product, the battery life, charging methods, luminosity, and extra features. 
Also, we paid special attention to weather resistance for outdoor lights, such as in conditions like rain, the cold, wind, and so forth.
Another thing that can't escape our attention is the mission behind the company. You rarely find a company like LuminAid that concerns itself with its customers' wellbeing and stands for a worthy cause. The LuminAid solar inflatable lanterns accomplish more than outdoor lighting.
Though practicality was a major facet of our research, we still can't ignore the fact that some people just want something pretty to look at, and that's okay! Indoor and outdoor solar lanterns are centerpieces for many homes, so we considered how they might spruce up your environment.  
Read our related article on the best solar backpacks. Great for survivalists, hikers, photographers, and more these packs are tested for quality!
Best Solar Powered Lanterns Reviewed
1. Best Overall: LuminAID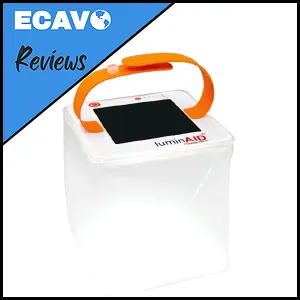 Product Ratings
| | |
| --- | --- |
| Affordability  | 4/5 |
| Battery Life | 4/5 |
| Luminosity | 5/5 |
| Quality | 4/5 |
| Weather Resistance | 4/5 |
Sizes: 4.75″ x 4.75″ x 4.75″ – 6" x 6" x 6" | Lumens: 75 | Brand: LuminAid | Color: White, Red (Titan Model), Flame Flicker (Firefly Model) | Features: SOS Light, Collapsible Design | Battery: 1000 mAh 
What We Liked
SOS blinking feature
Completely collapsible 
Very lightweight 
Maximum battery life of 24 hours
Two charging methods 
Quick USB charging time (1-2 hours)
2-year warranty
What We Didn't Like
The material feels pretty delicate
Cannot be charged anywhere but outdoors
The first time this solar lantern got the press it deserved was on the hit TV show, Shark Tank, and it was so popular amongst the investing moguls that a "shark fight" ensued. 
After the episode, the entrepreneurs with the help of Mark Cuban have put in massive efforts to support disaster relief, so if you want a product that works in casual and emergency situations while supporting a company that really stands for something, make sure to check this out!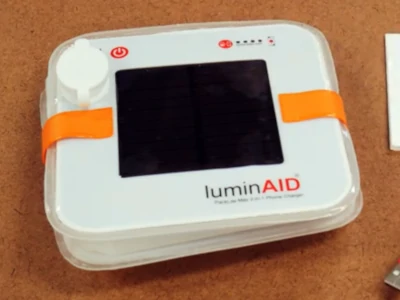 Longevity
These solar-powered lanterns have up to 75 lumens of output, depending on the mode and the amount of charge in the battery. The LEDs are bright, predictable, and have 9 color settings. The color that you choose will change the battery runtime.
Despite having a delicate-feeling material, it holds up to use without breaking, so the solar lantern itself should last you a long time. It might not be perfect, but during times of emergency or great need, its sturdy build, bright light, and consistently long life should get you through a hard time.
We take this solar-powered lantern on camping trips which takes a lot of wear and tear and keeps working. We have several more in our bug-out bags and emergency kits which we keep in pristine condition so they'll work perfectly when we need them. They've never let us down.
Power Source
The way you charge something and your options are important when judging the quality of a solar lantern. Solar-powered lanterns are great, but if there's enough cloud coverage or if the solar panel doesn't get enough sun, you're pretty much stuck.
This is an inconvenience for decorative lights, but it's more important for an emergency or camping solar lantern. 
LuminAID has two charging methods: solar and USB. It's also important to notice the charging time between these two options, as they greatly affect your strategy. The solar panel charging method takes 10 hours of direct sunlight while the USB will be done in roughly 1-2 hours. 
Extra Features
Different solar lanterns have different purposes, so the extra features they have should be judged on how they're used. Of course, LuminAID is made for disasters or camping. In the case of a disaster, the SOS spotlight blinking feature could be a potential life-saver, and their red light mode saves power if you're using them over a long period of time. 
If your solar lantern doesn't stand up to what you need it to, there is a two-year warranty on the product. 
See Price on Amazon
---
2. Best for Indoor: Solar Mason Jar Lights
Product Ratings
| | |
| --- | --- |
| Affordability  | 4/5 |
| Battery Life | 4/5 |
| Luminosity | 3/5 |
| Quality | 5/5 |
| Weather Resistance | 2/5 |
Size: 13.5 cm tall 8.5 cm diameter | Lumens: 43 | Brand: Aubasic | Color: Yellow | Features: 2 Ways To Charge, 3 or 4 Year Warranty| Battery: 1 AAA (included)
What We Liked
Multiple, soft LED's
Compact jar light
Set of four
2-way charging
Battery included
What We Didn't Like
Glass jar could shatter
Not bright enough to use in place of other lighting
Cap can rust outdoors
You can look at this product as basically a string of fairy lights put into a jar with solar power banks. The kind of aesthetic they bring to your home is very popular at the moment, so getting this for yourself or someone else will help give any space a facelift.
This little solar light works reliably and looks beautiful, so we recommend it to anyone who wants to take their decor to the next level without spending a bundle or fussing with light installation.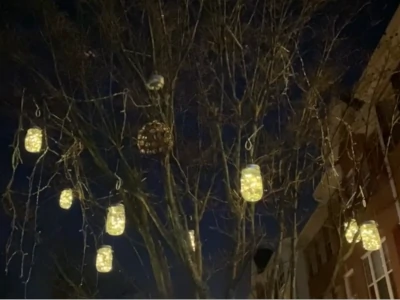 Longevity
These have comparable longevity to normal LED fairy lights, so they're basically going to last forever without any dimming. We noticed they gave an amazing glow no matter the amount of time we used them. Don't expect them to glow too brightly, but they are likely to glow all night as long as they're sufficiently charged during the day.
Our only complaint is that we noticed slight rusting of the rings and handles after a season outdoors. We recommend keeping this solar light under cover away from the elements or only bringing them out with you when you need them. 
Power Source
Like many of these solar-powered options, there is more than one power source. You can use the included battery or charge it with the solar panel. Keep this decorative lantern in direct sunlight during the day if you keep it indoors. Low E glass will keep it from charging very well, so it does best when charging outdoors in direct sunlight.
Once you get it charged, though, it has a long battery life! You're probably not even going to need the full 8-12 hours of power. Charging it to full capacity from empty will take about 4-6 hours.
Extra Features
One of the things we used a lot was the hanging feature. Hang them up anywhere to create floating light and live your fairytale fantasy! We bring our fairy light lantern inside during power outages to give our home a comforting glow.
Because they are a mason jar build, they are 100% waterproof but don't rely on this feature if they're out in a rainstorm. They're still prone to rust in wet conditions.
If you're not sure about buying these solar lights, just remember there's a 3 and 4-year warranty. Even if you're not impressed or if it breaks somehow (the jar is glass, after all), you can get your money back.
See Price on Amazon
---
3. Best for Outdoor: TomCare Solar Lights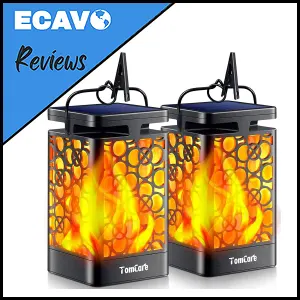 Product Ratings
| | |
| --- | --- |
| Affordability  | 3/5 |
| Battery Life | 3/5 |
| Luminosity | 3/5 |
| Quality | 4/5 |
| Weather Resistance | 5/5 |
Sizes: 3.74" x 3.74" x 6.7" | Lumens: 35 | Brand: TomCare | Color: Yellow | Features: Waterproof, Frost and Heat Resistant | Battery: 2200mAh 
What We Like:
Flame flicker effect
Waterproof 
Heat and frost resistant
Easy installation 
What We Didn't Like:
Sometimes tricky to get it to work
Major difference between runtimes during winter and summer
Must have direct sunlight
We love all of this company's solar lanterns, but for the sake of review, we narrowed it down to the more budget-friendly option. The flame effect helps give a warm feeling to your outdoor space, and we think these solar lanterns are ideal for creating the right atmosphere for your next outdoor activity.
We use them when camping as well to get that outdoorsy flicker of firelight around the campsite with no risk of starting a wildfire. They charge in the sunlight all day, then give us decorative lighting at night that is less blinding than kerosene lamps.
So, while these lanterns are perfect for ambient lighting, we think they deserve inclusion on your outdoor adventures.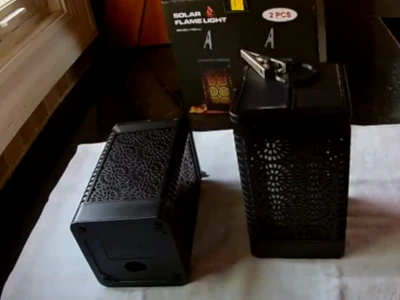 Longevity
These sure are tough little solar lanterns! They take a lot of damage from the elements before they give up the ghost. They're waterproof but frost and heat resistant, so don't expect them to weather a bitter winter or a scorching summer.
As far as the battery goes, you'll get a lot of backyard use out of it before it dies…in some seasons. During the winter the light shines for half the amount of time that it does during the summer (summer is 10 hours while winter is 5).
This is due to the charging limitations of lithium-ion batteries which decrease in cold weather, regardless of the placement of the solar cell.
Power Source
Unlike the other items in this article, this does not have more than one power source. The only source of energy comes from the solar panels, and these have to be left out in direct sunlight. If it's overcast or in too much shade, the solar lantern might not work. 
That being said, the battery makes up for it. Once it's charged, it will last a long time. The light isn't super bright. As with many solar hanging lanterns, it is meant to be an accent piece only. 
Extra Features
The flame effect really helps set the mood for any evening. It also has an auto switch, so when it's nighttime, it automatically powers up and turns itself off during the day. 
This solar lantern comes with a heavy-duty clamp and ring included so you can hang it in the perfect place. We tested these by hanging them on the porch where our guests enter, in the garden, and around our barbecue to add a little extra light without ruining the mood.
See Price on Amazon
---
4. Best for Outdoor Runner-Up: Edison Bulb Outdoor Solar Lanterns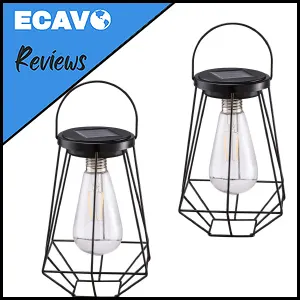 Product Ratings
| | |
| --- | --- |
| Affordability  | 3/5 |
| Battery Life | 3/5 |
| Luminosity | 3/5 |
| Quality | 3/5 |
| Weather Resistance | 5/5 |
Sizes: 11' x 5" x 5" | Lumens: 6 | Brand: SUNWIND | Color: White | Features: Not dimmable, weather resistant, portable| Battery: 1 AA (included) 
What We Like: 
100% portability
Weather resistant so they can be used most of the year
30-day money back guarantee
What We Didn't Like:
Some had a shorter battery life than others we tested
The picture shows a more orange-yellow light than it has in real life, which is a nice soft white. It's a very pretty ornament and practical light. There are some issues with the quality of construction in some cases, but those are fairly rare. The ones we bought to test were excellent quality lights.
We used them as a tabletop lantern, a solar-powered camping lantern, and backyard lighting. This lantern looked beautiful and was practical in every setting.
Longevity
We noticed that not every light was one of the best solar lanterns. Most came in perfect condition and worked for a while, but we just think the product itself would have lasted longer. We felt like, while most of them were great, some were disappointing. 
We read some reviews before we tested this that said the product was poorly assembled and that the battery connection wasn't working because of loose assembly. 
We didn't get much of that with the ones we tested, but it is a possibility. They are very lightweight decorative lanterns so we added a zip tie to ones we mounted on our trees to keep them from blowing away in a gale.
Power Source
This is another product that can only be charged by the sun's power, so keep it in direct sunlight if you want it to work. Because some people suffered poor battery connection, there are reports of the device not charging during the day. 
Our best advice is to watch for malfunctions within the first 30 days, and if it stops working, take advantage of that money-back guarantee. 
Extra Features
If you use this hanging lantern, it should stand up to a lot of environmental stress, as these solar lights are all-weather resistant. They're pretty tough, but you might want to bring them inside during extreme weather.
The good news is that these are completely portable! Even if you want your solar lantern with you on the go, its design will allow you to bring it anywhere. All solar lanterns are ultimately portable, but this one does it with exceptional style.
See Price on Amazon
---
5. Best for Camping: LETMY Camping Lantern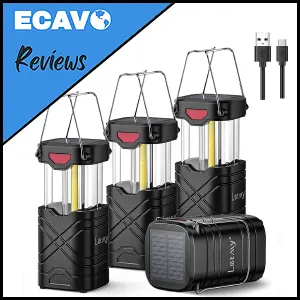 Product Ratings
| | |
| --- | --- |
| Affordability  | 3/5 |
| Battery Life | 2/5 |
| Luminosity | 5/5 |
| Quality | 3/5 |
| Weather Resistance | 5/5 |
Sizes: 13.5 cm tall 8.5 cm diameter | Lumens: 600 | Brand: LETMY | Color: White | Features: Collapsible, Water Resistant| Battery: 3 AAA (not included)
What We Liked
3 charging options
Collapsible hard-case design which is robust
360-degree lighting
Handles for hanging and carrying
What We Didn't Like
A little clunky compared to other collapsible designs
No way to reduce the blinding brightness
This thing will completely light up your world. Its light is very powerful – almost blinding. It's pretty lightweight considering the capability, but it's still over 2.5 pounds. That might not seem like a lot, but it adds up when you're lugging it around. That being said, it's great for short travel or just to put down at your campsite.
Longevity
The battery life for this lantern is somewhat short for the kind of product it is. We've seen better run times, and you can't reduce the brightness to save energy if you need to. Just like the HISVISION lantern, use this sparingly.
The quality of this product, however, is pretty good. but that comes with a weight trade-off, as we've discussed earlier. 
The battery should last you an incredibly long time, up to 12 hours, so even if the product doesn't hold up to the product description, it should still last you as long as you need. 
Power Source
This has three ways to charge – USB, new batteries, and solar panel. This means you can charge via USB before you leave, put it outside during the day to charge, and, if all else fails, you can grab some extra AAA batteries and change the old ones out. 
Its rechargeable batteries should be AAA, but they don't come included. Make sure to factor that into the price before you click buy.
Extra Features
We're all about safety here, so we love the SOS blinking option. With the powerful 600 lumens it puts out, someone's bound to see you if there's an emergency. Such a great combination!
The light is 360 degrees, which is nice if you want to share the light. Sadly, there is no way to turn down the brightness, so when you're using it, be careful to not look directly at the light.
It's completely collapsible and has handles. This would be incredibly convenient if you want to take it with you on the trail, just in case you're in the dark. We've seen some clever people post pictures of them securing it to their backpack straps, and now we are collectively chastising ourselves for not thinking about that first.
See Price on Amazon
---
6. Best for Travel: HISVISION Solar Powered LED Lantern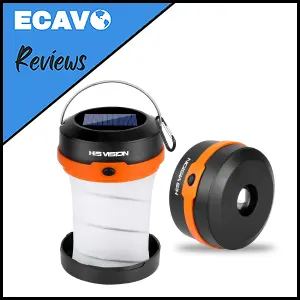 Product Ratings
| | |
| --- | --- |
| Affordability  | 5/5 |
| Battery Life | 1/5 |
| Luminosity | 4/5 |
| Quality | 4/5 |
| Weather Resistance | 4/5 |
Sizes: 4.25" x 3.62" x 2.48" | Lumens: 400 (brightest) | Brand: HISVISION | Color: White | Features: 2 ways to charge, foldable | Battery: rechargable
What We Liked
Two charging options
Completely collapsible design
Four lighting modes
What We Didn't Like
Some reports of limited use
No low-power warning
Though the design of this solar-powered lantern feels a little flimsy at times because of the fabric-like cage, it held up well during our testing. The designers really thought of every situation you could be using this, and they designed this LED lantern to preserve battery life.
We wish we could change some features, but this is all around the best option for the traveler.
Longevity
Since the battery is enclosed and we can't get a peek at it, we don't necessarily know exactly how long this will last, but it's still going! We haven't noticed any glaring problems with weather resistance, so it should stand up to solar camping for a long time.
Our main complaint is that when the battery is low the solar lantern will simply stop working, which can be a big surprise. We wish there was a low-battery indicator on the built-in solar panels so we can charge it before it dies.
We recommend carrying a small backup flashlight with this solar lantern because even though the battery capacity is good, you never know when the battery will go out.
Speaking of flashlights, check out our review of the TOP 4 BEST Solar Flashlights For Emergency Use!
Power Source
It has two ways to charge – USB and solar, so there will always be a way to power it up. Remember to put it in direct sunlight. There's no telling how much energy, solar or otherwise, this thing holds because there are no specs on what kind of battery it has. 
However, the type of battery is powerful because it glows really bright at its brightest. You'll have no problem seeing as you're settling into your tent.
Extra Features
There are a couple of things we loved about this product. First, the collapsible design is convenient. You can shove it in the bottom of your bag and take it with you wherever. It's also lightweight, so you can carry it with you easily without feeling the extra load. 
If you're worried about the battery life, there's good news. The lantern has four lighting modes, so you can choose a low-power option. No matter what lighting you need, this lantern's got you covered.
See Price on Amazon
---
Comparison Chart
| | | | | | | |
| --- | --- | --- | --- | --- | --- | --- |
| Product  | LuminAID | Mason Jar | TomCare | Edison | LETMY | HISVISION |
| Affordability | 4/5 | 4/5 | 3/5 | 3/5 | 3/5 | 5/5 |
| Battery | 4/5 | 4/5 | 3/5 | 3/5 | 2/5 | 1/5 |
| Luminosity | 5/5 | 3/5 | 3/5 | 3/5 | 5/5 | 4/5 |
| Quality | 4/5 | 5/5 | 4/5 | 3/5 | 3/5 | 4/5 |
| Weather Resistance | 4/5 | 2/5 | 5/5 | 5/5 | 5/5 | 4/5 |
The Winner
LuminAID had the most persistently high score during all of our testing. Even with its potential flaws, this lantern still reigns supreme for its usefulness and quality. They apply a portion of each purchase to humanitarian aid, so this purchase keeps you safe and helps someone else in need. 
We think those Sharks were pretty bright for fighting over such a high-quality lantern! 
How to Choose Your Best Solar Lantern
Not everyone is looking for practicality, and likewise, others might not care about decoration. If you're not sold on LuminAID or just want a little more information about how to best make a choice, here are a few questions you can ask yourself. 
Where Are You Putting the Solar Lantern?
This is a pretty simple question, but it's something that's often overlooked. Plenty of solar lamps say that they can be used outdoors, but be careful to see if they can stand up to the punishment of your particular environment. 
You might think the lamp can be outside because the product description says so, but it begins to rust or break down the second you take it outside. 
Likewise, if something says it can be used indoors, the product might not catch enough sun to glow at night. The placement of the lamp will not only be affected by the elements but also by the amount of light it gets during the day. Pay attention to the reviews and note what's worked for other people.
What Are My Weather Conditions?
Weather is especially important if you're keeping a lamp outside. Some simply can't stand up to certain temperatures or levels of precipitation. For example, the mason jar lights say they're weather-proof, but they tend to rust or tarnish with the rain. This would point toward keeping them inside or under complete cover. 
If you don't want to carry a flashlight everywhere but want something outdoors a lot, consider a camping lantern. Most outdoor camping lights won't have a problem with the weather, but the sun can greatly affect them. The more power a light needs, the more sun it needs to get to charge, so be careful with that. 
Is This for an Emergency?
Emergency lamps should be used sparingly because, as we've seen, some tend to only be able to be used for a short time. It is better to keep camping lanterns for camping and emergency lanterns tucked away, so they're in pristine condition when you need them.
Think ahead before you invest in just one, and remember that you shouldn't put all of your faith in one product. It's always better to have redundancy of lighting options. Redundancy can be anything from backup candles to an extra lamp or two. 
It's a common thread of advice from disaster experts to have some source of light and heat, so candles or a tinderbox is a good addition to a comprehensive survival plan. Be safe out there! 
What Do I Need to See with the Lantern?
If you're using a decorative solar lantern to set the mood of a relaxing evening, a solar lantern with a lower lumen output is perfect, but if you need it for work or camping, the best outdoor solar lanterns have a high lumen output. 
We read a review on the HISVISION solar lanterns from a construction worker who used the product to light up an emergency with their equipment. This particular accident could cause serious injury if left alone or dealt with improperly as they tried to fix it. 
It burned bright for enough time to get themselves out of the mess, so luckily everyone got out safe. 
The lesson: really think about why you're purchasing an outdoor solar lantern and pay attention to how long the batteries last with various light settings. The last thing you want is to be stuck in the middle of nowhere in an emergency with low visibility.
How long do I need the power to last?
The harder the lamp works, the more quickly it tires out. If a lamp has options for different intensities or burns consistently bright, it will use up more power. Usually, the decorative lamps don't have that kind of problem, but a solar camping lantern and other solar lanterns just might. 
It's prudent to know how much power a solar lantern is draining, and we can estimate how much power it's using through lumens, the measurement of brightness. The more lumens a solar lantern emits, the more watts it uses, and the more watts it uses, the more power it drains. 
Below is a chart for reference so you can guess how much power your solar lantern will use to generate a certain number of lumens. 
5 lm = .08 W
15 lm = .25 W
30 lm = .5 W
50 lm = .8 w
Typically, the ideal number of lumens for a decorative solar lamp is 5 lumens and 40 lumens for a practical and sufficiently bright solar camping lantern. Before you buy your solar lantern, consider how long it should last.