Flashlights are the number one thing that all emergency kits have. Every emergency kit could be improved by a solar flashlight.
When your phone flashlight has already died or you're trying to conserve your phone's battery in a power outage, a solar flashlight can provide unlimited light as long as you remember to charge it up in the sun. What's more, some models can even act as their own solar power bank, getting you back online as quickly as possible.
Solar flashlights are also often bright, waterproof and reliable, three essential features for any flashlight. With these abilities and more, solar flashlights are useful in more ways than one.
6 Best Solar Flashlights
Light Output: 268 lumens
Backup Charge: USB backup
The High Points: Includes car safety tools, can act as solar power bank, many modes, bright
The Not-So: Heavy, just "OK" water resistance
For a flashlight that is a lot more than just a flashlight, the NPET 109 Solar Flashlight is your go-to. It utilizes different light positions and modes to take a simple head flashlight to the next level, expanding the possible situations in which it might be useful. It also comes with a number of safety tools that make it essential to your emergency kit.
Another thing that we love about the NPET T09 Solar Flashlight is that once the flashlight has enough charge to light up, you can start using it as a solar power bank to charge your USB devices, taking the usefulness of this flashlight one step further. It's also super bright, measuring 268 lumens in its brightest mode.
The downside is that all of these features makes the light pretty heavy. It weighs almost a pound and is bulky, so it might not be the best for someone looking for a flashlight to store with them while they're on the go.
What Do Reviewers Say?
Reviewers appreciate the versatility of this light. They say that the side lights can act as solar lanterns and emergency lights. That is especially thanks to the powerful magnet in the flashlight that allows for easy mounting.
The head light's power also makes it very effective.
Reviewers also love the ability to change between modes in order to save power when necessary. They noted that in a situation where run time is key, putting the light in a dimmer mode helps extend battery life.
When that's not the case, they also like to be able to charge devices via the USB connection to the flashlight's power bank.
Features & Considerations
The NPET T09 Solar Flashlight has a number of features that go beyond the simple on and off button. It includes car safety tools. Those include a seat belt cutter and safety hammer to break a car window in case of emergency. In addition, it has a built-in compass on the bottom.
The light's solar panel kit is on the side of the body of the flashlight. It takes up as much space as possible to maximize the panel's efficiency. It also features lights that line the solar panel which can be used as flashing emergency white or red lights.
Despite the many features, the NPET T09 Solar Flashlight does have some downsides. It's relatively heavy and large, meaning that other options are easier to transport.
It also is not waterproof, although it is water-resistant in situations of splashes of water, such as heavy rain.
The brightness, multiple lights and various modes are what make the NPET Solar Flashlight great. The extra features such as the solar power bank, compass and car safety tools are extras that make it our favorite solar flashlight.
Light Output: 100 lumens
Backup Charge: Hand-crank backup
The High Points: Waterproof (submersible), crank backup, efficient charging
The Not-So: Not that bright, limited modes
The Thorfire Solar Flashlight is the polar opposite of the NPET Solar Flashlight in terms of features, which is part of why we also love it. Where the NPET Solar Flashlight is flashy, the Thorfire Solar Flashlight is consistent and durable.
Classic features for an emergency flashlight like a crank backup power source and a flashing SOS mode are the cornerstones of the Thorfire Solar Flashlight's functionality. Just a minute of hard cranking can light up the light in its dimmest mode for an hour.
The Thorfire Solar Flashlight takes classic features and brings them into the modern age by combining them with an efficient solar panel. Just an hour in the sun can also power the Thorfire Solar Flashlight for two hours or more, while means it's easy to prepare the flashlight well ahead of when you need it and have it ready to go for any situation.
What Do Reviewers Say?
Reviewers looking to upgrade their emergency kits and to modernize their standard crank backup flashlights rave about the Thorfire Solar Flashlight. It has all the positives of that standard flashlight, but takes functionality a step farther with the solar panel.
They also noted that for the size of the flashlight, it puts out a decent amount of brightness – 100 lumens – but that if an ultra-bright survival flashlight was what they were looking for, this probably wouldn't be the best choice. Multiple reviewers described it as some variation of a rummage-through-a-dark-room-during-a-hurricane option rather than a rugged outdoor solar light option.
That said, reviewers were still pleased with the build quality of the light. Although it is made of a simple plastic, it is durable and even waterproof.
Features & Considerations
The Thorfire Solar Flashlight comes with three modes: bright, dim and SOS (which is a strobe mode). Users navigate them by clicking the power button multiple times to access each mode.
As reviewers noted, the flashlight is waterproof. It is submersible up to 45 feet, making it one of the most waterproof items in our list.
It is important to note that the light includes just three LED lights (dim mode utilizes one of the LEDs and bright uses all three). Although it can reach 100 lumens, this light is not the brightest one out there.
The flashlight has a maximum charge that it can hold of four hours, which can be achieved by cranking vigorously for 4-5 minutes or by charging it in the sunlight for two hours. Times are estimated based on most efficient cranking and best solar energy conditions.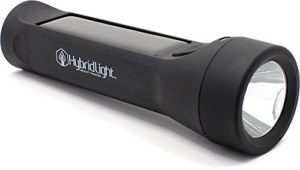 Light Output: 160 lumens
Backup Charge: USB backup
The High Points: Bright, waterproof (submersible), long run time, can act as solar power bank
The Not-So: Limited modes and features
The Hybridlight Journey Flashlight has efficient design down pat. Sleek and modern, this flashlight combines essential features with exceptional functionality, which is what puts it on our list.
In terms of the most important features for a solar flashlight, the Hybridlight Journey Flashlight has it all. It charges fully in 14 hours of sunlight, and you can expect that full battery to last 7 hours in the most demanding setting and up to 25 in the dimmest one. That allows users to make the most of the battery based on their needs.
It's also very bright, shining at 160 lumens in the brightest setting. The modes include: high, low and flashing.
One thing that we love is that to access the flashing mode, you must hold the power button down, which eliminates the need to click through it every time you turn the light on or off.
What Do Reviewers Say?
Reviewers love the well-thought-out design of the Hybridlight Journey Flashlight, citing the waterproofing of the flashlight and the brightness as two of their favorite things. They say that the design is noticeable and makes a big difference in quality in comparison to other lights.
They also note that this flashlight can last much longer than other similar ones, thanks to the option of the low setting which can make the battery last up to 25 hours.
The thing that reviewers love most, though, is the dual function of the light – not only is it a solid light, but it also works as a solar power bank. They say that it's a great setting to know that it's there just in case they might end up needing it, making this flashlight an excellent addition to an emergency kit.
Features & Considerations
The Hybridlight Journey Flashlight is fully waterproof and submersible up to approximately 9 feet. However, the light should never go so far down because it also is made to float if it goes into the water.
This allows it to not only be resistant to rain and outside weather, but should it fall into a body of water, it is also well-protected.
As reviewers noted, run time depends largely on the mode, but in general this light can last 7 hours in its brightest mode which puts out 160 lumens, and can last 25 hours in its dimmest mode.
It also has a detachable back cover, which, when removed, reveals the USB charging port and the port to charge devices using the flashlight's battery.
You can even get it in different colors. Your choices are a sleek and modern black; a bright, easy to find yellow; American-flag themed red, white and blue; and for hunting kits, it even comes in camouflage.
Light Output: 150 lumens
Backup Charge: USB backup
The High Points: Bright, lightweight, has different modes
The Not-So: Short run time, not waterproof
The ECEEN Multifunctional Emergency Flashlight shares many features of the aforementioned flashlights but brings those features to users at a lower price than other options. In order to achieve that lower price, though, it does sacrifice some functionality.
What is does keep is excellent brightness, giving off 150 lumens in the brightest mode. It also maintains a variety of modes, allowing users to toggle between a bright, dim and strobe mode, a feature that is essential to any flashlight.
Unlike many other high-tech options for flashlights, it features a durable metal frame, which holds up to bumps and bangs well, without adding too much weight. The ECEEN Multifunctional Emergency Flashlight only weighs 5.3 oz., which is less than one-third of a pound.
What Do Reviewers Say?
Reviewers note that the aluminum alloy that the flashlight is made of, in combination with the well-placed grips over the body of the flashlight, gives it a balanced feel, while also making it rugged. The material is also highly water-resistant, although not waterproof.
They were also pleased with charging time, with many reviewers saying that it actually took less time than advertised to reach full charge – they were able to charge it in 8-9 hours of direct sunlight instead of 12 as the manufacturer recommends. That charge is good for just 3-4 hours of light, though.
One of the central complaints of reviewers is that the wall-charging cable is proprietary. That is, it is a cable unique to ECEEN and if it is lost, users will have to replace it with an ECEEN-brand cable or rely only on solar charging.
Features & Considerations
As reviewers made clear, this solar flashlight is not waterproof, one feature that the manufacturer surely forfeited to achieve the lower price point of this light. With that in mind, it is highly water-resistant, so if there is no danger of it falling into a body of water, then it might not make too much of a difference.
The time required to charge this light is about 3-4 hours via a USB charger and 8-12 hours in the sun. What is somewhat disappointing is that a full charge can only be expected to provide 3-4 hours of bright light.
In terms of what it is meant to do, the ECEEN Multifunctional Emergency Flashlight performs well. Its low price-point does mean that there are some aspects that must be sacrificed, though, to ensure that what it does do it is able to do well.
Light Output: 50 lumens
Backup Charge: Hand-crank backup
The High Points: Small, lightweight, crank backup
The Not-So: Not waterproof, no modes
The Simpeak Hand Crank Solar Powered Flashlight is the simplest flashlight on our list. It is 100% no-frills and sticks to the absolute basics that are necessary for emergency: light and power.
First, light. Although not bright (the Simpeak Hand Crank Solar Powered Flashlight is only 50 lumens), the flashlight gives off plenty of light compared to its size and just enough that it is far better than no light at all.
Second, power. This is where the Simpeak Hand Crank Solar Powered Flashlight shines. It combines two essential, reliable off-the-grid power sources: a hand crank and a solar panel.
What Do Reviewers Say?
Reviewers appreciate the simplicity and the low price that it brings. They say that the lights are an especially good fit for children or for an emergency kit, as they are very reliable and durable, getting the job done in the most efficient way possible.
They also were pleased with how effective the crank method is in these particular lights. In just a few seconds of cranking, they quickly light up, which some reviewers attribute to the latent charge that the solar panel gives the flashlights. Having a solar panel on this small light gives it a small, constant boost.
Features & Considerations
This model comes in a two-pack of flashlights, for about the same price as the next cheapest item on our list, meaning it is definitely the ideal budget option. Each light is made of lightweight plastic and has a hand crank and solar panel to charge it.
They also are shaped in the form of a carabiner, meaning that they can be hooked just about anywhere for emergency use.
The Simpeak Hand Crank Solar Powered Flashlight just comes with one mode: on, which is activated with a switch on the side of the light. As long as the light is powered, that one mode will output as much light as possible based on the power level.
It is small and extremely lightweight; in fact, it is so lightweight that you almost won't notice that it is there. The flashlight weighs just 3 ounces and is only 6 inches long.
Another consideration to keep in mind with this flashlight is that it is not waterproof, although it can be considered splash-proof. That said, it's probably best to keep it out of the water all together.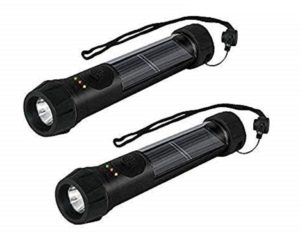 Light Output: 120 lumens
Backup Charge: Battery backup
The High Points: Long runtime, waterproof
The Not-So: Heavy
The Gen RR Hybrid Solar Powered Flashlight is kind of like the hybrid car version of a flashlight – it's great for when you haven't gone fully electric (or in our case, fully solar), but you're looking to lengthen the life of your batteries and take advantage of greener energy. This flashlight is just right for that.
Instead of the backup methods that the other flashlights on this list rely on such as USB connection or a hand-crank, the Gen RR Hybrid Solar Powered Flashlight takes several small batteries as its backup. This can be great for having a flashlight with a long charge that you want solar power to boost.
What Do Reviewers Say?
Reviewers reiterate the reliability of a battery pack (as it requires no preparation except battery installation), while also appreciating the greenness of the solar panels as an added bonus. Between the two power sources, they ended up with reliable lights.
They also were pleased with the performance of the solar panels, even as a primary power source. Users that chose not to install the batteries as a backup source found that they were concerned that the solar panels did not work at first, but once allowing the flashlight to collect a full charge, it worked well for a long period of time.
Features & Considerations
Beyond the hybrid nature of this light, it also has a number of other features. It shines at 120 lumens on its brightest setting, which, compared to other lights, is a reliable medium brightness.
The Gen RR Hybrid Solar Powered Flashlight is also highly waterproof. The manufacturer says that it is submersible up to 80 feet, but like other waterproof options, it also floats, so users should never have to test the waterproofness of this flashlight.
One place where the light could use some improvements is in its weight. Considering that it does not have too many bonus tools, for a relatively simple flashlight, it is large and heavy, weighing 12 ounces, making it the heaviest flashlight on our list.
The Complete Solar Flashlights Buyer's Guide
What to Look for in a Solar Flashlight
The number of solar flashlights out there can be overwhelming for buyers, especially given their significant variation between the products, especially in terms of price and features. When considering which solar flashlight is the best for you, we encourage you to consider what you're looking for as a function of one of two categories: outdoor, rugged use and indoor, backup use.
Most people have flashlights as a backup to their regular sources of light (often solar lamps, and in a pinch, phones), which means that they often have features designed to fit these requirements. Many also have features that make them great in an emergency.
Those ideas apply to both outdoor and indoor use, and flashlights that are designed for those purposes should be at the top of both lists. There are some differences between what outdoor and indoor users will be looking for, though.
Outdoor Use
Someone looking to use their light outdoors might not want it to depend on a light that charges best via USB, especially if the solar panel isn't the most efficient. Instead, looking for one of the best solar panels or for a flashlight with a manual backup source such as a hand crank is ideal.
For outdoor use, a light that is waterproof would be best, or at least one that is highly water-resistant. You never know where your light might end up in the great outdoors, so it's a good idea to be prepared, just in case.
Some lights come with other tools that might be useful outdoors, like a compass. Knowing if your flashlight has that option might be great, especially if it doesn't add too much weight.
To sum up, here are some of the most important things to look for in outdoor use:
Reliable solar panel or a backup charging method that doesn't require electricity
Waterproof or at least water-resistant
Outdoor tools such as a compass
Indoor Use
Unlike outdoor usage, someone using a flashlight primarily indoors may not be so opposed to a solar flashlight that also functions on USB charging, especially if it is going into an indoor emergency kit that would just need the battery to be topped off.
Finding a light that holds a charge for a long period of time, though, might be a good idea so the USB charging doesn't go to waste.
Waterproofness and overall durability might not be as necessary, and neither is a necessarily bright light. However, finding something that is easy to find and store, especially inside a house is probably a good idea. For an indoor backup light, simple is probably your best bet.
To sum up, here are some of the most important things to look for in indoor use:
A light that holds charge
Easy to find
Easy to store
Selection Criteria: How We Ranked the Best Solar Flashlights
Solar flashlights are extremely versatile solar products, and as such, there is a lot of variation among them. When looking for the best solar flashlights out there, we considered a number of factors, such as:
Backup charge method
Size
Weight
Charge time
Runtime
Tools
Modes
Backup Charge Method
The lights on our list have two main backup charge methods: USB charge or cranking. Each has its respective benefits and each "backup" method is quicker than the solar charging (but has its own downsides).
For users looking for a quick, easy method to give the light a base charge, USB charging is ideal. As long as you have access to a wall charger, you can charge up the flashlight completely in just a few hours, which makes it an excellent base source of power, which you only need to top off with solar.
If you're looking to be completely off the grid, the cranking backup method is highly preferable because it does not require electricity. It is also useful because it can begin to work almost immediately – within a minute or two of cranking you can have 15 minutes or more of charge.
Size & Weight
Surprisingly, the size and weight of flashlights varies greatly. Some are large and heavy due to extra features and large solar panels, while others are lithe, thanks to simple designs. Choosing the size and weight best suited to where you'll be taking the flashlight is key.
Charge Time vs. Runtime
Each flashlight has a unique ratio of charge time to runtime, which can be summarized as the time that a flashlight needs to reach full charge versus the amount of time that it will run with a full charge. Those can vary based on type of input (USB, crank or solar) and type of output (brightness).
Considering this is important, especially in situations where you need the light to last a long period of time or when situations for charging it are limited. For example, if you will need to use the light at night while camping, choosing a light that has an efficient solar charge will ensure that it gets the maximum usage at night.
Tools
Today, solar flashlights come with every combination of outdoor tools necessary and sometimes, many that aren't even necessary. The lights on our list include a seat belt cutter, an emergency hammer to break a car's window glass, a compass, materials that float, side lights and others.
Thinking about what kind of kit your light might be in will help determine which of these are best for you. The car-related tools might be great for a car's emergency kit, but maybe not so much for backpacking, because they add extra weight, while the compass and floating materials might go well on a kayaking trip, for example.
Modes
Almost every flashlight comes with three standard modes: bright, dim and strobe. There are many other options, such as side light modes, red-light modes and more. For most people, the standard three modes are sufficient for normal use, but some people might find that they want more.
One situation in which extra modes might be helpful is as part of a car emergency kit. Having a red-light mode could be helpful if there is an issue with your car and you want to indicate to other drivers without the potential of the bright light shining too directly to their eyes. The same could be said in a camping or hunting situation.
Frequently Asked Questions (FAQ)
What is a hybrid flashlight?
A hybrid flashlight utilizes a battery backup (that is more often a replaceable battery) in addition to a solar panel. Although all of the flashlights on our list have a backup power system, the ones that truly qualify as hybrid have the option to replace the backup battery rather than recharge it.
This means that the backup tends to last longer and is more reliable (without needing to charge it in advance). These hybrid lights aren't necessarily as eco-friendly as other options, but can be more reliable and consistent, so they can still be a good compromise.
How long does my flashlight need to be in the sun in order to charge?
This depends largely on the individual light, based on factors such as size and efficiency of solar panel, capacity of the battery and light output. That said, for a few hours of light, roughly an equivalent amount to double the amount of time in the sun will suffice.
For example, to achieve 4 hours of output, 4-8 hours of sunlight should be enough. Other factors such as sun angle and cloud coverage will also affect charge, so ensuring that it is in the most direct sunlight possible is ideal.
Will my flashlight charge inside or on a cloudy day?
Any solar device can still charge on days when the conditions are less than ideal for solar charging, such as on days where there is significant cloud coverage. That said, it is preferable to take advantage of days when there is sun, because solar devices charge much more efficiently when there is maximum sunlight.
In addition to whether or not there are clouds, sun angle can also have an impact on charging. Charging in direct sunlight will result in a quicker charge than in shaded conditions or at an angle.
How bright are the flashlights?
Solar flashlights can be just as bright or as dim as any other flashlight. In general, flashlights that have the option to be powered by a crank are less bright, ranging from 50-100 lumens.
On the other hand, flashlights that have USB charging options will have brighter options, in the 100-300 lumen range. There are even bright lights out there, but they often come at a higher price point and are not as viable to be solar charged.
Another aspect of brightness to keep in mind is brightness modes. Some lights come with the option to utilize modes that are as dim as the dimmest lights on the list, while still maintaining the capability to shine at 250 or more lumens. It all depends on the purpose for which you need it.