If you're looking to add some extra security to your home, one of these best solar motion lights can help. Solar lights are a great alternative to traditional electric models and can help to save you money. By using a motion-activated type, you can save even more power by only keeping your home's exterior lit when it's needed.
Solar motion lights are great for brightening up dark corners of your property, including front porches, driveways, garden paths, sheds, fencing and more. Their sensitive sensors are activated once a person or animal enters its range, triggering a bright light that can help to ward off intruders or keep you from tripping on your way to the door.
Whatever your needs, there are several great models to choose from that will keep your outside areas lit all night long.
6 Best Solar Motion Lights
Lumens: 600
Motion Sensor range: 30 ft.
The High Points: Versatility of design and very sensitive motion sensor.
The Not-So: Construction is not as sturdy or durable as other designs.
The Dyxin Solar Spot Light packs a lot of features into one compact case. The simple yet effective solar spotlight boasts a total of 18 LEDs per light, which can illuminate even the darkest of corners. With a few different options for installation, the Dyxin offers maximum flexibility for homeowners with a variety of needs.
Although the spotlight isn't the most attractive or sturdy option on the market, it comes with some great perks, like multiple lighting modes, a highly sensitive motion sensor and very bright lights.
Each set includes two spotlights at a very competitive price point. These spotlights are perfect for adding a touch of security to a front driveway, keeping pests away in the backyard, or highlighting your landscaping.
What Do Reviewers Say?
Overall, reviewers are very pleased with the Dyxin Solar Spotlight. They state that the lights are bright, effective and work as advertised. Some even claim that the lights are the brightest solar spotlights that they've found so far.
Others like that the lights stay on all night. When walking by the light, it will get brighter, which is great for security. However, a few reviewers have had issues with their lights not working at all. This may be a manufacturing error.
Features & Considerations
The black Dyxin is small and discreet and offers two options for installation: wall mounting or garden stakes. The spotlight head can be adjusted 360 degrees, so there's no need to worry about finding the right angle for installation. This level of versatility is rare in a solar motion sensor light.
The motion sensor can detect a person or animal within a 30-foot range, one of the largest ranges on the market. The sensitive PIR motion sensors also operate with angles of 150 degrees. Once activated, the light can illuminate a distance of up to 33 feet.
The solar spotlight comes with four different light modes, including long lighting, dim brightness and auto switching. The light can be programmed to turn on or get brighter once a person is detected, or to stay lit for the entirety of the night. Whatever your needs, the Dyxin is adaptable.
Each light comes equipped with an attached solar panel that can be adjusted in a 360-degree angle for maximum efficiency. The battery takes roughly 4 to 6 hours to charge fully and will last for 8 to 10 hours. If placed in full sun, the Dyxin can easily stay lit from dusk till dawn on a single charge.
Lumens: 2,000
Motion Sensor Range: 10-16 ft.
The High Points: Comes with 4 lights per set for maximum coverage.
The Not-So: Does not have multiple light modes.
By providing a simple approach to solar motion technology, the BAXIA model is a great choice for easy and eco-friendly security lighting. Once triggered, the motion-sensitive lights are turned on for 30 seconds. Although the lights don't stay lit all night, their strong battery life means they'll be ready whenever you need them.
Each light utilizes an incredible 100 LED lights for a combined output of 2,000 lumens. With 4 lights per pack, the BAXIA solar light set is a great and affordable option for homeowners looking to brighten up several dim areas around their property.
What Do Reviewers Say?
The BAXIA Technology Solar Lights have exceeded some reviewers' expectations. The lights are very easy to install and are bright enough for stairs, dog runs and other dark areas. Reviewers appreciate that the lights don't stay on all night and are instead only illuminated when people or animals walk by.
One reviewer was sent a faulty light that wouldn't charge in direct sunlight. They claim that the manufacturers were very accommodating and sent replacement units which worked well. However, you must install your lights in areas with little shade if you'd like them to be at full brightness.
Features & Considerations
The BAXIA outdoor solar lights are a sturdy, no-frills security solution. Each light can be mounted flush to the wall, and can be placed above entryways, garages, porches or other dark, high-traffic areas. Each set comes with 4 separate units, which offers a lot of coverage for your home's perimeter.
The solar motion light can detect a person within 10 to 16 feet and 125 degrees. The light offers a single light mode and will only turn on when its sensors are activated. Once illuminated, the BAXIA solar lights emit a combined 2,000 lumens for 30 seconds.
Each light has a wide solar panel installed on top. The panels can fully charge the battery in 6 to 8 hours if they are placed in direct sun. Once charged, the lights can work for up to 8 to 12 hours.
Besides its sturdy design, the BAXIA lights are made of high-strength ABS. This makes them water-, heat-, frost- and dust-proof. The company also offers a 30-day money-back guarantee and a 90-day limited product warranty should any issues arise.
Lumens: 1,500
Motion Sensor Range: 49 ft.
The High Points: Has one of the most sensitive motion sensors on the market.
The Not-So: Has a very short battery life.
With a very sensitive motion sensor and a high lumen output, the AmeriTop Super Bright LED Solar Motion Sensor Lights is one of the best on the market for security lighting. The model also comes equipped with all the standard essentials, like weatherproofing, a high-efficiency solar panel and easy installation.
While the AmeriTop light has a short battery life, it will still last you all night. The light is designed to only come on when it detects movement. The light will remain lit for 30 seconds to 2 minutes and then turn off automatically. If you're looking for a bit of extra security lighting, the AmeriTop model is a great option.
What Do Reviewers Say?
Reviewers are very pleased with how bright the light is. It is also very durable and easy to install as it only requires a few screws. It offers enough battery life to last for a few motion activations every night.
However, some reviewers have complained that the motion sensor isn't as sensitive as advertised. Others have said that the sensor can only detect movement up to 30 feet away, which is significantly lower than stated in their product description. This may be a problem for some who need the extra distance for security purposes.
Features & Considerations
The AmeriTop solar motion light describes itself as being "ultra-bright." With a combined 1,500 lumens and 5,000K of brightness, this claim more than holds true. The light has three separate swivel heads that can be easily adjusted, increasing the area of lighting.
The unit comes with an incredibly sensitive motion sensor that can detect movement up to 49 feet away. The sensor also operates at a 180-degree angle and is adjustable.
The AmeriTop light is 20% more sensitive than a standard solar motion light, helping you to ward off animals or intruders regardless of the distance.
Each light comes with a stand-alone solar panel that's connected by a 15-foot power cord. Unlike other models, the solar panel is not attached to the light fixture so it must be installed separately. While separate installation is less convenient, it does allow you to place the light in an area that doesn't receive direct sunlight.
The motion sensor offers two different settings: "auto mode" (operates from dusk to dawn) and "auto on" (turns on when motion is detected). The "auto on" mode can be set to last for 30 seconds, 1 minute or 2 minutes. This offers more flexibility for homeowners who want extra time to lock the car, walk up the driveway or grab the mail.
Lumens: 60
Motion Sensor Range: 9.8-16.4 ft.
The High Points: The elegant and beautiful design mimics traditional oil lanterns.
The Not-So: Doesn't produce enough light to be an effective security device.
As one of the prettiest solar motion lights on the market, the Greenclick 2 Mode Motion Sensor Solar Wall Light defies expectations. With a traditional oil lantern design, Greenclick's solar light can add a touch of elegance to a front porch or entrance barrier. Although it's not bright enough to provide much security, it still offers a practical and eco-friendly approach to outdoor lighting.
The Greenclick light displays a romantic faux flickering flame effect until you activate the motion sensor. Once it detects a person, the light turns a bright white so visitors can see more easily. This is a great and effective solution for those looking to brighten up a dark area without sacrificing aesthetics.
What Do Reviewers Say?
The quality of the Greenclick 2 Mode Motion Sensor Solar Wall Lights surprised reviewers. They appreciate the innovative take on a solar motion light, including the unique dancing flame effect. Although the light is charming, it is still very practical and offers a lot of value for homeowners.
One reviewer wasn't happy with the design on the solar lamp. They had not realized that the backside of the lamp case was flat as people should mount it flush with the wall. This may be a limitation for buyers who are looking for a light that can be hooked to the roof and not just mounted on a flat surface.
Features & Considerations
One of the best features of the Greenclick solar light is its beautiful, vintage design. The light is in a faux lantern box and the solar panel is discreetly on top of the black roof. Each set comes with two solar lanterns that look great as an extra decorative element outside the house.
The lanterns mimic dancing flames, which creates a beautiful ambiance at the entrance of a home. Once the motion detector activates, the light will turn a bright white for 30 seconds. This is just enough light to help you unlock your door or identify visitors at night.
While the Greenclick lights are made with plastic, they are durable enough to withstand rain, snow, ice and other inclement weather. However, the rooftop solar panel must receive enough sunlight for it to operate at full capacity. This may limit your installation options if an awning or balcony blocks the sun's rays from reaching the top of the light fixture.
Lumens: 30
Motion Sensor Range: 13 ft.
The High Points: Has a very long battery life.
The Not-So: Is not as bright as other wall-mounted options.
The DEWENWILS Outdoor Solar Path Lights are a perfect option for eco-friendly homeowners. The short black stake lights can be placed along any outdoor perimeter for extra lighting and ambiance. While the lights aren't terribly bright, they provide enough light to keep from stumbling in the darkness.
Most solar path lights don't have motion sensor functionality. However, the DEWENWILS provides the best of both worlds; the light emits a soft glow all night and can brighten up when someone walks by. This is both an energy-efficient and effective option for garden beds or paths.
What Do Reviewers Say?
Overall, buyers like the DEWENWILS Outdoor Solar Path Lights. They are a great height and size. Some reviewers like the fact that they emit a dim, continuous glow even when the motion sensor hasn't been activated.
However, some reviewers have complained about the low brightness levels as they are mostly dim and decorative. Others have claimed that bugs have triggered the motion sensors and drained the batteries overnight. The batteries then require considerable sunlight to re-charge fully.
Features & Considerations
The DEWENWILS solar lights are great for brightening up an outdoor perimeter like a driveway or rooftop garden trail. Each light is secured in the ground using a stake, so installation is extremely simple. It's important to note that these lights cannot be mounted on the wall.
Each light is weather-resistant and made of stainless steel. The small solar panels located on top of the stakes are effective and discreet. The light's design is sleek and modern and can easily blend into any landscaping.
Although the DEWENWILS solar path lights only emit 30 lumens, they come in packs of two which increases the combined output. It's recommended that you purchase multiple packs if you want to cover a large area. Fortunately, each set is very cost-effective, so lighting a large driveway won't set you back much money.
The motion sensor is activated when a person or animals comes within 13 feet of the light. The light will then stay on for an additional 20 seconds before returning to a dim 3-lumen level of brightness. On a full battery charge, the DEWENWILS can last for up to 12 hours before automatically turning off at dawn.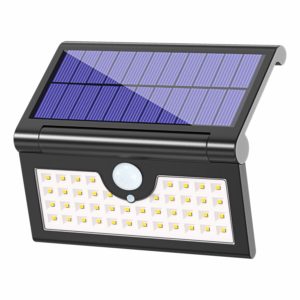 Lumens: 450
Motion Sensor Range: 6-26 ft.
The High Points: The innovative design offers maximum portability and ease of use.
The Not-So: Doesn't have a large motion sensor range.
As the cheapest and most versatile light on our list, the Pobon Foldable Solar Light really is a steal. The foldable design allows for the light to be easily transported, so you can add some security lighting to your campsite, construction zone or in an emergency in a pinch. No other solar motion light is as portable as the Pobon Foldable Solar Light.
What Do Reviewers Say?
Buyers are happy with how cost-effective the Pobon Foldable Solar Light is. Not only is it a cheap initial investment, but it also saves money on electric bills. Others appreciate its versatility, as you can use it in emergencies, while camping or you can permanently install it as a porch light.
Some have complained that the light won't work when they place it in an area with shade. However, this is a standard issue for solar lights that have integrated panels. You must place the lights in an area that receives direct sunlight or the batteries won't have an opportunity to recharge.
Features & Considerations
Pobon's solar motion light offers an innovative design feature: foldability. This allows for flexible installation as it can easily be adjusted to reach the right amount of sun. You can also fold up the light and take it camping, use it on your RV, or place it on a construction site.
The light installs on a wall-mounted "shelf". Once you attach it, you can adjust the panel and light 250 degrees. You can also easily detach the light can from the shelf if you want to use it while traveling.
The light includes three different modes: "steady on" (continuous light), "dim light" (continuous dim light with bright light when movement is detected), and "sensor mode" (light when movement is detected only). The motion sensor isn't very sensitive but can detect movement at a distance of 6 to 26 feet and an angle of 120 degrees.
The Complete Solar Motion Lights Buyer's Guide
What to Look For in a Solar Motion Light
Before choosing a solar motion light, it's important to first consider how and where you'll be using it. Depending on your use, each model will have its own host of pros and cons. These variables will help you to determine which model is the right one for you.
Why do you need a solar motion sensor light?
Each homeowner has a specific need in mind when it comes to buying a solar motion sensor light. While most choose this type of light for security reasons, like warding off intruders or alerting those in the house to people in the driveway, there are still plenty of other reasons for choosing an eco-friendly motion-activated light.
Different uses include:
Providing security
Brightening dim paths or staircases at night
Replacing traditional power-hungry porch lights
Deterring wild animals
Providing light for pets in the yard
Help with nighttime parking
There are a variety of different designs and models available on the market that can meet these individual needs. For example, dim stake lights are best for paths, gardens, and securing perimeters. On the other hand, wall-mounted solar flood lights are great for security lighting and driveways.
Where will you be installing your light?
Most solar-powered lights have their solar panels integrated into the unit. You must place these models in an area that receives plenty of direct sunlight.
However, if you'd like to install a light in an area that has shade, like under a balcony overhang or rooftop, then you'll need to purchase a model that has a detached solar panel.
The motion sensor functionality of your solar light will also help to determine where you can install it. Each light's motion sensor varies in range sensitivity, so you'll need to measure the distance from your installation spot to your ideal point of detection.
For example, if you want the sensor to activate the light once you pull your car into the driveway, then the light will need to have an adequate range and you will need to place it in the correct spot on an exterior wall.
Potential buyers should also consider what type of material you'll be dealing with when installing your light. Some light fixtures require screws and shelfing, which may not work on tough brick walls. However, others are more accommodating and you can attach them with hooks or ground stakes.
What type of functions do you want?
There are several different light modes available when it comes to solar motion lights. These determine how long your light will stay lit and how often it will turn on. However, most, if not all, solar motion lights will automatically turn on at dusk and turn off at dawn.
If you're looking for continuous light all night long, then you'll want a light that emits a dim light that will brighten when the sensor activates. If you only want the light to illuminate when it detects a person, then you should find a sensor-only light.
Some models will allow you to set the length of time the light stays lit when activated while others will only allow a fixed amount of time. The extra customization is a great option for those who need the light to work for a certain amount of time. For example, if you'd like the light to turn on the moment you pull into the driveway and only turn off when you enter your front door.
How often will you be using your light?
The amount of use you get out of your solar motion sensor light will depend on the battery life. Some solar lights are not terribly efficient and will run out of power quickly. Obviously, these are not ideal for those in need of all-night security. However, if the light is only operating once a night, a powerful short battery life model may be the most suitable.
Selection Criteria: How We Ranked the Best Solar Motion Lights
Based on our specified criteria, we've narrowed down a competitive list of options to feature the 6 best solar motion lights.
Our rankings specifically focus on the lumens and motion sensor range of each light model. We also took into consideration the unique use of the light, the overall quality of design and the number of features.
Lumens
In essence, the number of lumens determines how bright the light is. The lumen count often varies wildly, with some models clocking in at a dim 30 lumens and others at an incredible 2,000 lumens.
However, lights with fewer than 30 lumens are relatively worthless. And if you're looking for security lighting, you'll want a minimum of 1,000 lumens.
Motion Sensor Range
The motion sensor on a solar light is generally just as sensitive as traditional models. The PIM technology can detect people or animals as far away as 49 feet. Once the sensor detects a moving object in the distance, it will activate the light. The light will stay on as long as the person is still within range and will then continue to operate for a fixed period of time.
The range of a motion sensor is determined by horizontal distance and angle. The combination of both the distance and angle will indicate how broad of an area the sensor can cover. However, it's important to keep in mind that the location of installation will affect the angle of detection as walls or roofs may impede the sensors.
Frequently Asked Questions (FAQs)
Can solar motion lights withstand inclement weather?
All solar motion lights are designed to withstand the outdoors, which includes inclement weather.
Most lights are resistant to:
Rain
Frost
Heat
Snow
Dust
However, solar panels are quite sensitive and shouldn't be exposed to torrential weather for long. If you experience frequent freezes or floods, it's a good idea to purchase a model that you can easily take down and store temporarily.
Is it difficult to install solar motion lights?
Generally, solar motion lights are quite easy to install and don't require any professional help. Depending on the design, people can install the light in the ground or on a wall or fence.
Ground installation is the easiest. It only requires basically assembly and placement in the grass. Wall installation can be trickier and will require the use of basic tools. However, there is no wiring involved as solar devices are self-contained.
How long does it take to charge a solar motion light?
Each solar motion light varies in charge time, but on average a light takes 6 to 8 hours to fully charge in direct sunlight. In indirect sunlight or during winter months, this number may increase drastically.
It's important that you place your solar panel in the correct position and angle. Otherwise, your batteries will never be able to charge fully, and the light will die sooner or emit a lower wattage to compensate.
How long do solar motion light batteries last?
Similar to the charge time, the battery life of a solar motion light can vary depending on the model. Most lights last an average of 8 hours on a full charge. This is enough time to last the night and provide light from dusk to dawn.
However, if the solar panel doesn't receive enough direct sunlight during the day, the light won't be able to work properly.
Since most homeowners only require the solar motion light to operate when there's detected movement, the battery will last significantly longer than those that stay lit all night. This is an added benefit for those who live in cloudy areas and can't fully charge their batteries in a single day.