If there's one thing that makes you groan first thing in the morning, it's finding out you left the porch light on all night.
Great. Money added to your electric bill.
Luckily, there's a solution to your outdoor light woes: motion sensors. They'll automatically turn on your lights as you approach, so you don't have to worry about those extra few dollars on your next statement.
The best part? The lights we put to the test for this review are 100% solar-powered! 
Whether you're using them for aesthetics or security reasons, lights are a very attractive feature for a home.
We did the dirty work of testing out the best motion solar lights so you don't have to do all of the hard work of scouring the web. 
Our Top Picks
|   | Product | Details   |   |
| --- | --- | --- | --- |
| | Best Overall: DBF Solar Motion Lights | Small but mighty, these lights are great for anyone trying to have general lighting. | Check Price |
| | Best Overall Runner Up: BAXIA Technology Solar Lights 100 LED | These are super bright and they won't go off at just anything, as they have a very specific trigger range. | Check Price |
| | Best For Security: AmeriTop Super Bright Solar Motion Sensor Lights | Lights up more space than the other products, making it reign supreme for home security. | Check Price |
| | Most Stylish: Mlambert Motion Sensor Wall Lights | These lights give off an air of sophistication. Oh, and they have 2 lighting effects: flame and, well, not flame. | Check Price |
| | Best For Outdoor Paths: AURAXY Outdoor Solar Path Lights | These give off just enough light for you to make your way along outdoor paths. They're also super compact. | Check Price |
| | Best For Budget: KOMOON Motion Sensor Lights | Super affordable and easily portable. Can fold flat and be taken anywhere. | Check Price |
How We Chose the Best Motion Lights
Considering the typical outdoor motion sensing solar lights are put outside, we had to first consider its weather resistance.
We know that everyone cares about style and security, so we set ourselves to task with finding lights that fit everyone's needs. 
From there, we needed to pay special attention to how long the battery lasts. After all, we know that they need to last overnight. Preferably, the lighting should be able to last more than 12 hours without a recharge. 
Once it's in use, it needs to give off the appropriate amount of light for its task.
A security light should give off far more lumens than an ornamental one.
We didn't want to compare every item to each other, as different purposes of light means different luminosity. Instead, we considered the specific purpose of the light before rating the luminosity.
Read our related article on the Best Solar String Lights. Spruce up your yard or patio with these solar-powered string lights!
Best Lights Reviewed
1. Best Overall: DBF Solar Motion Lights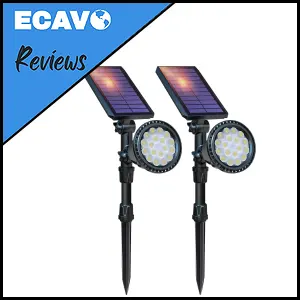 Product Ratings
| | |
| --- | --- |
| Affordability  | 3/5 |
| Run Time | 4/5 |
| Trigger Range | 5/5 |
| Weather Resistance | 5/5 |
| Luminosity | 5/5 |
Sizes: 11' x 8' x 4.5' | Color: White | Brand: DBF | Lumens: 600 | Features: Two Brightness Settings | Fixture Tye: Wall Mount 
What We Liked
Two brightness settings
Its sleek, unobtrusive design
Superior weather resistance
What We Didn't Like
Problems with the overall construction
As far as this model goes, there was some left to be desired with design, but for the price, it has the most practical features.
Overall, we are impressed with this product, but here are some things to look out for:
General Quality
The light lasts a long time for the hours it needs to charge, and at its brightest, you'll have no problem seeing under any condition.
We'd also like to mention here that it might not be the most attractive option, but it gets the job done. Also, the model isn't super noticeable once you set it up, so the fact that it's not as graceful as the others on the list isn't a huge deal. 
NOTE: There have been complaints in the past about the lights sometimes just not working.
However, most reviews (and our experience) points to the fact that these are pretty reliable.
If there's a problem, return it and take advantage of their 100% satisfaction resolution guarantee. Malfunctions are sometimes unavoidable in any product.
Features
We love the two lighting modes! It even gets brighter as you walk up, so it's great for security and keeping pests away.
Also, the product description says this is a wall mount, but you can see by the design that you can use it as a stake, as well. It's always great to have options.
Technology
The motion-sensing on this thing is super sensitive. Depending on what you want from an automatic light, that could be a good or a bad thing, but we really liked it!
It ensures that the lights will reliably go off whenever you need them to. 
The quality of the lighting is amazing, which is why it received a perfect score for luminosity. The quality of the material also ensures it operates during unideal conditions, so the engineering in that regard is very impressive.
Its high functioning and cutting-edge technology combined with its quality make for a superior solar light.
See Price on Amazon
---
2. Best Overall Runner Up: BAXIA Technology Solar Lights 100 LED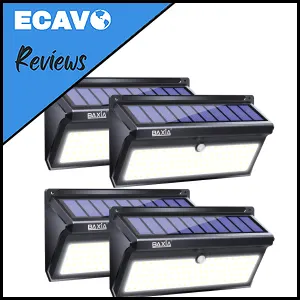 Product Ratings
| | |
| --- | --- |
| Affordability  | 3/5 |
| Run Time | 4/5 |
| Trigger Range | 3/5 |
| Weather Resistance | 5/5 |
| Luminosity | 5/5 |
Sizes: 11" x 9" x 4" | Color: | Brand: Baxia Technology | Lumens: 2000 | Features: Waterproof, weatherproof | Fixture Type: Wall
What We Liked
Set of four
Weather and waterproof
Great warranty
Really bright
Dust-proof 
What We Didn't Like
You're stuck with the brightest setting
Really fussy about charging conditions
Get ready for some brightness! This thing sure does shine, but as always, we are here for an objective review. Stay tuned for the high and low points of this product.
General Quality
We absolutely love how this has so many environmental protections. Not only is it all weather-proof and waterproof, but it's also dust-proof.
In our hunt, we've noticed that's pretty rare, so that's a uniquely great feature!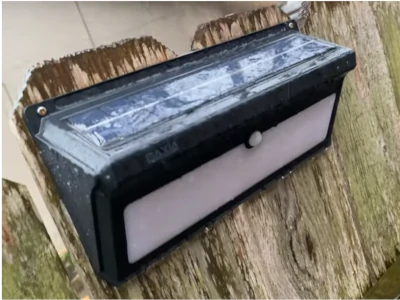 No product is exempt from criticism though, and this is no exception. We noticed that it's pretty particular in the fact that these need 6 hours of full sunlight or nearly full sunlight to actually charge.
Look out for where you put these things! 
Features
First of all, even though they're bright, they don't stay on all night long and are only triggered whenever someone or something gets 10-16 feet away.
It also requires something to be within 125 degrees of it, so unless you're in that triangle, it won't go off.
If you're worried about these things constantly blasting powerful lights, don't. Its short trigger point makes up for that, a great thought on the developers' part. 
We just don't like the fact that it doesn't have multiple light settings. It's not a deal-breaker because this is used mainly for security purposes, but it would be really nice to have it.
Ultimately, that's what made this the runner-up.
Technology
This thing is super bright, but as we've covered, you're kind of stuck with it.
Most people don't have a problem with the lighting level, but if strong light affects you, expect to install some blackout curtains. Brightness in this case means quality, but that doesn't have to eat into your sleep.
The battery is really impressive, lasting 8-12 hours. If it's fully charged, you'll have power all night. We accredit that to having superior battery technology.
BONUS: You get four in a set, and at a price of roughly $10 per light, it's a great investment!
See Price on Amazon
---
3. Best for Security: AmeriTop Super Bright Solar Motion Sensor Lights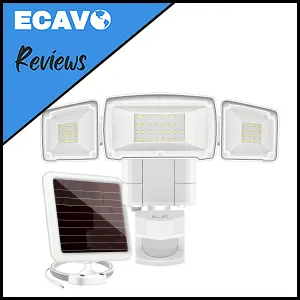 Product Ratings
| | |
| --- | --- |
| Affordability  | 2/5 |
| Run Time | 5/5 |
| Trigger Range | 5/5 |
| Weather Resistance | 4/5 |
| Luminosity | 5/5 |
Sizes: 13.5" x 3.5" x 12" | Color: | Brand: AmeriTop | Lumens: 1600 | Features: Adjustable, 15' Cord | Fixture Type: Wall
What We Liked
Adjustable angles
Brightness
Very sensitive motion sensor
What We Didn't Like
It borders too bright
Some complaints about sensitivity
With some of the brightest lights on the market, this is a great choice for home security lighting.
In some aspects, it doesn't live up to every expectation, so let's explore what did and didn't impress us.
General Quality
Sturdiness and ease of use are undeniable in this product. It stands up to all kinds of weather conditions and keeps pushing.
It's highly efficient and weather-proof, and even though it's adjustable, the quality of construction doesn't suffer.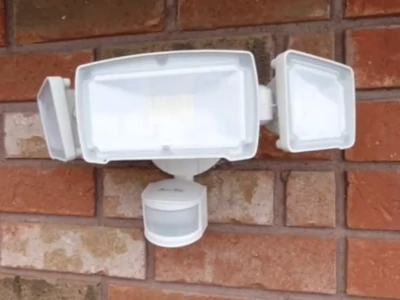 Its installation is really simple, too. You barely need any screws to set it up, and once you do, it's not coming down.
If you're in a rental space though, we encourage you to contact your landlord before screwing it in.
Features
The parts on this product are completely adjustable, giving you a chance to adjust it to whatever space you want it to light. We were impressed with the versatility offered.
The solar panel that it operates from is standalone and has a 15-foot cord connecting it to the actual light.
This is great because you can put the actual charging station anywhere you get the most light, so you don't have to worry about putting the light in some sort of weird place just to catch rays.
By far, this security light has the most consideration for the consumer than just about any you'll see.
Technology
If there's anything this product can boast about, it's sensitivity.
The developers definitely had security in mind when they set the trigger point at 49 feet away. With extremely bright lights, you can't really beat the practicality of the product. 
Some bad news about that very same trigger range… some people experienced a trigger point that's much shorter than advertised.
The lowest range we found was roughly 30 feet, but if you think about it, that still outperforms the other models considerably. It's not a deal-breaker but can be kind of disappointing.
That said, we got the full 49 feet of range, so it could just be a hit or miss depending on the unit you receive.
See Price on Amazon
---
4. Best for Attractiveness: Mlambert Motion Sensor Wall Lights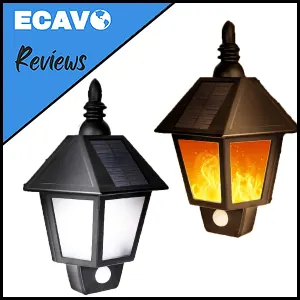 Product Ratings
| | |
| --- | --- |
| Affordability  | 3/5 |
| Run Time | 5/5 |
| Trigger Range | 3/5 |
| Weather Resistance | 4/5 |
| Luminosity | 3/5 |
Sizes: 11.69" x 8.74" x 7.95" | Color: White, Yellow | Brand: Mlambert | Lumens: Not Listed | Features: 2 Lighting Effects | Fixture Type: Wall
What We Liked
Optional flicker flame effect
Long-lasting energy
The model looks like traditional oil lamps
Two different looks depending on the situation
What We Didn't Like
Pretty dim lights
Limited mounting options
Your hands could be pretty tied if you want to mount this anywhere other than a wall, but if you have a good sunny patio, this vintage-style lamp is both beautiful and practical!
Here are some things that got us fired up about this flickering lamp: 
General Quality
Weather resistance is great with this product. It might not stand up to massive weather events, but very few products do.
Though this is plastic, it still looks great and authentic, and it's a really tough plastic. 
NOTE: If you're looking for security lighting, we don't recommend that you buy this. The light is very dim.
Its purpose is to be ornamental and to allow you to see who's at your front door.
By far, this is the most attractive option that still offers a practical solution to a comprehensive security system. 
Features
This is super elegant and mimics a traditional oil lamp – until you get close.
Once someone comes within 10-16 feet of the light, the flame will turn into a bright white light, allowing you to peek outside and see if it's your delivery guy or friend.
It will go off about 30 seconds after activating, giving you plenty of time to see that your pizza is at your door and rush back to get their tip. 
Its beauty comes with one annoying exception. It's completely flat in the back.
This might not be a problem to some, but that really limits your options to a wall mount only, and for those of us with shady porches, the lamp might not get enough light to actually do its job.
Really think about your environment before you purchase.
Technology
With its two effects, the technology is definitely wicked smart, but there's a little extra footwork you need to do in order to reap the benefits.
You have to be vigilant of lighting conditions where you're thinking about putting it.
See Price on Amazon
---
5. Best for Outdoor Paths: AURAXY Outdoor Solar Path Lights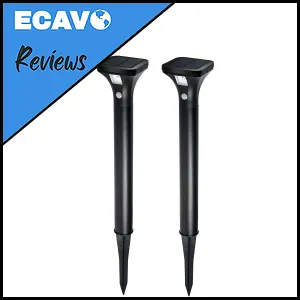 Product Ratings
| | |
| --- | --- |
| Affordability  | 5/5 |
| Run Time | 5/5 |
| Trigger Range | 4/5 |
| Weather Resistance | 5/5 |
| Luminosity | 2/5 |
Sizes: 20.86" x 3.15" x 3.15" | Color: | Brand: AURAXY | Lumens: 15 | Features: Waterproof, Easy Installation | Fixture Type: Ground Stake
What We Liked
Very affordable
Long battery life
Three lighting modes
Automatic switch-off at dawn
What We Didn't Like
Limited capacity for energy farming
Low luminosity 
Super sensitive tech can drain the battery
Even though this isn't completely budget-friendly, you get a lot for your money.
If you're curious about what could go wrong or right, this next section should clear up some things.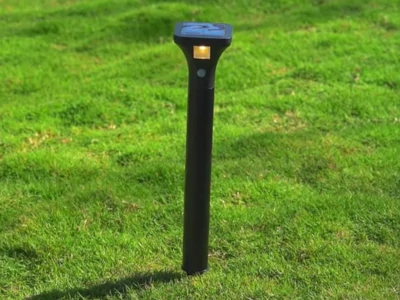 General Quality
In general, these lights are super high-quality. They're solely for stake mounting, so the developers made sure to keep them highly weather-proof. However, they aren't dust-proof, so keep an eye out for buildup. 
Possibly because of dust buildup, there's potential for non-optimal energy farming.
KEEP IN MIND that you're going to have to be more vigilant with these lights to make sure they're getting the proper amount of light and care.
A little more work, sure, but that doesn't distract from the benefits.
Features
What we really love about this product is the three lighting modes. When the lights are triggered, you can choose among three options.
One is when it's dormant, there's no light but low light when set off. The second is no light and then bright light, and the third is low light and then high light. So versatile!
There's also an automatic light sensor so you don't have to worry about switching it off. It operates from dusk to dawn. Period.
This translates into longer battery life and product longevity.
Technology
Now, the light is great, but it's not always bright enough. There have been complaints of low luminosity, and that could very well be from inefficient farming.
We do recommend partly for this reason that you get a couple of sets instead of just one. 
The motion sensor is also very sensitive. This is good and bad at the same time.
While you don't have to worry about it not going off when you need it, it also goes off when you don't. Many complaints have centered around the lights losing power to insects flying by.
Keep an eye out for that, but even if it does happen, it doesn't pose much of a problem. The battery life is still great on this thing, so that should offset the issue. 
Read our related article, 4 BEST Solar Pathway Lights Guide (Put To The Test For 2022) for a complete review of the top path lights on the market today!
See Price on Amazon
---
6. Best for Budget: KOMOON Motion Sensor Lights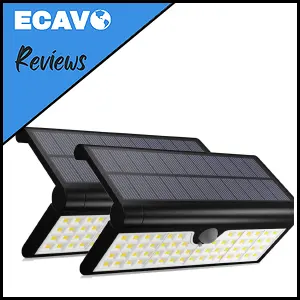 Product Ratings
| | |
| --- | --- |
| Affordability  | 5/5 |
| Run Time | 4/5 |
| Trigger Range | 3/5 |
| Weather Resistance | 5/5 |
| Luminosity | 4/5 |
Sizes: 9.53" x 5.79" x 2.8" | Color: White | Brand: KOMOON | Lumens: 300 | Features: 3 Way Switching | Fixture Tye: Portable/Wall
What We Liked
3 ways to activate
Portable 
Compact 
What We Didn't Like
Chance of getting a defective model
Long charging time
This is a very affordable product. It performs really well when it's up and running, but there are some glaring issues.
Don't get discouraged, there are really great features this light has to offer but pursue with caution.
General Quality
When it's well it's great, but there's a good possibility it's not going to perform. It's all-weather resistant and has a long battery life, so the product specs are great.
If you get a good model, there's so much this little guy offers. 
That being said, there's a strong trend of defective models. The good news is that there's a six-month warranty on the product, so even if it doesn't charge or is defective in some other way, you're covered.
Feel free to try a different product after that.
Features
You have three lighting modes on this model, so the amount of variety is amazing for such an inexpensive product. On top of that, you can take this versatile light anywhere you go, as it's compact and folds in on itself. Super portable! 
Technology
The trigger point is anywhere from 11-15 feet at a 120-degree angle, so this is ideal for several scenarios.
You can take this camping as well as hang it up, and if you want to switch the environment, it's easy to remove from anywhere.
There's a bit of a problem with long charging times, and some people said their model didn't charge at all.
It's because of these issues that we think this might not be a permanent solution, but it's cheap enough to get the job done while you save up for another, better lighting solution.
If you're just looking for portable light, there are better options for that purpose, but this is a great start all around.
See Price on Amazon
---
Comparison Chart
| | | | | | | |
| --- | --- | --- | --- | --- | --- | --- |
| | DBF | BAXIA | AmeriTop | Mlambert | AURAXY | KOMOON |
| Affordability | 3/5 | 3/5 | 2/5 | 3/5 | 5/5 | 5/5 |
| Run Time | 4/5 | 4/5 | 5/5 | 5/5 | 5/5 | 4/5 |
| Trigger Range | 5/5 | 3/5 | 5/5 | 3/5 | 4/5 | 3/5 |
| Weather Resistance | 5/5 | 5/5 | 4/5 | 4/5 | 5/5 | 5/5 |
| Luminosity | 5/5 | 5/5 | 5/5 | 3/5 | 2/5 | 4/5 |
The Winner
Ultimately, DBF was the winner. We thought it had the best price while still being very versatile, and it's super sturdy.
It fits overall the most needs while maintaining very high quality.
How to Choose the Best Motion Solar Lights for You
Where Are You Setting it Up?
Do you have no choice but to put your light in a low light setting? Then, you might want to get something that has a connected, yet separate, charging station.
You'd have the flexibility to move that thing anywhere you want to get the optimal charge.
You need to figure out if you can set up certain types of lights.
For example, our top security product has to be screwed in, but if you're renting, your landlord might have something to say about that.
Make sure that you assess the damage it can do and whether that's something you want to do. 
What Purpose is it Serving?
Is this for style or security? General ambiance or practicality and personal safety?
Those are the types of questions you need to ask when you're deciding the purpose.
High luminous lighting is impressive engineering, sure, but is it going to blind the unsuspecting guest or pizza delivery guy? 
Also, within these categories, there's nuance. Security could mean different things to different people.
You might not want a giant spotlight flooding through your window at night, but for others, that momentary stunning of an intruder or chasing away the normal garbage pest is imperative. 
Also, ornamental lighting can mean different things. Some want a softer light than others or want different settings of light effect or tone.
Really look into the appearance of the light and what others are saying about it. It might not live up to the hype.
Read our related article on the Best Solar Spotlights for your landscape and home!
What Are You Lighting Up?
Different stretches of land call for different motion detection and solar lights. As we've seen, there are all different shapes and sizes of these solar lights, so it helps to have a vision for them.
For example, we enjoyed lighting a long walkway and garden path with the motion sensor solar stake models listed. 
We like a solar-powered motion light that goes up by the front door to be more of a hanging lantern, and security lights are a whole different beast. 
Take a measurement of the area where you're setting it up. Consider the amount of light that's going to need to be pumped into that area.
That might affect how many, say, stakes you need to put down. If it's just your front porch, stylish hanging models could be a better option. 
Adjustable models are great for covering lots of bases, and most of the ones we listed are adjustable in some way.
That sort of freedom of movement could affect the area you're trying to light. You might not need a big model if you can work the angles right.