If you're looking for top solar refrigerators on the market, you're at the right place!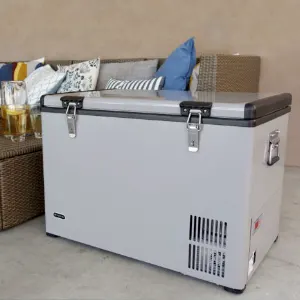 This article takes a closer look at some of the best solar refrigerators that will keep your food and your drinks cold and fresh at all times, especially when you're somewhere off the grid.
We will also explain how solar fridges operate, provide a detailed buying guide on choosing the right model for you, and answer all your questions about solar refrigerators, so let's get started.
What is a Solar Fridge?
A solar fridge isn't that different from a regular fridge that doesn't run on solar energy. It's a refrigerator that operates on energy directly delivered by the sun and can include solar thermal or photovoltaic energy. Usually, people utilize solar-powered refrigerators in off-the-grid places.
In these places where utility-provided AC power isn't available, it's a smart idea to have a solar fridge on hand. This unit will preserve perishable products such as dairy and meat cool in hot climates. Solar fridges are also utilized to keep vaccines at the right temperature to prevent spoilage.
Are Solar Fridges Good?
Of course! Solar fridges provide convenience and advanced features.
Also, utilizing a solar refrigerator is better for the environment since it utilizes energy consumed by the sun via photovoltaic or solar energy to stop different perishable liquids and foods and different vaccines from spoiling.
What is the Best Solar-Powered Refrigerator?
Solar-powered products have come a long way in the last ten years. The price of photovoltaic panels has dropped over 80% since 2010. Mixed with lithium-ion batteries' swiftly dropping cost, solar-powered add-ons, like fridges, have become energy and cost-efficient progressively.
So, if you reside somewhere where regular power isn't available, or you're a fan of camping, here's a list of the best solar refrigerators out there.
See our related article on the Best Portable Solar Panels. See how they work and pair them with your new Solar Fridge.
 
Product
Details  
 
Best Overall: ICECO VL60 Dual Zone Portable Refrigerator
• Separate controls for Freezer and Refrigerator
• Independent 12V/24V DC and 110-240V AC output
• 5 year warranty on the compressor
Check Price
Budget-Friendly: Whynter FM-45G 45 Quart Portable Refrigerator
• 8-feet AC power cord and 10-feet DC power cord
• 45 Quarts or 60 Cans capacity
• Can operate as a fridge or freezer
Check Price
Best 2-in-1 Solar Fridge and Freezer: SMETA Propane Refrigerator with Freezer
• Can be powered by 12V-DC, 110AC and Propane.
• Absorption Cooling System
• Can be used indoors or outdoors
Check Price
Best Portable: Alpicool C15 Portable Refrigerator
• Freeze without Ice as low as -4°F(-20°C)
• 3 different levels for battery protection
• Made of strong plastic materials, and with reliable seals
Check Price
Best for Car Travelers: F40C4TMP Portable Refrigerator and Freezer
• Great seal from its magnetic door.
• 20-qt (18L) DC fridge
• Power-efficient: Consumes less than 1 kWh per day.
Check Price
Best with Internal Lights: COSTWAY Car Refrigerator
• Operates at 12V/24V DC and 100V~240V AC
• LCD display screen and digital buttons
• Capacity of 55 quarts it can fit 84 330ml bottles.
Check Price
Best Solar Refrigerators
We're starting with a powerful beast with excellent storage capacity and a 2-zone mechanism that enables the person to use it as a freezer and a fridge. ICECO VL60 weighs about 65 pounds, so it's not the most portable solar refrigerator out there. However, the extra weight comes with a few advantages that you will enjoy.
Thanks to the 2.11 cubic ft of storage capacity, this fridge can keep enough food and liquids for two people. If you're a single person, the food amount that this unit can store will last you for about a week. What we like most about VL60 is its sturdy construction. It packs stainless steel locks, reinforced end caps, and spring-loaded side handles. The compressor is backed by a 5-year warranty.
There's also anti-tilt protection – your fridge will still run at a 40-degree angle. Furthermore, it can gather power from both DC and AC power for extra versatility. You can utilize this product as a backup solar fridge and freezer for places with no or unstable grid connections. It's very practical, affordable, and long-lasting!
What We Liked
Different charging options
Convenient and practical 2-zone system
This product can run as both a freezer and fridge at the same time.
Extremely durable and robust construction
Versatile and budget-friendly
What We Didn't Like
Not the most portable option on the market
See Price on Amazon
---
If you're looking for a cheap and durable solar refrigerator, look no further than Whynter FM-45G. It's a solar refrigerator that can also be utilized as a freezer. This fridge can store up to 60 cans of liquid. The 1.5 cubic ft storage capacity makes this product very appealing in the eyes of the customers.
Although it's chunky, it's also compact and weighs only 45 pounds. But here's the kicker –  it's loaded with a bunch of cool features. For instance, you can turn on the "fast freeze" option and utilize it as a freezer. Also, it can operate at a 30-degree angle without any problem, unlike other solar options out there. The Whynter solar unit provides multiple charging options. You can either connect it to your car battery, solar panel, or even both simultaneously. Meaning, it utilizes both 110V AC and 12/24V DC power. The package includes a DC power cable (10 feet) and an AC power cable (8 feet).
It packs 2 detachable wire baskets for convenient storage. There's also a drainage hole for simple cleaning. Flexible and affordable, this product makes a great option for home use, RV, off-grid vehicle, and so on. It's lightweight, portable, and has a well-insulated interior.
Now, let's summarize the benefits and downsides of this best-selling solar-powered refrigerator.
What We Liked
Compact and appealing
Extra flexibility, thanks to the multiple charging options
The quick freeze option transforms the refrigerator into a freezer instantly
The compressor features an eco-mode for extra efficiency
Portable and lightweight
What We Didn't Like
Small storage capacity
The quick freeze option drains the battery quickly.
The control panel is situated on the back.
See Price on Amazon
---
Searching for a super-versatile 2-in-1 solar-powered fridge and freezer with generous storage capacity? The SMETA propane fridge is the perfect choice for you.
If the 3 cubic ft for the fridge and 0.4 cubic ft for the freezer isn't enough reason for you to consider this unit when shopping for a solar refrigerator, then the design will definitely impress you.
It resembles a regular kitchen device with shelves and a front opening door. But here's the real kicker – it weighs only 76 pounds! So, it's light enough to be easily transported while still providing a lot of storage space. The charging options are also great. You can work this unit on DC, AC, and propane.
You can connect it to a car battery, solar panel, or grid connection. A propane bottle will also do the job. So, you don't have to stress about unreliable conditions.
What We Liked
3 power sources
Compact and portable solar refrigerator
Separate freezer
What We Didn't Like
Additional ventilation is required when utilizing propane for power
See Price on Amazon
---
The portable 2-in-1 solar fridge that can also be used as a freezer has ended up on our list because of its convenience and versatility. And the Alpicool C15 matches the description perfectly.
It's a great choice for those looking for a compact off-the-grid and versatile fridge and freezer. It weighs only 19 pounds and can store up to 20 cans of liquid (0.5 cubic ft of storage capacity). The interior of this device is well-insulated, while the exterior is made of durable and lightweight plastic. The greatest part about the Alpicool C15 unit is that it can operate at a 45-degree angle.
There's even a USB connector so you can easily charge your smartphone. Also, you can easily push the temperature buttons on the lid through a user-friendly LCD panel. Last but not least, it's powered by a 24V/12V DC input, so it's easy to attach it to a solar panel. However, if you need to utilize a car battery, the device features a three-stage battery protection setting to control how much power it's consuming. It's lightweight, portable, and cheap!
What We Liked
Easy to transport
Well-insulated and robust
2-in-1 solar freezer and fridge
Suitable for rough terrains
Battery protection
What We Didn't Like
Poorly written instructions
See Price on Amazon
---
The F40C4TMP 2-in-1 solar refrigerator and freezer were made with car travelers in mind. With 0.6 cubic ft of storage capacity, this product won't keep a large amount of liquid or food. However, it will definitely fit into the back seat or trunk of your car, whether it's a big or small car.
This 2-in-1 product can drop as low as -7.6 degrees Fahrenheit. There's even a convenient energy-saving option that will further prolong the battery life. You can add power via a 12V DC or AC adapter, so you have different charging options.
What We Liked
Portable solar refrigerator
A perfect option for fishing, camping, cookouts, and road trips
Energy-saving option
What We Didn't Like
The unit isn't made for storing large amounts of supplies.
See Price on Amazon
---
If you're a fan of simple things, then COSTWAY is the perfect choice for you. It's a simple and portable device, just like the F40C4TMP. However, it provides bigger storage space. With a temperature range of -4 degrees Fahrenheit to 50-degrees Fahrenheit, this unit has a separate spot that works as a freezer. It weighs approximately 38 pounds, so it's kind of lightweight.
But it's not the most portable refrigerator on this list. It has internal lights that make accessing your supplies easy, even during the night when it's dark outside. You can keep a large amount of food for a couple of days if you're one person and a day's food for more individuals. It can also store up to 19 bottles of alcohol (750ml) if that matters to you.
You'll love the fast cooling and energy-saving options that prolong the battery life. You can power the battery from a 100V-240V AC and a 24/12V DC input, so you have a few options. The DC input is great for utilizing a solar panel. However, if you're supplying it from your vehicle, it has 3 protection options to stop it from emptying out your charge, so don't worry about it.
What We Liked
Battery saver option
Portable and compact
Separate freezer section
Energy-saving settings
Extra storage space
See Price on Amazon
---
The EdgeStar CRF321SS is a 2-in-1 fridge and freezer with an AC input which means you will need to buy an inverter if you want to link it to a DC solar panel. However, it's one of the best mini refrigerators on the market. It weighs only 52 pounds. It's also one of the most energy-efficient traditional kitchen appliances.
You will get a 3.1 cubic ft of storage capacity divided between a small freezer and the fridge. This freezer also has the auto-defrost option, but the actual selling point is energy efficiency. The estimated annual energy use for this device is less than 1 kWh per day. Thus it's perfect for someone searching for company solar or regular fridge and freezer with excellent energy efficiency.
What We Liked
Separate freezer
Compact and energy-efficient
Auto-defrost option
What We Didn't Like
Extra cost for the inverter
See Price on Amazon
---
The storage capacity of this product is divided into two parts, one for refrigeration and the other for freezing. You can access these parts via two different lids, so it's super convenient.
Additionally, each section has a detachable wire basket. The temperature buttons are placed on the side of the device, but you can also access them via the Bluetooth-enabled application. The energy is provided by a 120V AC and a 2/24V DC, making it straightforward to charge in your vehicle, at home, or with a solar panel. There's even a LED light for additional convenience. You can also charge your smartphone, thanks to the USB port. This unit is feature-rich and lightweight. It's small enough to be easily moved while still providing all the necessary parts. It can be supplied via both DC and AC and enables wireless controls.
What We Liked
Great storage capacity and wireless controls
Solar refrigerator and freezer with all the bells and whistles
Portable, compact, and flexible, and versatile
What We Didn't Like
Lacks an eco-mode for extra efficiencyues with latch reported
See Price on Amazon
---
How to Choose the Best Solar Refrigerator?
Finding the best solar refrigerator can be overwhelming with so many options on the market. They're all priced differently and provide different features that you may or may not need.
We have compiled a list of key features you need to consider when purchasing a solar refrigerator. Keep the following things in mind and make use of solar power properly.
1. The Purpose of Your Solar Refrigerator
You can find solar refrigerators in different sizes and shapes and utilize them for many things. There's a broad selection of mini, small, medium, and larger solar fridges on the market.
Therefore, before making a final purchase, determine your needs and preferences. If you're living off the grid, for instance, opt for a larger fridge to store all your liquids and foods instead of a mini-fridge.
2. Temperature Range
Whether you're just cooling your alcohol or storing raw meat for days, a solar refrigerator needs to keep the optimum temperature that you adjust it at. Some models can drop as low as -4 degrees Fahrenheit; thus, you can easily store different frozen foods, while others can only run at about 40 degrees Fahrenheit.
It's important to determine what you're going to keep in the solar refrigerator before buying anything. If you want to utilize both, opt for a 2-in-1 model.
3. Solar Panel
Many solar refrigerators don't come with solar panels. Thus, you will have to buy a solar panel as well. We suggest reviewing some solar generators that can be utilized to keep your fridge running all day long. Cooling efficiency and power consumption are of great importance to travelers and adventurers. So, you want to ensure that you have enough power to keep your solar refrigerator running the whole time.
Typically, a 100-150W solar panel will get the job done if you opt for a portable solar fridge. Still, a solar fridge that comes with solar panels is easier to install and won't cause compatibility problems. Additionally, make sure that your batteries aren't faulty and your charge controller is installed properly. Usually, solar refrigerators can be installed and left alone.
However, the batteries preserve excess power in case of a very unpleasant situation where the solar panels can't get enough direct sunlight.
You shouldn't prefer models without solar panels. Otherwise, you will have to check for compatibility twice, buy the solar panels individually, and install them to run with your device. Usually, solar refrigerators can be installed to run off of solar, DC, or AC as they're very versatile. However, they're also less convenient, so choose wisely and opt for something easy to utilize.
4. Portability
A portable solar refrigerator makes a perfect choice for people who're on the go! So, if you enjoy camping, fishing, family events, sports events, tailgating, and different off-grid activities, opt for a portable solar refrigerator that doesn't weigh much so you can easily move it around.
The market provides heavy and larger solar refrigerators that aren't easy to carry around. They're more suitable for keeping in a truck or RV. Therefore, unless that's your case, avoid these models. If you live off-grid, opt for a stationary solar refrigerator with larger storage.
5. USB Charging Port
Besides cold sandwiches and drinks, it's also nice to have a fully charged smartphone in the wilderness.
So, if you want to have your devices charged at all times, opt for a solar refrigerator with a USB charging port. This will also eliminate the anxiety of losing battery in the middle of a road trip.
6. Detachable Dividers and Shelves
Small portable solar refrigerators with fixed shelves and without dividers can restrict what size and how many products will fit. Detachable dividers and shelves help to split items and keep your unit better organized. Also, movable pieces can make cleaning the solar refrigerator easier too!
7. Drain Plug
If you ever experienced a chest freezer clog up with water, you know how important a drain plug is. It's not pleasant to remove everything from your solar refrigerator and utilize a vacuum to drain the dirty water. Therefore, opt for a solar fridge with a drain plug for extra convenience.
8. Thick Insulation
Good insulation makes foods and drinks get cold quickly, and typically, the temperatures will drop and remain lower, despite high temperatures outside. Make sure that your solar-powered refrigerator has insulation of 2-3 inches (6-10cm) which is enough to keep your food cool even when there's no more power.
Also, consider fluoride free-insulation materials only. A solar refrigerator with thick insulation takes the worry out of hitting the road with a fully-loaded fridge.
9. LED Lighting
Regular fridges come with interior lighting for better use in the dark, so it's a good idea to consider units with interior LED lights. That way, you can easily locate and eat that last sandwich when everyone else is asleep. Keep in mind that some of the budget-friendly options don't have this feature.
10. Energy Efficiency
The usage of solar energy is what makes these units eco-friendly and highly energy-efficient. Still, check the energy efficiency ratings on the model of solar refrigerator that you will purchase.
How Does the Solar Fridge Work?
Every system is different, but the operation is pretty much the same. Solar panels hook up to batteries; the batteries hook up to fridges. The fridges usually work off solar DC power. You can also hook up the solar panels and batteries to inverters that transmit the DC into AC (DC stands for digital current whereas AC represents alternating current).
It all depends on your preferences. No system is better than the other. It just depends on how you plan on utilizing your solar system for different purposes around the home.
There are two methods to going solar, so let's explain them in detail.
Method 1: Battery-powered (DC) Solar Refrigerator
As we already mentioned, DC means direct current, a type of voltage that solar panels are naturally making (some have inbuilt inverters that convert DC into AC). This isn't the type of voltage your home wall outlet utilizes. So, if you want a solar refrigerator that plugs into your home outlet, check out the 2nd method to going solar.
A DC solar refrigerator is highly efficient, easy to install, and costs less. However, you will have to buy batteries occasionally. However, these batteries deteriorate fast in high temperatures, and you will have to dispose of them, which causes lead pollution.
3 Key Parts of a DC Solar Refrigerator
Solar Panel
We recommend 135W photovoltaic panels. The amount of solar panels you will need depends on different variables. However, you can start by determining your energy needs by utilizing a calculator.
Batteries
The batteries will perform as power storage for your solar refrigerator, so you can use your fridge once night falls. Opt for 100 amp hr 12V deep cycle batteries for the best results.
Charge Controller
The charge controller controls the charge – it's as simple as that! These devices make sure your batteries stop charging after they're completely charged. This is important for battery safety and health. Overcharging batteries may seem like a low-risk thing. However, it's very dangerous since it can cause explosions or excessive gas exposure. You can set up the whole system by yourself in no time.
However, if you're not very confident in your skills, hire a professional. If you take the DIY route, you can find videos on how to hook up your solar panels to the controller and your controller to the battery. Once you're done with all of that, simply connect your fridge to the battery, and you're good to go!
Again, if you don't have previous experience, there's no shame in contacting experts. Saving money is a good thing. However, the feeling of knowing your unit is installed safely and properly is priceless.
Method 2: High Efficiency (AC) Solar Refrigerator
AC represents alternating current. It's a current that goes via your home and delivers electricity to your 110V outlets or 220V outlets in Europe. However, converting DC to AC requires an inverter.
If you're turning your home outlets to solar energy, you can utilize regular household plugs. This method is more efficient and offers more solar fridge options, but it needs extra equipment. The inverter must be able to withstand appliance power draw (if overloaded, can overheat), and it's less efficient.
4 Key Parts of an AC Solar Refrigerator
Solar Panel
We recommend 135W photovoltaic panels. The amount of solar panels needed depends on various variables. However, you can start by determining your energy needs by utilizing a calculator.
Batteries
The batteries will perform as your power storage for your solar refrigerator, so you will be able to utilize your fridge once night falls. Opt for 100 amp hr 12V deep cycle batteries for the best results.
Charge Controller
The charge controller controls the charge. These devices make sure your batteries stop charging once fully charged. This is important for battery safety and health.
Overcharging batteries may seem like a low-risk thing. But, it's very dangerous since it can cause explosions or excessive gas exposure. You can easily set up the whole system by yourself.
Inverter
The inverter takes DC produced by your solar panels and turns it into AC which supplies your household outlets. If you don't know how to connect it, you can either watch online tutorials or hire professionals.
How to Use a Solar Refrigerator?
Solar-powered appliances like solar-powered refrigerators are commonly utilized by travelers or people living off the grid. They preserve food and drinks while dodging a connection to utility-provided power. They're also utilized in camps and cottages as a replacement for absorption fridges.
Other common uses include preserving medical supplies such as vaccines at the proper temperatures in remote locations. Or being utilized to keep game at hunting camps. These fridges can be left working all year round. Utilizing a solar refrigerator ensures the most effective and efficient solar system. Let's learn how to use a solar refrigerator properly.
Right Sun Positioning
Positioning your solar panels for optimal direct sunlight enables you to receive the most energy for the longest period. According to the University of Calgary, if you're a resident of the Northern Hemisphere, you should place your solar panels true south.
Residents of the Southern Hemisphere, on the other hand, should place their solar panels true north for the best results.
Adjust the Temperature Properly
Many owners of solar refrigerators don't know that their unit features temperature controls. They plug it in and assume they work properly.
However, it doesn't work like that. You need to adjust the temperature properly.
Pros and Cons of Using a Solar Refrigerator
Electricity-driven refrigerators aren't that different from solar models. The main difference between the two is the power (solar models run on solar power). How long the solar refrigerator will last depends on the charge you got. In certain solar-powered units, it depends on the solar power preserved in the battery.
However, although solar refrigerators come with many benefits, they also have their downsides. And knowing what these benefits and downsides are is important to know what to expect from your new solar refrigerator.
Pros of Solar Refreigeration
The negative sides of solar refrigerators are outnumbered by the positive ones, so let's start with the benefits of solar models.
1. Eco-friendly
The biggest benefit of utilizing solar refrigerators is that they're eco-friendly. They rely on the sun's energy, so they banish the consumption of electricity and other substances that aren't eco-friendly.
2. Economical
Utilizing a solar refrigerator can help with your household costs. It works on solar energy that's a free, green, and abundant source. Your electricity consumption will drop, and you will save a lot of money.
Furthermore, these units are also energy-efficient. Most of them can operate on DC power that removes the need to convert it into AC power. They need fewer solar panels, unlike AC-powered models.
3. Safe
Solar refrigerators run on low voltages. Therefore, like all solar units, they're 100% safe to use. So you don't have to stress about explosions and overheating. You can also connect the unit into a present solar system easily and safely.
4. Perfect for Remote Locations
A solar fridge is a perfect choice for adventurers living in remote locations with a limited supply of power and electricity.
You don't have to stress about spoilage because the unit will always operate as long as there's the sun. A solar fridge is also handy during blackouts and similar emergencies. With a unit like this, you're ensured that you will enjoy a cool and fresh supply of drinks and foods at all times, thanks to the sun.
5. Lightweight and Portable
People like solar refrigerators because they're portable – they're not your usual bulky type of regular fridge. They're smaller versions of home fridges that you can carry anywhere.
For instance, you can choose a model with a shoulder strap that adds to the portability of the appliance. Utilizing it, you can be certain that you have a solar cooler and freezer whenever you need it.
6. Low Power Consumption and Efficient
Solar fridges aren't your usual home fridges that consume high power. They're super-efficient and low in power consumption. That's why they're suitable for camping, off-grid residing and traveling.
If you're residing in a recreational vehicle, you can also rely on solar fridges. They can operate efficiently via DC or AC power but are not as needy in power as those larger, bulky units you have at home.
This is why solar models make excellent choices. If you don't like big fridges, you might want to buy yourself a solar refrigerator.  You can also use it as a backup for emergencies.
7. Functional and Versatile
Most solar refrigerators come as a 2-in-1 device and work as both freezers and coolers. Meaning, you can choose how you want to utilize them according to your needs and demands.
8. Suitable for Mobile Homes and Cabins
If you're living in a cabin or a mobile home, or you're thinking about living off the grid in the near future, you might want to include a reliable solar refrigerator on your list of useful appliances.
That way, you can feel at home because you can keep your supplies frozen or just cool at all times, and if you're worried about bringing ice, don't because most solar refrigerators don't need it.
9. Perfect for Solar Systems
A solar refrigerator is perfect for a solar system because it consumes low power. Thus, you can obtain one and set it up for your existing solar system. Just make sure to check if they're compatible. Otherwise, you will have to add a solar panel to meet your solar refrigerator's energy requirements.
You can easily compare and determine if a certain solar refrigerator that you like is compatible with your system or not when shopping around.
Cons of Solar Refreigeration
Although the cons are outweighed by the pros but, it's important to know both to make a well-informed decision.
1. Dependence on the Sun
A solar refrigerator needs a large amount of direct sunlight to work. Otherwise, it might not operate properly, so it's not useful during the cold days unless there's a battery.
If you reside in a colder climate where cloudy days outweigh the sunny ones, a solar fridge might not be the perfect option for you since it's fully dependent on the sun.
2. High Initial Costs
Solar technology is fairly new, so solar refrigerators have a higher price than regular ones, which is why people aren't that eager to invest in a solar refrigerator. However, if you take into account the money you will save in the long run, it's a good investment.
Solar Refrigerator Maintenance Tips & Precautions
The best solar refrigerators have thick insulation and utilize a DC compressor. Often, together with vaccine coolers, solar-powered fridges use a mix of lead batteries and solar panels to preserve energy for cloudy days when there's no sun to keep their products cool.
They're costly and need heavy lead-acid batteries that tend to deteriorate, especially when the temperatures are high. Additionally, the batteries need maintenance, so you need to replace them every few years and dispose of them as hazardous wastes, possibly resulting in lead pollution.
These issues and the initial high costs have been a big obstacle to utilizing solar-powered fridges in some areas. However, we honestly believe that corporations will find a way to solve this. NASA JSC started working on a solar fridge that utilized phase change material instead of batteries in the mid-1990s. The phase change material stores thermal energy instead of a chemical one.
They invented a new technology that has been commercialized. Today, this technology is being used for storing different supplies such as vaccines and food items in remote places. The solar direct-drive fridges don't need heavy lead-acid batteries to operate but thermal energy to solar power.
So, let's hope that large corporations will find a solution to this problem soon!
Solar Fridge Precautions
We recommend hiring an expert to help determine the energy requirements of your solar system. There's nothing shameful about asking for help. Imagine purchasing all the equipment just to determine you've gotten the wrong charge controller or battery for your specific energy needs.
What are the Advantages and Disadvantages of Solar Energy?
The power the sun provides to the planet Earth for 1 hour could meet the global energy requirements for 1 year. How crazy is that? Clearly, the sun is a super powerful and free energy source. We're not capable of using all of this energy. However, installing panels can still make a huge difference to the environment. Solar energy has been widely criticized for being inefficient and costly.
However, it has now proved to be beneficial for both the private economy and the environment. Thanks to the present panel grants and the competitive prices on the market, solar power has become the primary source of energy for many people. Clean energy has become super popular over the years.
See our related article where we completely break down to Pros and Cons of Solar Energy.
The technology has improved significantly and has been boosted by battery storage systems, converting solar into a very efficient source of green energy. Now, let's summarize the pros and cons.
Pros
Reduces electricity bills
Low maintenance costs
Renewable energy source
Technology development
Different applications
Cons
Uses a lot of space
Solar energy storage costs a lot.
Weather dependant
FAQs
What is Solar Refrigeration?
Solar refrigeration provides a broad selection of cooling techniques supplied by photovoltaic (PV)-based electrical cooling mechanisms and solar collector-based thermally driven cycles.
Can You Run a Fridge on Solar Power?
Of course! A solar energy setup suitable for fridge use needs multiple units in addition to panels. You will need batteries to preserve the solar power that the refrigerator will utilize when clouds block the sun or at night. A unit known as a charge controller will control the flow of energy from the panels to the battery.
How Many Solar Panels does it Take to Run a Refrigerator?
The number of panels you need to operate a fridge depends on the power output of the panels and the power usage of your refrigerator. For instance, a regular solar fridge utilizes about 1kWh per day when operating all the time, so you need panels that can produce that electricity daily.
Typically, you would need about 100-150W panels for this. You can either choose one larger solar panel or a couple of solar panels to accomplish this. We also suggest ensuring compatibility between the fridge and the solar panel (whether 12V or 24V) and picking the appropriate charge controller.
Can a 100-watt Solar Panel Run a Refrigerator?
Yes, a 100-watt solar panel can supply a refrigerator for one day. However, it takes two days to recharge the batteries properly. It mostly depends on the power usage of your refrigerator and the power output of your panels, so contact a professional for advice.
Go Solar!
Finding the best solar refrigerator can be a daunting task with so many products in the market. However, the buying guide and product reviews in this article can help narrow down your options. As we already stated, investing in a solar refrigerator is a smart idea, especially for enthusiastic travelers.
You can supply your refrigerator with abundant, clean, and eco-friendly solar power during the day and enjoy your cold beer or eat your sandwich and other supplies out there in the wilderness at night. Don't forget to share this information with your social media friends.
Hopefully, this article can help you make a smart purchase, so you can make this world a better place.