Most of us have heard of people cooking on their car's dashboard on the hottest days of the summer in the hottest places in the world. However, anyone can use the same power of the sun to cook food any day that the sun's rays are strong, anywhere in the world with a solar oven, not just in extreme conditions.
Solar ovens take solar energy into your backyard barbecue or your weekend camping trip. They make using the sun's power easy and they can make your cookout or dinner green.
Some even say sun-cooked food is the tastiest. That is because it's slowly baked to perfection in the most natural conditions.
6 Best Solar Ovens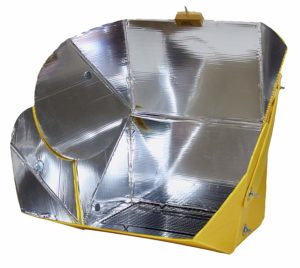 Temperature Range: Heats up to 400⁰F
Inclusion: Includes trivet and sunsight device
The High Points: high temperature range, adjustable angles for year-round use
The Not-So: fragile, doesn't include many extras
This solar oven might look like something out of a kid's science kit. However, its design is actually very sophisticated. That makes it the most well-thought-out and reliable solar oven on our list.
The way the different sections of the oven are connected allow it to be laid out in several different configurations. That allows for a high level of flexibility in choosing sun angle. That is key in heating a solar oven.
Another thing that we love about it is that the design does not limit the capacity. It has an open top and a flexible design that allows users to widen and open the top, front and back. That allows you to fit the maximum amount possible in the oven.
What Reviewers Say
Reviewers note how well the design of the All Season Solar Cooker Camper works in practice. It truly extends the range of the day that you are able to cook.
That is the case particularly for late evening cooking (just before sundown). It is also the case for winter cooking when the days are short.
There was only one critique that reviewers had in relation to this unique aspect. That was, that it might not be necessary for newer users who are just figuring out the ins and outs of solar oven cooking.
They also say that the large capacity is very useful in this cooker. However, at the same time, the plastic that the panels are made out of mean that it folds up well and is very light when the time comes to carry it.
The downside to this is that you do have to provide your own cooking materials. You'll also need to take the time to set it up. That can take some configuration on the user's end.
Features & Considerations:
This oven can heat up to 400⁰F. That is tied for the hottest temperature on this list.
In order to reach that temperature, conditions have to be nearly perfect. However, you can count on it to reach at least the mid-300s, even in less than ideal conditions. That is, as long as there's sun.
That is especially useful because the most common recipes for in-home cooking use temperatures in the 300-400⁰F range, which this oven can reach. That means users are not limited to the traditional slow-cooking recipes most often needed for solar ovens.
As we touched on briefly before, the design of this oven also allows for a reasonably high capacity. That is especially in relation to the size of the oven when folded up.
Open, the cooking space is 12″ deep and 17″ wide. That makes it one of the largest capacities on our list. According to the manufacturer, you can fit a whole turkey in this solar oven.
There is one thing to keep in mind in relation to the capacity, though. This oven does not include any cooking elements with it.
It does, however, include a trivet to support whichever items you choose to cook with. It also includes a "sunsight." That helps users locate and follow the best sun angle for the solar oven to do the most efficient cooking.
Temperature Range: Heats up to 360-400⁰F
Inclusion: Includes a CD with recipes
The High Points: sturdy, easy setup, good temperature range
The Not-So: heavy, capacity limited by design
Where the All Season Solar Cooker Camper is light, the All American Sun Oven is sturdy. Unlike most other options out there, the All American Sun Oven is made from a black heavy plastic and a wooden frame. That makes it much more rugged than many other configurations.
This design also traps the heat in a way that others don't. It has the cooking area more closed off from the elements. That way, it protects the food and keeps the heat more readily inside the device.
You can compare that to other options where your cooking elements are more out in the open unless you choose to enclose them in another container.
What Reviewers Say
Reviewers absolutely rave about the All American Sun Oven for home solar cooking. They mostly reminisce about using it for emergency preparedness. However, some also relate that they use it for fun on hot summer days as well as cool winter ones for what they say is a unique taste.
What is difficult about this solar oven is that it is bulky and heavy. Reviewers explain that it is not very portable because of both the size and the weight. So they tend to use it at home or when traveling with a car. It's not best for carrying by foot, bike or public transportation.
Features & Considerations:
Like the All Season Solar Cooker Camper, the All American Sun Oven is able to reach up to 400⁰F in ideal conditions. The manufacturer, Sun Ovens International, specifically notes that the maximum can vary between 360-400⁰F. That is based on conditions and configuration.
Unlike the All Season Solar Cooker Camper, the angles of the panels that heat the box are not as flexible in terms of positioning. So cooking can be more limited to certain times of day.
That said, the design of this solar oven means that it will heat more quickly than other options. It makes up more limited cooking time with speed of heating.
The capacity of the All American Sun Oven is quite good. It comes in at 14 inches by 14 inches. However, the boxy design does have some limitations. That is because screws jutting out at around 7 inches of height do limit the height of the pots that you can use when utilizing maximum capacity.
A height restriction is unique to this particular solar oven. So that is an important consideration in regard to this product.
A nice bonus about this solar oven is that it includes a CD with recipes. That can be an excellent tool for a beginning solar chef. Sun Oven International also offers other configurations of this solar oven. Those include pots, pans and racks to use with it.
Temperature Range: Heats up to 285⁰F
Inclusion: Includes solar oven thermometer, trivet, collapsible silicone pot, cookbook and stuff bag
The High Points: many extra features, very portable, efficient use of space
The Not-So: not great temperature range
The most important thing to remember about the Sunflair Mini Portable Solar Oven is that it is Sunflair's "mini" option. They do offer a larger option. However, we found that the trade-offs versus the benefits made it so that their mini option ends up being a more reliable and flexible choice than the larger option.
One of the best parts about the Sunflair Mini Portable Solar Oven is that it comes with many extras. They include: a solar oven thermometer, trivet, collapsible silicone pot, a cookbook and bag. Everything about this solar oven, including the extras, make it portable.
What Reviewers Say
Reviewers consistently noted that the Sunflair Mini Portable Solar Oven was a little bit smaller than they had expected. However, at the same time, it often surprised them with its capacity.
A few said that different shaped pans might use the space more efficiently than the included one. However, they felt that the included collapsible pot was the most portable, so they continued to use it on the go.
Many reviewers also explained how the included cookbook helped them as beginners master the technique of using a solar oven. They explained that the cookbook gives best practices, like always using a lid, as well as ways to heat canned and pre-cooked dishes. It also includes tips about how to start to cultivate their own from-scratch solar cooking skills.
There were a few reviewers that lamented that this solar oven didn't get that hot compared to other options they had seen or used. However, in general, they came to the conclusion that between the quick heating and the portability, other features made up for the lower heat.
Features & Considerations:
The combined extras make any solar oven amateur ready to get started right away with cooking, without any extra research about what materials work best for their oven. The thermometer, collapsible pot and trivet make setup quick and easy and are tools that even experts will appreciate.
The way that the Sunflair Mini Portable Solar Oven folds up protects the more fragile inner part of the oven. It comes with a storage bag.
So this solar oven is durable because of the protection that it offers itself. The thermometer, trivet and pot also all fit into the stuff bag.
One of the most important considerations with this solar oven is its temperature limitations. In ideal conditions, it can only reach up to about 285⁰F. This is an okay temperature for slow cooking, but keep in mind that water needs to be at 212⁰F to boil, and meat should reach an inner temperature of 160-165⁰F.
Temperature Range: Heats up to 325⁰F
Inclusion: Includes cooking sleeve, 4-quart pot, thermometer and circular windscreen
The High Points: very adjustable, includes many tools, light
The Not-So: small cooking space
For those looking for an affordable solar oven that still performs well, the Haines 2.0 Solar Cooker and Dutch Oven Kit is a perfect choice. It deconstructs more than other options, which makes it highly portable because all of the pieces roll into a tube-shaped carrying case, but it also takes a little longer to set up and take down.
The unique shape also makes it highly adjustable, because the "petals" that surround the cooking area can be easily adjusted to follow the sun. They are on all sides of the cooking area and catch sun from all sides, heating the pot in the middle quickly.
What Reviewers Say
Reviewers note how useful the 4-quart pot is as it fits perfectly into the cooking area of this solar oven; however, some complained that because it does not have handles, it can be difficult to place in and remove from the cooking area. Others refuted this because the pot might have to be smaller with handles, thus removing the benefit of its perfect fit.
Other reviewers raved about the ease of taking this solar oven along with them. They said that the carrying case for it is extremely practical, but they also cautioned that it can take some time to set up and take down the solar oven, especially when they needed to fold it into the case.
Features & Considerations:
This solar oven can reach 325⁰F in ideal conditions with proper placement of the "petals." For a mid-range budget option, this is excellent and means that it can handle slow cooker recipes as well as some recipes that depend on high heats, as long as the solar oven is correctly positioned.
The "kit" includes a storage sleeve, 4-quart pot, thermometer and circular windscreen. Although the tools are somewhat basic, they are all that you need to get started cooking.
The 4-quart pot is larger than some of the other included pots that similar kits have, so users can get the most out of it.
Having a high-capacity pot included that fits well with this model is important because the actual cooking area is somewhat limited by the circular design of this solar oven. Because the petals all surround the cooking area, it can be a little bit difficult to access and it is smaller than ideal, just measuring 12 in. x 7 in.
Despite some other limitations, the carrying case makes this solar oven very portable. Its light weight also contributes to its portability, as it weights just 2.6 pounds. It's an ideal choice for those with a medium budget looking for an easy-to-use, portable solar oven.
Temperature Range: Heats up to 250⁰F
Inclusion: Solar oven comes alone
The High Points: super portable, easy set-up, large cooking area
The Not-So: does not reach high temperatures
The Jwn Portable Solar Oven Bag is the perfect choice for solar chefs on a budget at around half the price of the next cheapest option. Its manufacturers keep the price down by keeping it simple, but its simplicity doesn't necessarily limit its functionality.
This solar oven actually has an excellent capacity, especially for essentially being a large bag that opens up to reveal a solar oven. The cooking area is about 17 in. by 16 in. when stretched out completely, but this area is somewhat limited by height depending on how you position the bag.
What Reviewers Say
According to reviewers, all solar oven users on a budget should choose this bag, because it doesn't sacrifice much to bring the price down. Its simplicity makes it easy to use, although some reviewers expressed disappointment at the necessity of purchasing their own suitable pan and the lack of instructions included with the bag.
Reviewers note that the bag design of the oven makes it both extremely portable and also very reliable. By nature, the folding process to store it and the zip close protects the more fragile inner part of the solar oven and the insulating plastic shell also makes the outer surface quite durable.
Features & Considerations:
As established before, this solar oven has a great capacity for its price, but one of the limitations caused by this capacity is the height of the cooking element used. Because you can manipulate the shape of the bag, either long, low pots or pans would be suitable or taller, slim ones.
One of the downsides of this is that the bag needs to be manipulated to the pan shape, which means you can't manipulate it as much for the needs of the sun angle and other elements. That said, with proper rotation and attention, it can achieve reasonably high temperatures; in ideal conditions the Jwn Portable Solar Oven bag can reach up to 250⁰F.
Because this solar oven is actually a bag, it is extremely portable. It only weighs 1.2 pounds and in order to set it up, all users need to do is unzip it and set it down. Clean up is just as easy, but you must be careful not to damage the inner part of the bag, which limits what can be stored inside.
Temperature Range: Heats up to 300⁰F
Inclusion: Includes two 10-inch pots and a carrying sleeve
The High Points: high capacity, useful extras, portable
The Not-So: just medium temperature range
Many of the options of solar ovens out there fall into one of the following categories: high capacity, but bulky; low capacity, but portable; or medium capacity, medium portability, but not very efficient.
The Solavore Sport Solar Oven combines all of the elements to be an efficient, very high-capacity solar oven that also folds up to the smallest size of any of the solar ovens on this list, making it also extremely portable. That combination of features earns it a special spot on our list.
The Solavore Solar Spot Oven includes not one, but two 3-quart graniteware pots, both of which fit comfortably into the cooking area. The inclusion of these two, perfectly-fitting pots also makes the high-capacity more accessible to the users, since the pots were included with the intention of making it easy to fully take advantage of the high capacity.
What Reviewers Say
Reviewers, particularly those newer to solar cooking, appreciated the inclusion of the two pots, because they said that the two 3-quart pots made cooking a full, multi-item meal simple. They also liked that the design of this solar oven keeps the panels and cooking area close to the ground, so it is easy to manage.
One thing that some reviewers were not as enthusiastic about is the need to completely fold the entire contraption in order to make it fit into the bag. Some complained that this limited its portability, while others applauded it for making such a large device so small. Both sides agreed, however, that users should leave some extra time for set-up and take-down.
Features & Considerations:
In ideal conditions and sun-angle, the Solavore Solar Spot Oven can reach about 300⁰F. Although this isn't the highest temperature on our list, it is more than enough for solar cooking, which can be doubly taken advantage of with the two included pots to make cooking of two dishes at the same time a breeze.
The entire oven can be folded over itself so that when completely compacted, it is essentially a pile of the interconnected sheets of metal that slide into a thin pouch for storage and carrying. This final product weighs about 9 pounds because of the high-quality materials that it is made of, but the shape makes that weight easy to distribute and the product very portable.
In total the cooking area that fits the two pots is about 17 inches long and 9 inches wide. Similar to the Haines 2.0 Solar Cooker and Dutch Oven Kit, the cooking area is in the middle of an array of metal panels, which can make the cooking area somewhat difficult to reach at times.
However, unlike the included pot in the Haines 2.0 Solar Cooker and Dutch Oven Kit, the two pots included with the Solavore Solar Spot Oven both have wide rims which can act as handles to make the insertion and removal of items into and from the cooking area much easier.
The Complete Solar Ovens Buyer's Guide
What Makes a Good Solar Oven
The day is right. The sun is high, the weather is warm and the sky is clear. You've spent hours picking out the perfect recipe and you've assembled all the ingredients; you're ready to cook outside.
But how do you know that you have the right solar oven for the job?
Solar ovens have a range of sizes, temperatures and included pieces to consider. They also vary in portability and weight. All of these factors contribute to figuring out which solar oven is best for you.
What will you be cooking in your solar oven?
Some people use solar ovens as an extra support for their other outside cooking. They warm their bread, store their already-cooked (grilled, roasted, etc.) food in it to keep that food warm; or use it to heat the beans that go with the barbecue.
Others see a solar oven as a way to go totally green with their cooking, a replacement for a traditional oven or stove on sunny days, an outdoor Crock-Pot, if you will. They might cook a lasagna or even roast a full turkey in their solar oven.
Considering which use matches your preferences can help you choose the right solar oven. Those with bigger dreams probably want a solar oven with a larger cooking area and more capability to reach higher temperatures, whereas those who see it as a secondary tool might be okay with a simpler choice.
Beginning solar chefs with high ambitions might also opt for a kit version of the solar oven to get started, which might include:
A trivet
A pot
A recipe book
A device that helps identify sun angle
A thermometer
Where will you be cooking with your solar oven?
If you're taking your solar oven along with your car camping or to a barbecue, it probably doesn't need to be too compact. A heavier, more study oven can do the trick, especially one with a larger capacity for cooking for a group.
If you're solar backpacking or wanting to bring your oven with you on the go, where you don't have much room, but need a green cooking method, a lighter, more compact solar oven might be a better fit.
Some of the solar ovens on our list fold up into small carrying cases, made for solar chefs on the go, while others are much more put-together, for an easy setup and extra high cooking capacity, but they pack on extra weight in exchange.
When considering the "where" factor, we were sure to provide you with size and weight information as well as the intended storage method, so you can be sure that the solar oven you choose can come along with you wherever you need it to go.
Selection Criteria: How We Ranked the Best Solar Ovens
Picking out the best solar ovens is no small task, especially when there are many out there that simply don't work very well. When putting together our list of the best solar ovens out there, we took into consideration the solar ovens that are proven to work well and stand up to the test of time, based on their materials and actual customer experiences with the ovens.
A good solar oven can go a long way, especially when comparing it to a pizza-box science project oven, but knowing what makes that difference is key. We picked solar ovens that keep it simple and make cooking with the sun easy and effective.
There are a few key elements that we kept in mind when looking at what are the best solar ovens. We tended to favor more portable solar ovens, because as well as a thirty-pound oven might work, who wants to lug that around? That said, there is some variation on our list. Here's why.
Portability and Capacity
Generally, the most portable solar ovens have a lack of capacity in terms of cooking area, and vice versa. The heaviest, bulkiest solar ovens give a lot of room for users to work with.
Some of the solar ovens strike a balance between the two. We favored those most. Then, we selected the solar ovens that perform well in one of the areas.
Another thing that we found in terms of portability and lightness, is that those that are the best in that sense often are a huge pain to set up and take down, whereas the most solid ones are a breeze. There's almost no folding up to take it along in a small package, so it's easy to work with.
As two basic measures of portability and capacity, we looked at weight and size of cooking area. Where possible, in our reviews we noted useful elements in terms of storage. An example is the bag-shaped solar oven, Jwn Portable Solar Oven Bag.
Temperature Range
One of the single most important factors in choosing the best solar ovens is the temperature range. It is the number one thing that distinguishes a manufactured solar oven from a homemade one.
All of the solar ovens on our list can reach at least 250⁰F. We considered that a minimum acceptable maximum temperature. That is because this is the range that most slow-cooking recipes require.
You'll also note that we favored solar ovens that can reach into the 300-400⁰F range. Those have more of a diversity of possible uses.
That said, some of the lowest temperature range options are the cheapest, simplest and most portable. So we also consider them important because of those features.
Frequently Asked Questions (FAQ)
How do solar ovens work?
In short, solar oven use direct sunlight on a dark box or container (either the cooking area or a dark pot, depending on the design) where the heat from the sun's rays is trapped in the box or pot.
Because the surface is dark, it traps more heat and over time, the heat is stored and the food cooks. The reflective surfaces around the cooking area or box help reflect even more sunlight onto the dark surface, speeding the process.
Can I adjust the temperature of my solar oven?
There is a small amount of control that users have over the temperature of a solar oven, based on how directly in the sun you are placing it. In general, however, cooking foods that require a very exact or constant temperature (like a cake, for example) is not a good idea.
The best thing to do if temperature is a big consideration in your cooking is choose a solar oven that has a maximum temperature range that fits about the temperatures that you wish to cook at and invest in a thermometer to monitor the solar oven.
What can I cook with a solar oven?
The biggest limiter of what can be cooked with a solar oven is temperature. Keep in mind that water needs to be heated to 212⁰F to boil and meat should reach an inner temperature of 160-165⁰F to ensure that it is safe to eat.
All of the ovens on this list are rated to be able to reach at least both of those temperatures in ideal conditions but ensuring that they actually do in less-than-ideal conditions is key.
Another limiter is size. Many of the solar ovens have certain height, length and width restrictions that limit what kinds of pots and pans fit into them. By proxy, this also limits what kinds of foods fit into it; however, in most cases, if it fits, it can likely be cooked.
With that in mind, there are almost endless things that can be cooked with a solar oven. Often, you can think of a solar oven as cooking in a similar way to a slow cooker/Crock-Pot. Most things can be cooked in them, but sometimes recipes require modifications in order to work well.
Many of the solar ovens come with a recipe book or CD that provides a few ideas, and there are many recipes adjusted for solar ovens online. As long as you keep in mind temperature and size limitations, there is often a way.
Can I use a solar oven when it's cold outside?
Yes, you can. Although some claim that they feel that their ovens work somewhat better in the warmer months, it is the amount of sunlight that really matters.
If you position your solar oven correctly in direct sunlight, it will heat the cooking area, regardless of the outside temperature, although you may find that reaching the peak temperature takes somewhat longer and that the amount of time that you can get direct sunlight is less in the winter.
The cooking area of most solar ovens is mostly enclosed either in some sort of boxed-in area or with a clear windshield to help maintain the heat that they generate. They also use large pots that are often well-insulated. With the help of both of those tools, the heat that the solar oven concentrates is not lost, even to colder outside temperatures.
What kinds of pots/pans/kitchenware are appropriate for a solar oven?
Many of the items on this list include a suitable pot for the solar oven, and many of the manufacturers sell them separately as well, either as an extra to complement a kit or as an add-on to the basics. These are excellent choices because they are specifically made to be used with the solar oven.
For those wishing to go out on their own and use either a pot that they already have or purchase one from a different place, there are a few things to keep in mind.
The pot should be made of a thin, dark metal and it should have a lid. Often, people have trouble with solar ovens when they use pots with polished finishes because they reflect light away from the pot. They can also have trouble when they use pots made of a thick metal or some ceramics because these pots take much longer to heat.