Our modern world relies on fossil fuels for most of our energy needs, but the emissions these cause are subject to major environmental concern. 
One facet of the best foldable solar panel chargers is that you can rely on them in an emergency. Should a disaster occur, having a foldable solar panel charger can help people stay connected. 
Portable solar panel chargers are great for the environment, make you more energy-efficient, and pay dividends in the long run.
We've gathered 5 of the best picks for the eco-conscious consumer looking to catch some rays and 4 honorable mentions!
Our Top Picks
|   | Product | Details   |   |
| --- | --- | --- | --- |
| | Best Overall: Renogy Foldable Solar Panel | Affordable and scores consistently high on just about everything. On the heavier side, but still able to be carried. | Check Price |
| | Best Durability: Nekteck Portable Solar Panel Charger | The durability of this foldable solar panel is great. We're impressed with how tough this little portable solar panel is. | Check Price |
| | Best For Outdoors: Rockpals 60W Foldable Solar Panel Charger | Water-resistant and great for outdoor enthusiasts. Energy conversion rate is high and packs the most power. | Check Price |
| | Best In Versatility: Jackery SolarSaga Portable Solar Panel | Amazing wattage. Versatile product. A sturdy solar panel charger that's both portable and efficient. | Check Price |
| | Best In Longevity: Zamp Solar Portable Solar Panel Kit | On the expensive side, but great quality and will deliver maximum solar power output for the long haul. | Check Price |
How We Chose the Best Foldable Solar Panel Chargers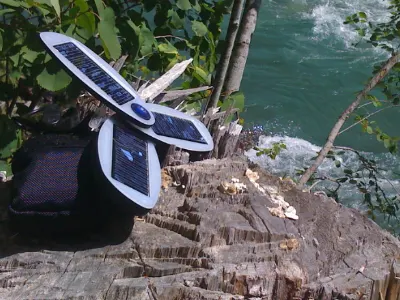 Portable solar panels are a great alternative to fossil fuels, but you won't be able to reap the benefits of free energy if the solar panels are too costly up-front.
That's why one of our top considerations when reviewing these was cost. There are a few expensive solar panel chargers on our list, but consider those as investments.
There are many ways you can use portable solar panels.
Most people think about solar roof paneling when talking about solar panels, but rarely does someone think of a solar charger for your electronics or appliances.
We considered metrics for versatility and different uses. We scoured the internet for the best portable solar panels, as well. 
The power capacity in a solar panel's integrated battery pack or power bank is essential to judging the quality.
Some of the portable solar chargers are going to have a low score regarding power capacity, but that's only because they're up against bigger and better foldable solar panel options. 
If you're looking for something to charge your phone, you don't need a lot of wattage.
If you're trying to power something that's much bigger, you want to go with the solar cells that rank higher in that regard.
We also judged the best foldable solar panel chargers for weight and portability. The heavier solar cells usually mean a sturdier build, but it will be more difficult to haul around.
There are different reasons for buying a foldable solar panel charger, and they have different uses, with highly portable or smaller panels being better for car camping, and heavier, higher-output panels being better for setting up a power station.
Every item on this list of portable solar panels folds into a more compact version of itself, making it a valuable contributor to the solar revolution.
We decided it comes down to how small the solar cells can get, how heavy they are, and what kind of carrying method they need.
5 Best Foldable Solar Panel Chargers Reviewed
1. Best Overall: Renogy Foldable Solar Panel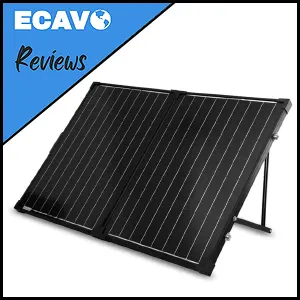 Product Ratings
| | |
| --- | --- |
| Affordability  | 4/5 |
| Weight | 3/5 |
| Portability | 4/5 |
| Wattage | 4/5 |
| Quality | 5/5 |
Sizes: 69.1" x 6.1" x 50.5" | Brand: Renogy | Watts: 100-200 | Volts: 12 | Features: Heat/Cold Resistance, LCD Screen, Overcharge Guard | Weight: 12.8 lbs
What We Liked
Heat and cold resistance for a more durable panel
Efficient, producing enough power in low light conditions
Ability to add solar panels as needed
LCD Screen to control and monitor solar charger function
Built-in 20A charge controller to prevent overcharging
What We Didn't Like
It's heavier than portable solar panels (25 lbs)
A little on the pricey side
This panel is an overall great product for a fair price. Besides its drawbacks of being a bit of an investment and heavy, the upsides are attractive.
Since this solar panel can withstand heat and cold, it's great for any clear day.
That being said, some of the solar panel chargers from this company will not stand up to rain.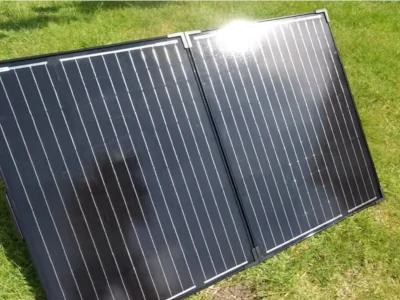 It just so happens that the one listed isn't waterproof, so be careful not to leave it out in heavy rain.
In the case of solar panels, another weather condition that could mess with the power would be clouds, mist, or anything that blocks direct sunlight for an extended period of time. 
However, this particular solar generator set doesn't seem to be too affected by lightly overcast conditions.
Since it has the option to add or take away solar panels, you can adjust the solar exposure as needed.  
Extra Features
We'll touch on the adjustable solar panels one more time.
It's because of this feature that you can use it in so many different places, and it can easily adapt to any sun exposure you need to ensure you have the charging power you want.
There's no need to worry about overcharging or short circuiting because of the charge controller guards against such occurrences.
This particular kit has a built-in 20A charge controller, so no matter how long you leave it out or how bright the direct sunlight is, you'll never have to worry about the device overcharging the battery pack or power bank.
Controlling is easy since it has a dedicated control screen.
The look might seem retro, but the screen is helpful on sunny days because of its polarized nature.
Unlike a cellphone or tablet, won't be hard to see in high light or direct sunlight conditions.
Portability
One trade-off for the type of quality you're looking at is weight.
The solar panel charger weighs 25 lbs, so you'll be getting a great workout in carrying this around.
The weight decreases its portability, but if you do decide to get this portable solar panel you won't have to carry it around awkwardly because it has a carry handle like a briefcase.
See Price on Amazon
---
2. Best Durability: Nekteck Portable Solar Panel Charger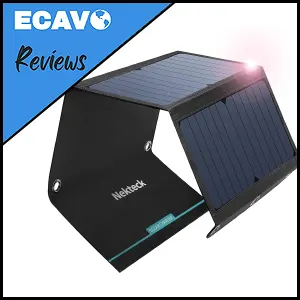 Product Ratings
| | |
| --- | --- |
| Affordability  | 5/5 |
| Weight | 5/5 |
| Portability | 5/5 |
| Wattage | 2/5 |
| Quality | 4/5 |
Sizes: 6.3" x 11.1" x 1.06" | Brand: Nekteck | Watts: 21 | Volts: 5 | Features: Compatible With Most Devices, Dual Port USB, Temperature Controls | Weight: 18 oz
What We Liked
High conversion efficiency (21%-24%)
2 USB ports to charge multiple devices simultaneously
Auto-detection to provide the charging power needed
Has built-in protection from overheating
Solar charger is compatible with many devices
What We Didn't Like
Low wattage output delivers a slower charging speed
Some problems with longevity of the fold-out design
Unreliable carabiners and hooks
This is perfect for charging a phone or tablet. Its efficiency is astounding and its built-in protections are a huge plus.
Let's go more into detail about exactly what stood out to us.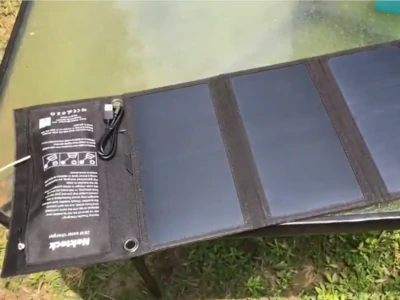 Weather Resistance
If it gets hot, this panel will keep itself cool. It has built-in heat controls, so the solar charger will not overheat.
It's not particularly waterproof, so look out for heavy rain! 
Like the previous device, the efficiency of the panels is not to be underestimated.
Its 21-24% conversion efficiency is highly impressive and will give you an upper hand in shady conditions.
The product comes with hooks and carabiners, but we did notice that they malfunction quite often.
The good news is that you can go to any hardware store to get better models, so don't let that feature scare you away.
Another feature that really caught our attention was that the system can detect how many devices it has plugged up to it.
This is vital if you're using both ports and goes hand-in-hand with the temperature controls. 
No matter how much effort it puts into the charging capabilities, it won't overheat and damage whatever's plugged in. It's compatible with almost any electronic device.
Portability
This foldable solar panel charger is lightweight and compact when folded. Once you procure some clips, you have more than just one option to travel with it.
You can carry it in a bag or clip it onto anything that can hold it. It's never been easier to flex your commitment to Mother Earth.
See Price on Amazon
---
3. Best for Outdoors: Rockpals 60W Foldable Solar Panel Charger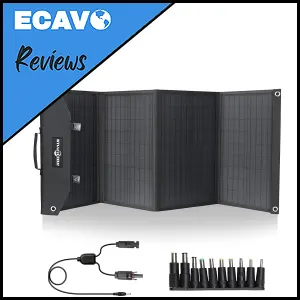 Product Ratings
| | |
| --- | --- |
| Affordability  | 4/5 |
| Weight | 5/5 |
| Portability | 5/5 |
| Wattage | 3/5 |
| Quality | 5/5 |
Sizes: 13.78" x 13.39" x 2.36" | Brand: Rockpals | Watts: 60 | Volts: 5 (per port) | Features: Dual Power Source, 3 USB Ports, Water Resistant | Weight: 90.6 oz
What We Liked
Two power sources- battery and solar
21.5%-23.5% conversion efficiency
Water Resistant
3 USB ports to charge multiple electronic devices
What We Didn't Like
The junction box unit is not waterproof.
Requires extra care and maintenance
Though slightly bigger than other truly portable solar panel chargers, but it's still reasonably sized. It's versatile and its extra features are great!
Weather Resistance
Part of the appeal of the set is that it is mostly waterproof. The junction box needs special attention, as water can bypass the Oxford cloth barrier.
As long as you keep the junction box relatively dry, it will be just fine.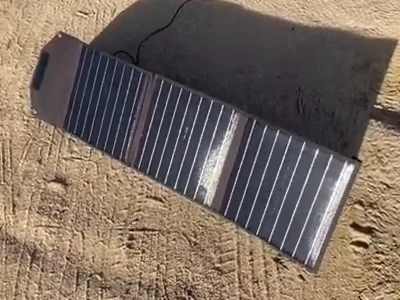 Be careful where and how long you leave it in direct sunlight, as this particular solar panel charger doesn't have the fancy temperature controls that the others do.
Solar panels are by no means fragile in high temperatures, but this solar charger won't be as resilient as the others on our list. 
It's still the best portable solar panel charger we found for the outdoors, so that counts for something.
Versatility
With three USB ports, you'll be able to charge multiple devices. It has two ways to charge the device itself which is versatility others can't beat.
If the solar panels are not delivering enough solar power, and you don't have much sun that day, you can always change the battery! 
If you were worried about losing power from lack of sun, know that the 21.5%-23.5% conversion efficiency should get you through almost any overcast day.
Even if the sun isn't as bright as your future, you'll still have plenty of power in your power bank.
Portability
This solar charger only weighs 90.6 oz. That's barely over 5 pounds, so it joins the club for the "apex predators" of portable solar panels!
It folds in on itself and has a convenient handle, which only adds to its appeal as an on-the-go solar panel. 
The solar panel can kick back with its own stand, all while gathering lots of energy. Since the kickstand that comes installed is great for maximizing the exposure of the solar cells.
See Price on Amazon
---
4. Best for Versatility: Jackery SolarSaga Portable Solar Panel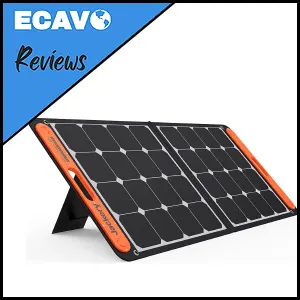 Product Ratings
| | |
| --- | --- |
| Affordability  | 3/5 |
| Weight | 5/5 |
| Portability | 5/5 |
| Wattage | 4/5 |
| Quality | 5/5 |
Sizes: 22.83" x 19.69" x 2.36" | Brand: Jackery | Watts: 100 | Volts: 5 | Features: Compatible With Different Power Stations, Overcharging Guards | Weight: 5.5 lbs
What We Liked
Smart technology prevents overcharging and short-circuiting
Two types of built-in USB ports: USB-A and USB-C
High conversion rate
Lightweight portable panel
What We Didn't Like
Compatibility issues with charger stations from other manufacturers
A little pricey compared to other portable solar panels
This is the most expensive solar charger on the list, but its smart technology, efficiency, and portability make up for the cost.
There are some drawbacks with some of the extra features, so we'll get right into what exactly you're looking at.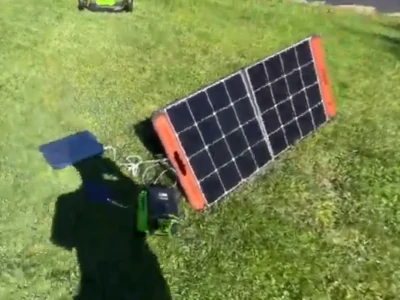 Weather Resistance
It's not completely waterproof, but it does have a splash-guard and can withstand very light rain!
The company explains in the description to not leave your system out in the rain. 
However, if you spill your iced caramel macchiato all over the solar panel, you have a good chance of saving your investment.
If you're worried about exposing wires to moisture, you're in luck with its zipper pockets.
Extra Features
This is another system that has built-in controls. Its smart systems monitor output so your panels never short circuit or overcharge.
It can charge your electronic devices or power anything else that's compatible with USB-A or USB-C electronics.
However, that USB feature is not reliably compatible with other charger stations from different manufacturers, so it may not work out for you.  
Portability
With its sleek design, it's a lightweight foldable solar panel charger. It's tiny when it folds up, so it can fit in a standard pack.
If you have an extra 20-inches or so in your pack, you have room for a Jackery system. 
This portable solar charger has a kickstand, so you can set it anywhere you want while it soaks up the maximum amount of the sun's energy.
There's a comfortable rubber handle which is a plus for portability.
See Price on Amazon
---
5. Best Longevity: Zamp Solar Portable Solar Panel Kit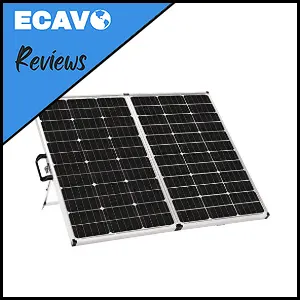 Product Ratings
| | |
| --- | --- |
| Affordability  | 1/5 |
| Weight | 1/5 |
| Portability | 2/5 |
| Wattage | 5/5 |
| Quality | 5/5 |
Sizes: 32.4" x 21.5" x 3.1" | Brand: Zamp Solar | Watts: 140 | Volts: 12 | Features: SAE Plug and Alligator Clips, Carrying Case | Weight: 46.7 lbs
What We Liked
Durable design and great power output performance
Great source of power on darker days
Perfect free energy to live off the grid
Can be used to jump-start a car
Durable panels can be used for a portable power station
What We Didn't Like
More expensive than most other solar panels we tested
Extremely heavy
Alright, let's get this fact out of the way. It's one of the most expensive solar charger systems. Now that that's over with, let's see what you get for your money.
It's durable and holds enough voltage to start a car, but let's get more in-depth about other features.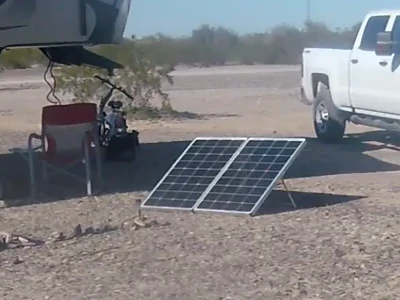 Weather Resistance
A Zamp unit is superior in durability and performance under any conditions.
It won't stop working even on the darkest of days, and it holds incredible power in the power bank once it charges.
If you're looking for the next big step in living off the grid, this is perfect for you. 
If you've sunk the hefty stack of bills into this device and it stops for any reason, there's a 25-year warranty.
We have such confidence in this superior product to persevere through most weather conditions (it's weather resistant not weather-proof).
The high conversion efficiency and durability make this a win/win investment for anyone serious about participating in the solar revolution.
Extra Features
If your car ever breaks down and needs a jump, the Zamp portable solar charger system comes with an SAE plug and alligator clips.
With such a high wattage and voltage, it has enough power to get you out of a difficult situation.
As you are setting it up, you'll find that you don't need tools or any parts.
Once you get your package, everything will be set up for you. There's nothing quite like a no-tools-required assembly! 
Portability
Definitely think about this portable solar panel charger as a permanent feature, unless you're up for a mini strongman competition.
It weighs 46.7 lbs, putting it squarely in the heavyweight class of this review. 
It comes with a double carrying case which is perfect for carrying it inside because of violent storms or weather conditions.
If you want a heavy-duty, reliable, yet portable solar charger for an off-the-grid lifestyle, this is your pick.
See Price on Amazon
---
Comparison Chart
| | | | | | |
| --- | --- | --- | --- | --- | --- |
| Product | Renogy | Nekteck | Rockpals | Jackery | Zamp |
| Affordability  | 4/5 | 5/5 | 4/5 | 3/5 | 1/5 |
| Weight | 3/5 | 5/5 | 5/5 | 5/5 | 1/5 |
| Portability | 4/5 | 5/5 | 5/5 | 5/5 | 2/5 |
| Wattage | 4/5 | 2/5 | 3/5 | 4/5 | 5/5 |
| Quality | 5/5 | 5/5 | 5/5 | 5/5 | 5/5 |
The Winner
Overall we felt that the Renogy Solar Panel is the best option on this list!
It's a high-quality portable solar panel with plenty of wattage and it's a practical solution for anyone who wants to travel with their panels.
It's incredibly versatile and can charge batteries, charge electronics, and keep you going better than other solar panel chargers.  
How to Choose the Best Solar Panel for You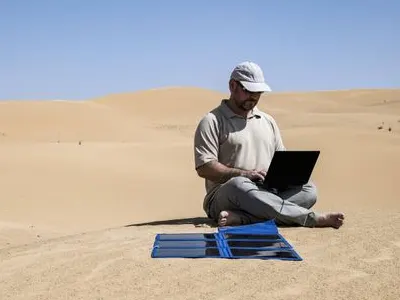 It's possible that you're not sold on our winner, which is okay!
If you want to choose the best portable solar charger on your own, here are a few pointers.
Consider Your Climate
Are there any weather conditions that your panel might fall victim to?
The first thing you should consider is what kind of storm or weather condition might damage your panels.
Most solar panels are weather resistant but not all are made equal. Make sure to check some reviews and look at the specs on the solar panel before you buy.
For all of you sunny climate people, sun exposure isn't a problem. If you're from a cloudy area, you're going to want to pay attention to how much sun this needs.
Most panels don't do well in a shady place. Be on the lookout for efficiency. The more efficient, the less sun it needs. 
How Much Space Does it Need?
Some of these panels can get pretty big, so consider when and where you might be using it.
If you just want it to charge your phone, something that takes up a lot of space is unnecessary.
If you can't take it anywhere with you to charge your devices, how can you brag about how eco-friendly you are?
On the other hand, if you are using it for an off-the-grid powersource, a bigger model is an okay option.
Usually, the bigger the panels, the more power it holds. That could mean the difference between a complete blackout and partial blackout. 
If you're not ready (or aren't allowed) to put a full array of panels on your roof, a large model like the Zamp panel is a great investment.
How Comfortable Are You With Thin Materials?
In many of the reviews of these products (including our own), the thicker panels are better. However, that isn't always the case. 
You can have a quality, thin solar panel. Since the eco-revolution started, the solar industry has seen a big push toward thinner and thinner materials.
Don't feel like you need to go with a thin model because it's the way of the future. If you want something that has some heft, get a heavier model.
If your goal is to have something extremely light, the thinner products should still be sturdy.   
Honorable Mentions
Here's a brief look at the panel options that didn't make our list.
The Dokio panels are just as powerful and versatile as its counterpart, but there are concerning flaws that put it in the runner-up category.
While it's far more lightweight, the quality of the product as well as the features suffer.
You can leave the Renogy panels out in most weather and forget about it. This is not the case with Dokio.
The product has no capacity for weather resistance, and it won't convert rays to energy without a fight and perfect conditions.
Once it charges, you're lucky to get half the amperage it advertises. 
This will still get you through your next camping trip, but it won't perform as well as its competitors.
At first glance, this is a similar product to the Nekteck charger. However, you don't get the same resilience for the price.
In fact, the price itself was a point of contention. For something that's nearly $30 more expensive than its competition, you'd expect the specs to be better.
The features that make the Nekteck solar charger shine is its water resistance. Big Blue does not measure up in that regard.
First of all, this foldable solar panel is considerably heavier than our final choice for this category.
Since this is supposed to be the versatility category, we wanted to go with lighter solar cells you can take with you.
Eco-Worthy isn't so heavy that you can't still carry it, but we had our eye on convenience for this category of solar panels.
We noticed that the Jackery foldable solar panel had greater potential for compatibility with other products.
Though there were some problems with the performance in that regard, it still has the potential to be more compatible with other products than the Eco-Worthy model.
We saw that this solar charger had less potential for power than the Zamp.
It's far lighter and less expensive, but if we're judging on longevity of use, there are some problems with design and power.
We were looking for something that could serve you many years at a high power level.
Goal Zero has significantly less wattage than Zamp so we had to turn our attention toward the higher power capacity.
The greatest concern we had with this solar panel was its fragility. The solar panels on this system fold with the tempered glass out.
The tempered glass is what collects the solar power, so that needs to be protected. This means that there's a greater potential for damage of the solar panel.