Whether in the aftermath of a natural disaster without power or going off the grid for some time on purpose, solar chargers are essential to keep in contact with the rest of the world in an era where contact is constant and necessary.
Many find solar chargers to be a better choice than solar power banks for truly being off the grid. That is because they allow you to depend completely on solar power to charge. (Even though the devices don't hold charge themselves.)
Some solar chargers have such high capacity that you can be charging a tablet and a camera at once. Then, later in the day, you can fill up a portable power bank. That will enable you to charge everyone's devices at night.
That's invaluable for any family, group of friends or even individual with a lot of electronics that find themselves in that situation.
If you're going to be totally isolated from a wall socket for some time for no matter what reason, you're in the right place. Here we'll walk you through the 6 best solar chargers to help you make it through.
6 Best Solar Chargers
Choosing the Best Solar Charger for You
Solar chargers come in many different shapes and sizes. They vary in efficiency, durability, compatibility and design.
Just like the solar chargers themselves, the people that use them are diverse. We have a variety of needs and wants when it comes to solar chargers.
Considering the advantages of different possible features and drawbacks that might come with those features, you can choose the best solar charger for your purposes.
We'll take a look at some of the people who might find a solar charger useful. We will also consider what features they might prioritize. Some people may be able to leave some features behind. Our goal is to help people considering investing in a solar charger come up with the best choice for them.
Hikers, Backpackers and People Who Like to Travel Light
Taking your solar charger on the go with you? Then one of your number one requirements should be that it is lightweight.
Most people in this category won't be carrying a ton of devices. Solar chargers can get heavy pretty quickly. So going for an option that may have few solar panels (and therefore may charge a bit slower or only be able to charge one device at a time) could be a good choice.
Choosing a device that is resistant to the elements is also key. If it is going to be hanging out in a backpack for hours at a time, chances are the solar charger might come into contact with dust or water at some point. Having a device best suited to deal with that should be priority.
As an extra, many solar chargers come with some sort of hanging/attachment contraption. Sometimes it includes hooks, carabiners or something similar. Those are intended for clipping onto a solar backpack for charging on the go.
Many times these included hanging methods aren't exactly the most well-thought-out or sturdy. So looking for one that seems to be the exception to that rule can be a handy feature.
Campers (Especially Car, Van and RV Campers)
For some reason, you haven't gone full solar (probably because it's more expensive and gas can work just fine). But you've also realized wasting your car battery to charge your Bluetooth speaker or cell phone also isn't ideal. And we all know those charging hookups at campgrounds are unreliable at best.
Unlike a hiker or backpacker, a car/van/RV camper has a bit more room and possibility of weight to work with. Likely, they will be charging devices for multiple people, too.
Going for a solar charger with the highest capability is key here. Even if that means it weighs two pounds and has 5 solar panels, because you can.
Also, double-checking that you can plug in two (or more) devices if a great plan. Then you can share the charge all around.
Solar Gadget Fanatics
If you just love solar energy and want to expand your collection of solar energy devices to include a portable solar charger, bells and whistles are probably top priority. The solar chargers out there have some pretty interesting options when it comes to extras.
On our list, there is a solar charger that comes with a built-in ammeter. There are a few different types of solar panels used. You can choose which solar charger has the solar panels that you find most interesting.
All in all, there are a few different options of extra features to consider. So choose wisely!
People Who Need a Backup Energy Source
Whether you live in a remote area, you've been a victim of a natural disaster or you just find yourself somewhere where the power can be a bit finicky, there are a few solar chargers that are excellent options for you. Like the car/van/RV campers, you'll likely want a device with high capacity. You'll also want the ability to charge multiple devices at once, but you'll also probably want wide compatibility.
If you will be depending on a solar charger for any length of time to charge your devices, then you'll likely want to choose a solar charger that is compatible with all of your devices. That includes tablets, external chargers, cameras, etc. You may not want one just limited to phones.
Don't Fit into One of Those Categories?
No worries, if your situation is unique, we still have some recommendations for you. In general, trying to balance efficiency with size is an important consideration.
Choosing a durable solar charger is also always a good idea. You never know where you'll find yourself with the charger.
Selection Criteria: How We Ranked the Best Solar Chargers
In order to come up with a ranking of the best solar chargers out there, we considered many factors. On a basic level, we looked at if they actually charge or not.
We also look into whether the solar charger will actually last beyond a few charges. All of the solar chargers on our list fulfill those requirements.
So, when ranking the solar chargers that we've selected, we go beyond those basics to take into consideration many more factors. We focus on what makes the solar charger the most user-friendly, efficient and fast.
The following factors are the ones that we believe are most important to those variables. We discuss how they play out in terms of a solar charger.
Amperes (amps)
Amps measure how fast an electric current flows. So more amps mean that the current is flowing faster. That said, most devices have a maximum number of amps that they can receive. For example, most cell phones only use up to one amp.
In terms of our solar chargers, that means that if each port is able to receive at least one amp (which all the chargers on this list are), then any amps over this number won't make a difference in charging a cell phone, for example.
The case when higher amps is better is when charging larger devices, such as a tablet. They are usually capable of receiving more amps.
If the charger has less amps than the device is rated for, it won't hurt your device, but it will charge slower.
Wattage (watts)
In a solar panel, wattage is the solar panel's theoretical power production under ideal sunlight and temperature conditions in any given moment. Wattage is calculated by multiplying volts by amps. (Volts are the amount of force of electricity, amps are the amount of energy used). Another way of thinking of it is how much power is released per a second.
In basic terms, more watts mean that more power is being released. Wattage is dependent on amps and voltage. So when considering which solar charger is best, it's important to consider both factors together with what you need in mind.
Size and Weight
Contrary to what one might think, solar panels are actually very light. Most of the solar chargers on our list weigh about one pound. Some much less and some a bit more. This makes these chargers super portable and easy to carry.
We take into consideration size and weight when the size or weight was significantly more or less than some of the other options on the market. We'll also point out if the shape of the solar panel either folded or unfolded makes it much larger or smaller.
Efficiency
For solar panels, efficiency is expressed as a percentage. This percentage quantifies the solar panel's ability to convert sunlight into energy.
If two solar panels were exactly the same size, but one had an efficiency percentage much higher than the other, then the one with the higher percentage would produce more energy, all other factors equal.
Generally, newer solar panel technology is more efficient than older technology. Looking for a panel with higher efficiency means that you'll get more energy for its size.
Durability
Each individual solar charge has its own features to make it rugged and resistant to the elements. It's hard to put numbers on them to compare. That is because much of the durability is dependent on material quality and thoughtful design.
We'll do our best to summarize to you what we've learned about those two factors. We will explain how they play out in real life.
Pretty much all of the options on our list are made with PET polymer or PVC canvas. That basically means that the cases are strong and durable.
They're also all water-resistant. So as long as you aren't dropping them into a puddle, they should hold up to daily use. (That is, provided you're careful of the USB ports, which are often weak spots.)
If there is any glaring problem that draws our attention, we'll let you know. If we find one product shines above the rest in terms of durability, we'll point that out.
Many of the chargers have elements that go beyond these listed factors. We will definitely mention that in the full review of each product.
We evaluated each and every one of the solar chargers on this list for all of the above factors. We'll highlight how they stack up against each other based on their performance in each one.
Frequently Asked Questions (FAQ)
Does the solar charger hold charge?
No, solar chargers are different from solar power banks in this way. A solar charger does not have a battery, therefore it does not hold charge.
A solar power bank does have a battery, so it does hold charge. Solar chargers tend to have more solar panels and charge significantly faster than solar power banks. Those can often can take days to charge just using solar power.
The other main difference between those two types of devices is that a solar charger needs to be in the sun to work. However, with a solar power bank, the ability to charge your device in cloudy/nighttime conditions exists. (That is, given you've charged the power bank itself ahead of time.)
One workaround to this is to use a solar charger to charge a normal power bank. Then use that power bank when you need it. That will allow you to choose a more efficient solar charger than the ones included on typical solar power banks.
Will the solar charger still work if it's cloudy?
Most solar chargers will still charge if the weather conditions aren't ideal. That is, provided that they still receive sunlight.
But the charging will be significantly less efficient. For example, charging a device might take 3 hours to charge in perfect sun conditions.
However, it might take 8 or 10 hours to charge, or more, on a cloudy day. If there is absolutely no sunlight (at night or while it's raining, for example), the charger will not work at all.
How long will my device need to be on the charger to fill up my battery?
This varies widely by device and sun conditions. In perfect conditions, most smart phones will charge in just a few hours – more or less the same amount of time that they would take to charge using a standard wall charger. Less than ideal conditions will mean that the device charges slower and therefore needs more time to charge.
Some solar chargers also come with the option to connect a quick charge cable. Not all are capable of quick charge, but if it is, you can also expect to see similar charging time with the quick charge cable as you would in a standard wall charger, in ideal conditions.
When or where shouldn't I use a solar charger?
If there is almost no sun or inclement weather, it is not a good idea to use the solar charger, because at the end of the day, the solar chargers work with solar panels that are electronic devices that need sun to function. They are built to resist gentle rain, but it's best not to leave them in the rain unnecessarily.
It is also a good idea to consider your placement of your devices when charging with a solar charger. Many devices will not charge if they overheat, and at the very least, being in direct sunlight isn't very good for most batteries. Using a longer charging cable is a great way to be able to place the device that you're charging in a shady spot, while the solar charger remains in direct sunlight.
Can I charge two devices at once?
The vast majority of chargers on our list have 2 USB ports, allowing you to charge two devices at once, if you desire. Each individual USB port has its own ampere rating, which means that you should be able to get maximum charge out of each port as well for most devices, although if one USB port has a higher ampere rating than the other, make sure to charge your larger devices in the one with the higher rating.
Are there any devices that I can't or shouldn't charge with my solar charger?
In general, unlike many solar power banks, solar chargers are widely compatible. Although they probably don't have the capacity nor capability to charge your laptop, for example, most solar chargers should charge almost any device that can be connected via USB, including power banks.
That said, it is still wise to check in the description of the device and in the user manual before plugging in your device. It's possible that older devices might have some trouble with the charger, and it's best to be sure, just in case.
Is the solar charger flexible? Will I break it if I just put it into a backpack?
The solar panels are not flexible; they will not bend. That said, with the case they do have a little give and a lot of protection. The solar panels themselves are also very solid and rigid, so sliding it into a backpack shouldn't do it any harm, as long as you're gentle with them.
Some solar chargers are made to be more rugged than others, so if a very durable and resistant to the elements and breaking is your highest priority, there is definitely a solar charger that meets those needs.
Rankings & Reviews
Now we've arrived at the nitty gritty part. You know what features or elements you're looking for, your basic questions are answered and you're familiar with the terminology that we use to talk about solar chargers, so now it's time to make some decisions.
We'll tell you about which solar chargers we like the best and which we think could use some improvement. We'll also try to highlight the features that we think are best for certain people and which solar chargers might not be the best fit for you. Pay attention to our highs and lows, because there you'll find a quick summary of each charger.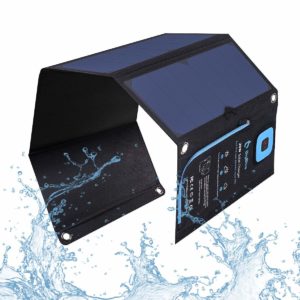 Top Feature #1: Built-in ammeter + smart charger
Top Feature #2: 28 watts
The high points: built-in ammeter, smart charger, waterproof, charges quickly, quality materials, 4 solar panels
The low points: relatively heavy, pouch is poorly designed (prone to overheat devices)
The BigBlue Solar Charger achieves our top spot because of its useful features combined with its excellent functionality. Between the smart charger and ammeter in addition to the four solar panels, this solar charger has everything you need to get the best charge possible.
Because of the four highly efficient solar panels, the BigBlue solar charger is one of the quickest ones on the market. It can output a maximum for 4 amps and 28 watts in ideal conditions, which is more than enough output for almost any USB-enabled device.
The ammeter is an extra feature that is unique to this charger and truly is a big plus – it helps you identify when and in what position your solar charger is working at peak functionality, so you can take advantage of the sun's rays. It also is great for knowing which device you can charge with the solar charger at that time based on the amps that it is giving out.
One of the biggest flaws with this device, though, is design. It has a zipper pouch built-in to the case, which seems like it is intended for holding a device that is charging, but the pouch is completely black and facing up, toward the sun so it is extremely prone to overheating (which will overheat your charging device and cause it to stop charging).
The BigBlue solar charger is also big. Weighing 21 oz., it is by far the heaviest solar charger that we include on our list. An extra solar panel really boosts the charging ability, but it also boosts the weight.
That said, if weight and some minor design flaws are the price for an efficient, reliable and most notably, fast solar charger, then we're willing to accept that, putting BigBlue above the rest.
What do reviewers say?
In regard to this product, there were many happy campers, literally. In general reviewers used this product for outdoor adventures and were very pleased with how the situation turned out.
They were happy with its functionality, including the fact that it is waterproof, dustproof, and shockproof. They also appreciated the LED display and the light it comes with.
Reviewers also liked the ammeter. It helped them to know how well they were charging a device at any time. They did note that you can't read it in direct sunlight and need to shade it to read it.
Most of the reviews related to BigBlue's solar charger had extremely positive things to say about the speed and effectiveness of the charger and their negative comments came from small side notes, pointing out little design problems.
Features & Considerations
As we've pointed out, there are some small design issues with this solar charger. If you're dead set on using the pocket included in the case, then there is definitely a better choice out there, and if you absolutely need to read the ammeter in the sun, then it might be best to choose another one to buy separately to meet your needs.
The biggest handicap of this solar charger is its weight. For a backpacker, the fact that this solar charger is half a pound to a pound heavier than some of the other options out there can really hurt this product.
It's a great solar charger for somebody who likes the bells and whistles and for those looking for high-capacity speed. If those are your priorities, then this is the best choice for you.
Top Feature #1: The most efficient charger on our list
Top Feature #2: 21 watts
The high points: great hanging design, very fast charging, durable, every purchase plants a tree
The low points: small pouch, iPhone users must use an Apple lightning cable with this charger
The Ryno Tuff solar charger comes in second place, close behind BigBlue. It is a great product in every way, and in some ways, even better than our number one choice. Of the chargers on this list it is actually the most efficient of them all. It also is fast charging-enabled.
That said, there have been some situations where users of Apple devices had trouble with the solar charger. Most were able to solve the issue by using one of the lightning cables provided directly by Apple with the Apple devices, but a fraction of users continued with problems, particularly with older devices.
At a maximum output of 21 watts (3 amps) and conversion rate efficiency of 25%, the numbers are quite impressive. They don't tell the whole story, though.
The design of the Ryno Tuff solar charger is also quite good – the hanging mechanism is well-designed. There are many loops placed strategically in different parts of the device and it includes two carabiners to attached them with to an outside device, if necessary.
Another great part about purchasing the Ryno Tuff solar charger is that that company is dedicated to the environment. For every Ryno Tuff product purchased, they plant one tree. If you're buying the solar charger to be environmentally conscious, Ryno Tuff takes that goal even further.
What do reviewers say?
The reviews of non-iPhone users were overwhelmingly positive, praising the device in almost every aspect. The reviews from a few people with Apple devices were as positive as the rest, but many of those reviews were a mix of frustration and advice, instead.
Positive reviewers found it to be amazing and fast. They noted the USB3 and its large panels, saying that it stood out from other brands. They found it to be a great purchase for camping trips.
Reviewers also appreciated the hanging mechanism. They described the cord straps all over the unit that are sewn in, as well as two carabiner hooks. Those enabled users to keep the charger off the ground while it was charging. They could just hook it to branches or another object.
Features & Considerations
The most important thing to keep in mind with the Ryno Tuff solar charger is the problems with Apple devices. It is far from incompatible with Apple, because many users used also had super positive experience with their Apple devices but buying this charger if you have an iPhone can be a risk.
Another possible minor inconvenience is the zipper pocket, which doesn't allow for most phones to fit, or even more than one small cable. Seeing as this charger might need a specific charging cable to get the best result, but it isn't that easy to fit into the package, this might not be the best combination.
Still, the Ryno Tuff charger is a solid, efficient charger. It's built to last and if it works with your device, it will work well.
Top Feature #1: Consistent and reliable
Top Feature #2: 21 watts
The high points: brand-recognition, great waterproofing, works well in low light, efficient charging
The low points: some devices/some USB cables are incompatible, pocket is weak (Velcro doesn't completely seal it)
When it comes to battery packs and chargers, everybody knows Anker. They have a reputation of high capacity, high quality and quick charging. With that reputation comes quality customer service if that isn't the case and a certain level of reputability associated with being such a well-known brand.
That recognition doesn't come from nowhere. The Anker solar charger is consistent and efficient and although not the fastest 100% of the time, it is reliable and does work 100% of the time.
It also has the advantage that it continues to charge efficiently in relatively low light, thanks to three excellent solar panels. Some solar chargers don't work in imperfect conditions, but the Anker charger keeps kicking.
In addition to its charging capability, the Anker solar charger also has significant design advantages. It is very well waterproofed, and the overall device is quite small, making it a great device for outdoor travel.
The only major drawback that we could come up with is that the efficiency varies significantly based on device and what USB cable you're using with the Anker charger. This seems to be an issue across all the solar chargers but was particularly pronounced with Anker.
What do reviewers say?
Anker's reputation even touched the reviews; many told of using their Anker solar charger in combination with an Anker battery pack or other devices or mentioned that they chose the Anker solar charger because of their familiarity with the brand.
In addition to that, many reviews had a lot of varied, positive feedback. Reviewers liked that it charged their power core pretty quickly.They found it to be lightweight and an important part of their survival packs.
They enjoyed being able to hang it by its rings. Some also used the rings to attach it to their backpacks. Users also noted that the covering felt water-resistant.
All in all, reviewers were happy with both the product and with Anker. Almost a thousand took the opportunity to recommend them.
Features & Considerations
We touched on this before, but we want to repeat that some users did have some compatibility problems, particularly with older devices. Anker has a list of devices that their solar chargers are compatible with, so double-checking with that can help avoid problems, and using the ideal cable for your device will also help make charging is as efficient as possible.
Another small hiccup to keep in mind is that while other similar devices have pockets sealed with zippers, Anker's is just a small piece of Velcro, so it doesn't keep anything in the pocket very well. For us we didn't find it too important, but if that pocket is high priority, it's a good thing to keep in mind.
Top Feature #1: Very weather-resistant
Top Feature #2: 21 watts
The high points: well-placed pocket, intuitive design, decent charging, works fine even with clouds
The low points: relatively heavy, compatibility problems with some Apple devices
Nektek's solar charger is a rugged device, fit for the outdoors. It's water-resistant and dustproof, and can take damp conditions, which is very important for taking it with you in the outdoors.
The physical design of Nektek's product is also very intelligent, with the pocket placed on the underside of the device when opened, so you can store the device that you're charging inside the pocket while it's charging without having to worry about overheating. Overheating in the built-in pockets is a common issue among other models, so it's excellent that Nektek took that into consideration.
The charging power of the Nektek solar charger is decent, but not amazing. It can output 3 amps in total between the two USB ports and 21W. That said, it still works well in less-than-ideal conditions which makes it reliable.
One big downside of the Nektek solar charger is that it is relatively heavy in comparison with similar devices. It comes in at just over a pound (18 oz.) and isn't the most compact device, either.
Like some of the other devices on the list, there have also been some issues in compatibility with Apple devices, which seems that it can be solved by using the lightning cable that Apple provides with devices.
What do reviewers think?
For some reason, Nektek seems to be the number one choice for emergency kits, which reviewers explained time and time again. It seems that its reliability in combination with its durability makes it an excellent choice as an emergency/backup charger.
Some reviewers used it when they lost power, and it worked really well for them. Combined with a couple other portable battery chargers, one family was able to keep their phones powered during an entire outage.
Another reviewer noted that although Nektek isn't the most efficient charger, it was sufficient for their purposes, which were to use it for a disaster kit and for camping. A common thread among reviewers was that this product was adequate enough for emergency and backup purposes.
Features & Considerations
The two main things to keep in mind when it comes to the Nektek solar charger is that it is heavy, and it has some compatibility issues. Neither one of these considerations necessarily apply to every user, so it's important to think about in what situation and with what device you will be using your solar charger.
If you're going to be taking it on the go, then the extra weight can be a downer, whereas, if you'll be leaving it in one place and using it repeatedly, the extra weight might not matter so much.
As far as compatibility goes, the best thing to do is check with Nektek directly about your device and use the best, most standard USB cable to charge your device. Larger devices like cameras or tablets also tend to have more problems, so keeping it simple can be good.
Top Feature #1: Smallest, lightest (and easiest to close) charger on our list
Top Feature #2: 10 watts
The high points: zips all the way shut (more protection, more durable), super light, multiple colors, durability
The low points: just one USB port, only two solar panels, relatively low charging capacity, prone to overheating
What we love about the ECEEN solar charger is that it is so small and lightweight. Weighing just 12.8 ounces, it is the lightest charger on our list and, because it just has two solar panels, it also ends up being the lightest.
It is also designed very differently than the rest of the chargers on this list due to the difference in the weight and the solar panels. The two solar panels fold together facing each other, and instead of just a pocket zipping shut, the entire device is enclosed in the solar panel "sandwich," giving it maximum protection.
Also, if you're into aesthetics, the ECEEN solar charger comes with many color choices that are significantly more visible because of the design than other solar charger's colors. The choices even include camouflage for if you're using it out in the woods.
That said, all that convenience and design comes at a price, and in the case of the ECEEN solar charger, that price is charging capability. It is one of the weaker chargers on this list. Here's why.
It just has one USB port (because the device is smaller), although the USB port is conveniently located inside of another pocket, giving it further protection. It also has significantly lower output, at peak performance, giving out 1.5 amps and 10W.
What do reviewers think?
Although there were a few reviewers that were disappointed with the lower charging capability, the vast majority didn't seem to mind, instead focusing on the other features that it gains instead. They appreciated that the solar charger was compact, lightweight, and weather-resistant.
They also liked the USB port that is deep inside it, since it adds protection. Reviewers also made good use of the strong loops on it, to hang carabiners on it.
Reviewers noted that even though this solar panel has only one USB port, it was very helpful when camping. One user was able to keep two phones charged in addition to a battery backup.
One reviewer advised keeping the solar charger at an angle, rather than laying flat. They explained that if you lay it flat, it could overheat and cease working. However, most reviewers had positive things to say about this model.
Features & Considerations
We've already touched on the lower capability of this charger, which is something important to keep in mind, but it is also important to note that for charging just one phone, this lower capability shouldn't affect your charging at all. It would be more important in situations where you are charging multiple, higher input devices.
This particular solar charger is also somewhat prone to overheating. If that happens, all you should have to do is let it cool down a few minutes and just adjust the angle periodically, and it should be okay.
Top Feature #1: Excellent hanging mechanism
Top Feature #1: 10 watts
The high points: folds up well, good hanging mechanism, reliable
The low points: slower charging, design isn't super intuitive, inefficient solar panels
The Foxelli solar charger shines in build quality. It features an excellent hanging mechanism and folds up extremely well, making even a quite large device very compact.
The hanging mechanism is made up of 11 built-in loops and includes 2 carabiners for attaching it to the outside of a bag or hanging it somewhere to charge. Taking advantage of that hanging ability can help you position it to find the best sun angle possible, even while on the go.
The material quality is also high and makes for an overall durable and resistant charger. It is made with industrial-strength PET polymer and sewn into rugged polyester canvas, which should hold up over plenty of time.
The charging capacity of the Foxelli charger is very similar to the ECEEN solar charger; the Foxelli charger features 1.85 amps and a 10W output. It's not particularly fast but is enough for simple uses.
In general, the Foxelli charger is a solid choice for taking on the go, if you're just looking to get a little juice. It might not be the best charger for charging many devices at once because of its relatively low output, but it will survive the test of time.
What do reviewers say?
Reviewers used this device for many purposes, from hiking to emergencies, and they all documented their experiences (as well as their surprise at a bonus that came with the solar charger – a flashlight from the same brand).
One reviewer was very thorough in their assessment of its performance during their camping trip. They described that the charger worked in full sun and could charge their phone in approximately the same time as their electric charger at home. They did note that it did not perform as well when it was cloudy.
Reviewers were also impressed with this charger's quality. One reviewer left it in the rain but it did not damage it. The charger also lived through a hard drop onto rocks.
Some reviewers bought it for their emergency supplies boxes. They tested it and reported that it charged devices quickly and completely. They recommended charging batteries with it rather than specifically devices.
Overall, it seems that the Foxelli charger performed exactly to expectations, which is all we can ask of a solar charger. Nearly all the reviewers said that they'd recommend it again.
Features & Considerations
As we've mentioned, the Foxelli solar charger does charge quite slow due to its less efficient solar panels, and it will charge even slower if you take advantage of the two USB ports, because it will have to split the charge and is only capable of an 1.85 output, meaning each port, even in ideal conditions, will charge slower than from a wall charger.
If you are able to keep your usage to one device, then you shouldn't have any troubles with the Foxelli solar charger. It's high-quality, well-built and not likely to break quickly.