Whether you live in cozy space, you're new to growing or you just don't need much room for your plants, a small greenhouse is a great way to keep your plants safe and warm all year long without having to invest in a large structure for your garden.
They come in all shapes and sizes. They range from truly mini greenhouses for tiny succulents and seedlings to compact greenhouses that pack a lot of room for growing into a relatively small area by depending on efficient use of space.
8 Best Small Greenhouses
Space: 2,052 square inches of space to place plants
Type: Tall, four-tiered greenhouse
The High Points: on wheels, good cover, lots of space
The Not-So: heavy
Our favorite small greenhouse is the Home-Complete Mini Greenhouse. It is a four-tiered, tall and thin greenhouse on wheels.
The Home-Complete Mini Greenhouse is well-constructed and easy-to-use. That makes it the ideal small greenhouse.
Compared to other small indoor/outdoor greenhouses, it has a large amount of space for setting up plants and stands alone. So all you need to get started is the greenhouse. That is the case regardless of what the ground beneath it looks like.
Since the greenhouse is on wheels, it is easy to move it to where you need it to be.
What Reviewers Say
Reviewers are overall happy with the greenhouse. They say that the outside cover is thick, durable and fits exactly how they hoped it would.
The cover also insulates the greenhouse well, and in direct sunlight may even overheat. So it is key to keep an eye on it and ventilate it on sunny days.
They also warn that if not properly installed, the shelves are liable to move about. The kit includes zip-ties in order to lock them into place when you don't want to move them. They are essential for keeping the greenhouse together.
Features & Considerations
The Home-Complete Mini Greenhouse is a little over five feet in height. It stands 63 inches tall, and is 27 in. x 19 in. at its base.
Between the four shelves, there are 2,052 square inches of flat space for putting plants. That makes it one of our most spacious small greenhouses.
The greenhouse weighs 12 pounds. It is one of our heaviest greenhouses. However, it is also one of the most mobile because of the wheels.
Each shelf is rated to be able to hold up to 24 pounds. That adds up to a total of 196 pounds for the entire structure.
The highest shelf has more vertical space for plants. That is due to the triangle shape of the top of the green house.
So the largest plants should be placed there if all four shelves will be utilized. Each of the shelves is removable. So it is also possible to adjust the number of shelves to the height that is necessary for your plants.
The greenhouse comes with a PVC clear cover, which is thick and heavy-duty. It is waterproof and also traps heat to keep the plants warm during cooler weather.
The inside of the greenhouse can be accessed via a weighted flap. You can roll it up to leave the greenhouse open.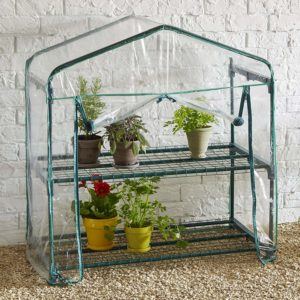 Space: 1,368 square inches of space to place plants
Type: Medium, two-tiered greenhouse
The High Points: quality cover, snug fit, sturdy
The Not-So: heavy, weak points at zippers
Although the Education Insights Classroom Greenhouse is marketed for educational and classroom use, it also makes an excellent small greenhouse for anyone, not just teachers and students.
Its thoughtful design is valuable for any gardener and its strong build holds up not just to children in a classroom, but pets, outside pests and weather events, too.
The plastic cover makes it easy to see your plants, even while they're safely inside the greenhouse. It is also more attractive than some other covers on the market, too.
The clear plastic does not get dirty easily, so this small greenhouse also works well for displaying plants.
What Reviewers Say
Reviewers were generally happy with the Educational Insights Classroom Greenhouse, saying that it fit their need for a small, sturdy greenhouse. Most used it inside, but some also used it outside, and said that it stood up to medium winds and normal rainfall well.
One thing that reviewers particularly liked about the Educational Insights Classroom Greenhouse is that the cover fits snugly over the metal framing. That makes it more strongly protected and easier to move than if the cover were loose.
The problem with the snug fit, some reviewers point out, is that you must be gentle when opening and closing the zippers to access the plants. You'll need to do that in order to not break them with the vinyl cover pulled tight.
Features & Considerations
The greenhouse measures 19 in. x 36 in. at its base and is 38 inches tall at its highest point. It has 1,368 square inches of growing area between its two shelves and the top shelf allows you to place taller plants inside. The entire greenhouse weighs 8 pounds.
Another feature that is very useful is that the shelves can be easily removed to adjust to your planting needs. If you plan to put a heavier plant inside the greenhouse, you can remove the bottom shelf and place the plant directly onto the surface where the greenhouse is as to not stress the shelf.
If you need more vertical space than one shelf allows for, then you can remove the top shelf and place the plant inside, with double the space.
Space: 576 square inches of space to place plants
Type: Pop-up greenhouse
The High Points: pops up on its own, portable, no weight limit
The Not-So: small amount of space for plants
Flower House is the master of Pop-Up greenhouses of all sizes, which makes setup and take down of your greenhouse a breeze. It's also highly portable, because it folds up into a circular carrying case.
This small greenhouse is ideal for people who don't want to go through the hassle of setting up with metal poles and shelves and is a great choice for gardeners who want to shift the green house around.
Since it's very light and is just placed onto any hard surface (a table, the ground, sidewalk, etc), it's also very flexible.
What Reviewers Say
Reviewers rave about the fabric that the outside of the flower house is made of. The outside plastic is super durable and much thicker than similar "pop-up†models. Best of all, it is heat-resistant, so it is not liable to melt due to internal heating or degrade due to external sources.
They also love how well the greenhouse traps heat, but advise that it is suited for mild winters, but might need additional fortification if there will be extreme weather like snow.
Some reviewers also noted that since the method of holding the greenhouse in place is with stakes, it is not ideal to install over a hard surface if not weighed down by another method.
Features & Considerations
The Flower House Pop-Up Greenhouse is similar to a cube in shape, measuring 24 in. x 24 in. x 20 in. The area for growing is approximately 575 square inches, which is one of the smallest on our list, so it may not be the best choice for someone looking to have many plants.
Compared to other greenhouses, it is more vulnerable to the elements because it is not weighed down by metal poles. In total this greenhouse weighs 6 pounds.
It also does not have a built-in way of securing it, so in order to make it fit for outside use in less-than-perfect weather, the provided stakes will have to be installed and it is advisable to place the greenhouse near a structure to help block the wind.
The outside material is made of a woven plastic, making it stronger than a simple plastic cover. It is less susceptible to damage due to physical blows because the entire plastic cover is in one piece.
In order to access the plants, there is a zippered flap which can be tied up to allow airflow and easier access.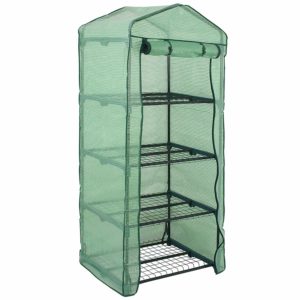 Space: 1,836 square inches of space to place plants
Type: Tall, four-tiered greenhouse
The High Points: lots of space, good value, includes two covers
The Not-So: heavy, doesn't support a lot of weight, not very durable
For a greenhouse with an excellent price vs. space ratio, the 4 Tier Mini Greenhouse is our go-to option. Its multilevel design makes efficient use of its size to minimize the amount of room that the greenhouse takes up while maximizing the space for plants all at a low cost.
The bottom three levels of the greenhouse are smaller than the top one, allowing for variation in which plants can be placed on which shelf, and each shelf is able to support 6-11 pounds. Although this isn't as much weight as some other options, for a few small plants, it is enough.
What Reviewers Say
Overall, reviewers were pleased with the greenhouse's capacity to maintain heat inside and generally protect plants from the elements, especially wind, although some cautioned that it should be secured if it will be in high winds to eliminate the possibility of it being blown over.
The downside to being so well protected if that some reviewers found that it overheated inside and there is no option for ventilation without the greenhouse being fully opened.
Reviewers also warned that the shelves should not be overloaded. The thin material that the shelves are made out of is excellent for maximizing the amount of space for plants to grow upward, but it does limit how much weight each one can take.
The vast majority of reviewers were happy with the greenhouse, even if they admitted that it is not the sturdiest one. They also agreed that it has a good price to quality ratio.
Features & Consideration
All in all, including the shelves of all four levels, this small greenhouse has 1,836 square inches of planting space. The entire greenhouse is 27 inches by 19 inches at the base and stands at 63 inches tall at its highest point. It's similar in size to an adult standing upright.
Another thing that we love about this small greenhouse is that it includes two covers, one standard PE cloth cover and one non-woven fabric cloth, which can be used for shade.
Both of the covers have a similar shape, drape over the metal frame and the opening is a long, zippered flap, which can be rolled and tied up when accessing the plants.
Its frame is made of high-quality tubular steel with powder coating and each shelf is constructed of a heavy-duty bearing net. The greenhouse weighs 10.6 pounds.
Because of its height and weight, it can be a little bit difficult to move, especially because it does not have any wheels or other mechanism to move it, so it is best to choose a place for it and leave it there if possible.
Space: 729 square inches of space to place plants
Type: Pop-up greenhouse
The High Points: well insulated, easily foldable, pops up when opened, comes with storage bag
The Not-So: cannot be placed on flat surface if there is wind
The highly foldable, easily stored Mini Pop Up Greenhouse is the small greenhouse answer for those on a budget. It's convenient with its simple carrying case, folding design and small stakes, and just about sets itself up completely once it's out of the bag, since it springs open.
All of those positives come at the most accessible price on our list. Although the greenhouse is small, it still has enough space for a few plants and is ideal for one or two large plants in pots, with significant height capacity. It also could work with several smaller plants.
What Reviewers Say
Reviewers that use this small greenhouse in their garden or inside their house love it. In the garden, you can stake it down and it does an excellent job of holding heat, while in the house, the foldable design makes it easy to move.
What some reviewers had trouble with was putting it over a hard surface, where they could not stake it down, and therefore where it was affected by winds, the light plastic occasionally blew it over.
Reviewers have mixed feelings about the outside plastic. Some say that they found it to be super durable and did an excellent job of holding in organic heat, while others worried that the plastic might not hold up to heating with an internal heat source.
Features & Considerations
The body of the greenhouse consists of clear PVC. A simple fabric holds it together at the seams.
Along the bottom, it has flaps that spill onto the ground. You can stake those down to seal in the heat and make the greenhouse more wind-resistant.
It measures 27 in. x 27 in. at the base and at its tallest point is 31 in. tall. The total growing space is 729 square inches, and there is no structural limit to the weight of what can be put inside, since it is placed directly onto the surface where the plants are sitting. The entire greenhouse weighs a little less than 2 pounds.
You can access the inside of the greenhouse via a zip flap, further insulating the space. When open, you can tie it up using two small strings near the top of the flap.
Space: 2,556 square inches of space to place plants
Type: Long, rectangular greenhouse
The High Points: lots of space for plants, allows for tall plants
The Not-So: plastic cover not durable
If you have many plants or if you have tall plants that just will not fit into the smallest greenhouses, then a greenhouse like the Quictent Updated Mini Greenhouse might just be the option for you.
It combines the compact design that makes small greenhouses practical, but there is still enough space to store many large plants.
It can be placed directly onto the ground or on top of another surface and it is even large enough for you to add your own shelves inside if you need them.
One of the best things is that, without a built-in base or shelves, you are not limited to the weight that the base of shelves can hold, which is key in a greenhouse with the capacity to hold many large plants.
What Reviewers Say
Reviewers love how durable and strong this greenhouse is. They recount how it withstood high winds and sub-zero temperatures and that even in those conditions, the temperature within the greenhouse remained reasonable, as long as it was fortified with blankets.
They also point out that you can use it for other purposes, such as protecting an outdoor pond, since the bottom is open. The one warning that they give in relation to the bottom is that it is essential to find a surface that will also maintain the heat and hold up to the weight of the plants.
In general, reviewers agreed that this greenhouse does better in cooler temperatures than in hot ones. Some users had trouble with the plastic deteriorating over time after being in the sun for extended periods of time to the tune of months.
Features & Considerations
This greenhouse measures 71 in. x 36 in. in length and width and at its highest point, it is 36 inches tall. It is supported by a heavy-duty powder coated steel framework which are connected by plastic PVC corner pieces. All together the greenhouse weighs 9 pounds.
The outside cover has a green tint and consists of a PE semi-transparent cover. It has two access points to the inside, both of which are on the same side, and you open them using a zipper. When open, there are small strings to tie them to the arch of the greenhouse to make working inside of it easier.
When you buy the greenhouse, Quictent also includes 50 white t-type tags for marking plants within the greenhouse. The total area where you can place plants inside the greenhouse is 2,556 square inches.
Space: 160 square inches of space to place plants
Type: Short, single-tiered greenhouse
The High Points: space-efficient, easy to assemble and break-down to store
The Not-So: too small for some needs
If limited space is your most important constraint, the Zenport Balcony Greenhouse is the small greenhouse for you. "Small†might even be an understatement for this greenhouse – it really falls into the category of "mini.†Put completely together, it still will fit into most people's laps.
Given its compact size, it is an ideal greenhouse for indoor or outdoor use. Inside, it can fit onto small surfaces in a small house or apartment, while outside, it is ideal for balconies as is in its name.
Small plants like seedlings, herbs and succulents go well in this greenhouse. It is worth choosing a short plant that grows slowly or you may find yourself needing to upgrade quickly, especially because the sides of the greenhouse are shorter than the center section.
What Reviewers Say
Since the greenhouse is so simple, just a small metal frame with a thick, plastic transparent cover, setting up this greenhouse is a breeze, according to reviewers. It is also easily foldable to be stored quickly and compactly.
The access to the plants is through a zipper which appears to be on the front (the longer side) of the greenhouse, but some reviewers mentioned that their greenhouse actually opens on the side. Because of the greenhouse's small size, the entire thing is easily accessible through the zipper, no matter which side it is on.
Features & Considerations
The greenhouse's overall size is 17 in. x 10 in. at the base and the tallest part measures 12 in. The shelf where you can place plants measures approximately 160 square inches. The small greenhouse only weighs 2 pounds by itself.
It consists of a powder-coated green finish steel frame shaped in an arc with a thick, waterproof plastic cover to insulate the plants. On the bottom there is a removable grated shelf to place the plants on.
Setup is easy; all you need to do is to unfold the frame, place the shelf into it and cover with the plastic cover. The cover has zip ties to hold it in place and you can access the contents of the greenhouse via a zipper on the shorter side.
Space: 136 square inches of space to place plants
Type: Tall, hard cover greenhouse
The High Points: cute, protects contents from physical blows well
The Not-So: fragile top – must pick up from bottom, not well sealed
This hard-cover greenhouse from Ikea is an excellent choice for greenhouses in a place where plants have to contend with animals to survive, whether it's the house cat or the backyard squirrels. The casing is fragile for lifting, but when it comes to batting paws, it holds up well.
It also is one of the most aesthetically pleasing greenhouses on our list, with the true Ikea style in the white frames and clear plastic siding. It can work as well as a greenhouse as it can for decorative purposes.
What Reviewers Say
Reviewers often chose this small greenhouse for its cute, but hard exterior. They noted that it allowed them to display their plants with its clear walls. It also protects them from the elements and their pets.
According to some users, the white frames are particularly nice. That is because they do not distract at all from the contents of the greenhouse. Instead, they complement it.
They warn that it should be handled with care. That is because of some weaknesses in the top part of the greenhouse. However, that as long as they were careful when lifting, they did not have any other troubles with its structure.
Some reviewers warn that it might not be the most well-sealed greenhouse, especially near the doors. That is because in some cases, there was a small gap between the closed doors and the top of the greenhouse.
To solve this, you could apply caulk to the greenhouse. However, as is, it is far from sealed off, although reviewers recognized that it probably could still retain a significant amount of moisture.
Features & Considerations
The thick walls of the greenhouse limits the total area where you can place plants. The flat inside area is approximately 136 square inches.
That is a wonderful place for seedlings or small succulents. However, it may not be ideal for larger plants.
Overall, the size of the greenhouse is 13 in. x 8 in. at the base. It is 18 in. tall at the tallest point – where the top panels meet.
You can adjust them for style and space. So some taller plants that don't necessarily need to be enclosed may also fit.
Another thing to keep in mind is that the greenhouse is relatively heavy for its size because it is made of plastic instead of netting and softer materials. Overall it weighs 7.6 pounds and you must lift it from the bottom because the connection from the base to the side panels is weak.
The Complete Small Greenhouses Buyer's Guide
What Makes a Good Small Greenhouse?
The answer is: it depends on what you plan to use it for. We know that's not very satisfying and it can be hard to know what is best for you, but there are a few things to consider that can help narrow down what features you should look out for and prioritize.
How Much Space You Have
Since you're looking for a small greenhouse, we imagine that you might not have much space. It's good to think about space in all three dimensions, length, width and height, to determine what greenhouse might be best for you.
For example, if you don't have much ground space, but you have six or seven feet vertically, a tiered greenhouse might be the best for you. If you don't have much outdoor green space, but a lot of concrete space, a greenhouse that plays to that might also be appropriate.
How Much Space You Need
The other question to consider is the amount of space that you need to grow. If the greenhouse is for one or two plants, then you don't need the same space as that required for hundreds of seedlings.
It is also important to consider what kind of space your plant needs; a tree needs a different shaped space than a flower, and the greenhouse you choose should reflect that.
How Protected Your Plants Need to Be
Different materials have different properties, so considering the needs of your plants can help you decide what you need the cover for your greenhouse to be made of. Some are more resistant to weather, while others hold in heat better. The covers on our list are made of the following materials.
Transparent or Colored PVC Cover
Transparent or Colored PC Cover
Vinyl Cover
Selection Criteria: How We Ranked the Best Small Greenhouses
When choosing which small greenhouses are the best out there, we took a number of factors into consideration. We know that no one thing makes a greenhouse perfect for everyone, but there are a few things that we value for every greenhouse, such as:
Material Quality
Efficient Use of Space
Sturdiness
Resistance to Weather Phenomena
All of the greenhouses on our list embody these qualities to some extent. We also considered a few other factors that varied greatly based on each greenhouse, which we'd like to highlight.
Dimensions and Weight
Each greenhouse has its own shape and size, which means that there is likely one greenhouse that fits your size needs. Some are tall and thin, while others are longer and flatter, and some are just outright compact. Weight varies from 2 pounds to 12 pounds.
We generally favored greenhouses on the larger spectrum of small greenhouses, but we also included a few that are very tiny. Weight depends largely on material, so it doesn't necessarily correspond with size, but more heavy-duty materials tended to be heavier so we favor heavier greenhouses.
Planting Space
Planting space refers to the area of flat surfaces where you can place plants. Some of these areas vary depending on whether you remove a shelf or where you place the greenhouse, but we often prefer greenhouses with more planting space so you can maximize how many plants you can put into your greenhouse.
Installation Method and Type
Most of the greenhouses fall into a few different categories based on the type of greenhouse and how you set it up. The more complex greenhouses to set up do require assembly, but a few simply just open up on their own.
Different types and assembly methods have their pros and cons, but we preferred ones that are relatively simply and require few tools, if any at all.
Frequently Asked Questions (FAQ)
Can I use my greenhouse both inside and outside?
Yes, all of the greenhouses on our list are fit for both indoor and outdoor use. There are a few things to keep in mind, though, if you choose to place your greenhouse outside.
The first is that not all covers are the same, and as such it is necessary to consider in what conditions you will be using it in. Some are more liable to break in inclement weather situations, such as under heavy rain or wind.
In others, the plastic may not be the sturdiest, and there is a possibility that it could melt or deteriorate under very strong sun.
Another thing to keep in mind is how you install the greenhouse to the ground. You stake some into the ground, while others simply sit on top of it.
Those with stakes work well outdoors, while others might be more vulnerable if there is no way to hold it firmly down.
Is there a weight limit for the plants that I put in the greenhouse?
With some of the greenhouses, there is a weight limit. The greenhouses that have shelves generally are not able to support as much as the other ones, ranging from 6 pounds to 25 pounds, depending on the design and make of the shelf.
Some greenhouses install directly onto the ground that they sit on. In those cases, the weight limit is not that of the greenhouse, but the surface that you've installed it on limits it.
Are the greenhouses heated?
None of the greenhouses on this list come with a heating mechanism installed. Some have special covers that have a design for trapping heat inside and thus have a natural heating system.
Others recommend certain heaters to use with them, such as ceramic heaters or seedling heaters, which work best with the shape of the greenhouse or the materials that the greenhouse is made of.
It is best to use caution when heating the greenhouse with a heater. There are other measures such as wrapping it in a thick blanket that you can take before resorting to a heater.
Before using it, it is best to check on the kind of plastic the greenhouse uses to see if it is suitable to use with a heater.
How do I set up the greenhouse?
There are a few different setup methods for these small greenhouses which vary from very little work to a lot of work; however, all of the greenhouses come with all of the necessary pieces you need to set up.
The first and easiest set-up method is the pop-up greenhouse. These greenhouses tend to install directly onto the ground and when you take them out of their package, you simply need to unfold them, and they set themselves up.
In order to secure them, most come with small stakes that you should drive into the ground near the corners of the greenhouse.
Another setup method is with poles, elbows and a removable cover. Although this setup takes a little bit more work, it is more flexible to your desires. It is most common with greenhouses with shelves and just involves putting the pieces together according to instructions.
The final method is more complicated and is only in the case of the hard cover greenhouse. It requires some basic tools to screw the pieces of the hard plastic together.
Are there limitations to having a small greenhouse, and if so, how do these greenhouses address them?
Having a small greenhouse means that you will not be able to step inside of it to care for your plants. Unlike traditional greenhouses, small greenhouses are meant to just house the plants and in order to manipulate and water them, you need to work from the outside.
The good news is that all of the small greenhouses on our list are designed with this in mind. They often have large zippered flaps which can be secured for easy access and are much easier to ventilate than a traditional large greenhouse.
Ecavo is reader supported. When you buy through a link on our site we may earn an affiliate commission. As an Amazon Associate Ecavo earns from qualifying purchases.