Human water consumption has major environmental implications. However, using one of these six best small rain harvesting kits can help us to make a difference.
In today's day and age, clean water is often taken for granted in developed countries where it's accessible and bountiful. However, recent water shortages have threatened several areas around the world. That poses great risks to the general public.
Here's the good news. Clean water quite literally falls from the sky and is completely free to harvest & recycle for yourself.
6 Best Small Rain Harvesting Kits
Capacity: 13-265 gallons
Design: Collapsible rainwater harvester
The High Points: Very easy to set up; available in sizes to suit anyone's storage needs; easy to move.
The Not-So: The tank's inlet is rather small and may need to be adapted to allow water to freely flow into the tank.
The Grow1 collapsible rainwater harvester is a versatile piece of equipment. It's a breeze to transport, set up and use.
With its vast array of sizes, the unit is great for homeowners with limited space. Those people range from apartment dwellers to those living on large acres of land.
The option of collapsing the unit and moving it to another spot with minimal effort is an invaluable functionality. Homeowners can easily move the tank around to different locations or properties. It depends on the weather patterns. It can also be quickly stored and tucked away during dry spells.
What Do Reviewers Say?
Reviewers are mixed about this unit, yet most have rated highly. The overall integrity of the Grow1 structure and build quality was admired by many buyers. Some mentioned that the installation and set-up was far easier when done when the unit was dry rather than wet.
The ease of setup this unit features was something reviewers loved and is a strong point. Others liked the option of packing the tank away and storing it when not in use. However, several reviewers complained about the couplings not tightening properly and creating leaks.
Features & Considerations
A collapsible unit is easy and convenient to set up. However, it is also more prone to damage from sharp objects which people should take into consideration.
The unit's inlet is a bit small. You might need to enlarge it to allow for more rain to be funneled into the tank during storms. Both issues may make the unit a little more complicated to set up for those planning a heavy amount of use.
The unit's shape does create great water pressure due to its height. That is a major benefit for those looking to use it with a hose.
In fact, the spigot is fitted right at the bottom of the unit. The unit is not insulated. However, due to its construction, it's able to stretch a bit should the water freeze in winter, keeping it safe from accidental bursting.
Capacity: 55 gallons
Design: Solid plastic rainwater harvester
The High Points: Super simple set up; can be connected in a series; rigid design.
The Not-So: Not the prettiest; may be too small for some homeowners.
When it comes to setting up a rain harvesting system, there really is no easier option than the FreeGarden Rain Barrel. Simply place the unit under a gutter or a place where water naturally falls off the roof and wait for it to fill up.
The quick, no fuss design of the FreeGarden Rain Barrel is sure to make it a winner with those who want to collect rain but don't have the technical knowhow or time to make adjustments to their gutter system. The size and shape of the system also allows people to transport it easily in the back of an average car as well.
What Do Reviewers Say?
It's safe to say reviewers love the FreeGarden Barrel. Several reviewers praised the ease of assembly and installation, and most love that the unit is ready to go straight out of the box. Moreover, the option of linking several units together in a series makes it a real winner for buyers looking to expand their capacity.
A few reviewers reported cracking after severe winter frosts, so if you live in an area that experiences harsh winters, it may be advisable to see what measures can be taken to prevent this issue.
Reviewers have also reported leaks around the spigot. Moving the unit while it's full has also resulted in the unit cracking, so you should keep it empty it before moving.
Features & Considerations
The size of the unit is not necessarily the biggest. However, this minor inconvenience is countered by its the ability to link up several units in a series, so each barrel is filled as soon as the former is full. You can easily do this by connecting them via the overflow pipes that are located on top near the lid.
The unique concave lid that directs water into a mesh filter allows the FreeGarden to catch water from a wider area, meaning it could even be used without a gutter system. The mesh filter ensures that leaves and debris don't find their way into the water while also keeping mosquitos out.
The rigid design and square shape are great for squeezing into a corner where round, soft units may not be suitable. A well-made brass spigot is placed higher on the barrel compared to other designs which makes filling watering cans far easier. The feature also prevents any debris from getting trapped in the spigot.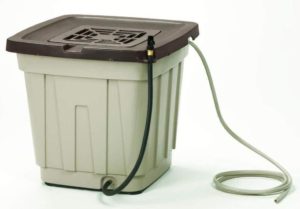 Capacity: 50 gallons
Design: Rigid resin rainwater harvester
The High Points: Small and out of the way; compact, easy to use; comes with hoses included.
The Not-So: Not the most attractive; low to the ground build produces very little water pressure.
For a simple, compact unit that does its job well and doesn't get in the way, the Suncast Rain Barrel is a great choice. This low-to-the-ground sturdy little unit wouldn't look out of place around office supply storage containers, which isn't necessarily the most pleasing look. However, it does a fantastic job with very little effort.
Homeowners can simply place their Suncast Rain Barrel under a source of falling water and wait for it to collect, storing it for later. With its sturdy plastic construction, this unit is tough and should be able to withstand knocks and scrapes without leaking. The included hoses that come with the unit is a handy addition to top off the kit.
What Do Reviewers Say?
Reviewers enjoyed the simplicity of the Suncast unit and its rugged and inconspicuous design. Several reviewers commented on the utility of the strong build and tight-fitting lid. They enjoyed the option of linking several units together so that they can increase the amount of water by 50 gallons with each unit they add.
Other reviewers complained about cracks forming in the bottom of the unit which caused leaks, with some blaming it on winter freezing flaws. It is generally advised not to use rigid rain barrels during harsh winters where the water within them can freeze and expand, cracking the structure.
According to some buyers, the low-to-the-ground build does result in very little water pressure out of the hose, but this can be remedied by elevating the unit.
Features & Considerations
The Suncast Rain Barrel's design has its own set of advantages and disadvantages. When it comes to water pressure, height and volume is an asset.
However, this barrel is too low and can cause pressure problems. On the other hand, the height makes the unit sturdier and more practical when used in the garden.
The hoses are a big bonus. They eliminate the headache of going out and finding the correct fittings and size for your particular unit.
The hose also has a shut-off valve which makes it all the more convenient. However, the hose can't function like a sprayer due to the limited pressure.
So, it's far more practical to drop the hose into your watering can or put it near some thirsty plants to slowly water them while you do something else.
Capacity: 50 gallons
Design: Plastic planter water harvester
The High Points: Looks great; disguised as a potted plant; durable; extra opening for hoses at the bottom.
The Not-So: Not the biggest; plastic spigot.
For something that adds a pop to your garden, look no further than the Algreen Castilla Rain Barrel. This pretty little barrel is both durable and functional. The design allows homeowners to grow a small plant in the top compartment while allowing water to collected through a mesh-covered hole in the back.
While the unit it is a bit pricey considering the number of gallons you can store, you can double up your collection capacity by placing one of these under every downpipe around your house (or aspiring earthship). With its attractive design, the added barrels won't make your home look like an industrial grow operation.
What Do Reviewers Say?
Reviewers of course loved the functional and attractive design of the Algreen Castilla Rain Barrel. The planting compartment was a great bonus for buyers, although some found that it was a bit small and some holes were needed to allow for drainage.
The super lightweight build of the unit was noted as being both a pro and con. In windy conditions it caused empty barrels to blow over, so it is advised to keep a few gallons of water in it if you live in a particularly breezy area. Its light weight does make it a breeze to move around the garden, however.
The early-model spigot did receive some criticism from reviewers, and many said it was not the best quality. Later models of this unit feature a brass spigot and this improvement has cleared up issue. This change highlights the company's interest in customer satisfaction and willingness to go the extra mile for improvements.
Features & Considerations
The Algreen is quite a unique rain harvester because of how attractive it is compared to other plain, unsightly competitors. Most would pass by one without even recognizing it as a water storage device, and the textured finish of the barrel's exterior makes it into quite a believable pot.
The barrel's capacity may be a bit small for users with high water demands or large gardens. However, homeowners could place a barrel under each down pipe without taking away from their garden's tranquility.
Besides its pretty design, the barrel has many practical components. The mesh covered inlet helps to keep debris from entering the barrel and possibly blocking the spigots. However, it doesn't completely prevent mosquitos from entering and setting up camp, so it's advisable for owners to keep an eye on potential larvae.
The unit can also overflow into another barrel, allowing users to fill up several barrels to increase total capacity during heavy rains.
Capacity: 265 gallons
Design: Collapsible rainwater harvester
The High Points: Large enough for even the biggest properties; easy to transport.
The Not-So: Not the prettiest; more susceptible to being damaged.
If you're looking to store as much rain as possible, the Autopot 265 Gallon FlexiTank is one of your best bets. With the amount of water this behemoth is able to store, you should be able to completely switch from municipal water supply to just rainwater in areas with good rain patterns.
Larger properties will great use out of the tank as it can be placed out of the way, but it may be impractical in smaller gardens. This unit is primarily used as a water tank and may need some minor adjustments, like a hole in the lid, to be used in conjunction with a gutter system.
What Do Reviewers Say?
Reviewers appreciate the lightweight construction, ease of transportation and installation, and collapsible design. The unit's lid, which can be zipped on and off, received positive feedback. Due to the construction of the unit, several reviewers advised against trying to move the tank while it has water in it.
Some reviewers found their units sprung leaks due to stretched stitching. Others didn't like the fact that their tanks had a tendency to sweat on hot days. However, people did not report any issues with the tank's spigot, which is a common complaint for rain storage units.
Features & Considerations
This AutoPot's strengths and weaknesses are largely the same as that of any collapsible tank, and potential buyers should consider whether this type of design is the right choice for them.
You won't need any tools to set up the collapsible tank, which is a plus. For those looking to make the most of their purchase, the large tank could also house an aquaponics/aquaculture system which could yield fresh vegetables or even some tasty tilapia for the dinner table.
As there are no designated inflow holes for downpipes to drain rainwater into this unit, users will either need to unzip the top in a small section or cut a hole in the lid to allow for funneling. While this is not an ideal solution as mosquitos will be able to get in through the unzipped area, creating a hole is relatively easy.
Users may also need to install an extra mesh filter if they'd like to prevent unwanted debris.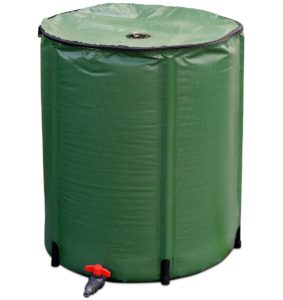 Capacity: 56 gallons
Design: Collapsible rainwater harvester
The High Points: Cheap; easy to use; blends in with the garden.
The Not-So: Spigot is positioned at ground level; susceptible to cuts and tears.
For an easy way to start harvesting rainwater with minimal up-front costs, the Goplus Portable Collapsible Rain Barrel is a great pick. Its bare-bones and effective design allows for maximum functionality. Homeowners simply needs to place the unit under a downpipe and wait for it to rain- its mesh covered hole in the center of the lid will do all the work for you.
This budget option may not look as nice as some other options, but its affordability makes it a fast return on investment. The relatively small size of this unit is also great for those with small gardens that want to tuck it out of the way.
What Do Reviewers Say?
Reviewers really enjoyed the easy, no-fuss setup of this unit and its ability to catch rain without any difficult adjustments. The speed at which the unit fills during rain showers was a high point for most, with one reviewer reporting that it only took 15 minutes during medium rainfall.
Reviewers gave mixed reviews when it came to the structural integrity of this unit. Some found it to be very well built while others found the flimsy construction to result in leaks. However, reviewers reported success by sealing it with silicon, which prolonged its lifespan by years.
Features & Considerations
The unit is similar to other collapsible models but does outdo them with its designated mesh-covered hole in the center of the lid. The neutral green color of the barrel allows it to blend in with the garden, and its compact design is great for storage during dry period or winters.
On the other hand, the spigot's height is rather low, which may make it a bit difficult to fill watering cans if you place it on the ground. You should raise the unit up on a few cinder blocks instead so that the improved water pressure can help the rainwater to exit more smoothly.
The Complete Small Rain Harvesting Kits Buyer's Guide
What to Look for in a Small Rain Harvesting Kit
With so many models on the market, it's become increasingly more difficult to find the perfect small rain harvesting kit for your garden or balcony. When scrolling through your options, whether online or off, it's important to keep in mind several major factors before investing in costly or cumbersome unit.
What type of climate do you live in?
This is the biggest consideration to make when choosing a rain harvesting kit. There are main different sizes, shapes and capacities. Determining the amount of gallons you'll most likely be collecting before purchase will save you many headaches down the line.
Here are a few questions to start off with:
How often does it rain where you live?
Do you experience a long dry season?
Do you experience regular rain patterns?
Those who experience long dry periods and those with infrequent rains will benefit from choosing a larger rainwater harvesting unit over a smaller one. A single 50-gallon unit may be just fine for those only looking to water their garden here and there but will not be enough for someone in an area where the next rains may be 3 or 4 months out.
What type of garden do you have?
A small garden consisting of drought-resistant plants is bound to use far less water than that of a large garden full of thirsty species. A garden filled with drought-resistant plants may use just a quarter of the water a garden of the same size would use that is filled with needy tropical plants.
Lawns are a major water guzzler and if you have a large amount of grass, you should choose more water storage over less. Using your water bill to compare how many gallons you use in periods of heavy rain (when your garden isn't being watered at all) with months with no rain (when you will be using the maximum amount of water on your garden) is an easy way to determine how much water you use and how much you will need to store.
Are you planning on emptying the water tank frequently?
If the answer is yes, you'll need to look for a unit with a well-made spigot. When it comes to rainwater harvesting units, one of the most common complaints is spigots that break, leak or become quickly blocked. Overall, a brass spigot is always a better option than a plastic one.
It's also a good idea to pay attention to the height of the spigot on your unit. If you plan to be using a watering can and can't raise the tank off of the ground, you'll have a difficult time filling the can if your spigot is located on the bottom of the tank.
Of course, you can always place your tank on a few cinder blocks to increase water pressure and accessibility, but this may be an inconvenience and eyesore for homeowners.
Do you want to link your tanks together for overflow?
A common practice for rain harvesters is to use their units in a cell-like fashion where several units connect to form one large storage unit. The benefit of this method is that one can effectively increase the amount of water harvested from a single point without needing to make any changes to their gutters or position of the units.
Most of the tanks on our list can connect in series to overflow into each other. However, if you're looking to make a proper series, the best models are those with specific overflow pipes that easily funnel the water from one barrel to the other.
Selection Criteria: How We Ranked the Best Rain Harvesting Kits
Capacity
The most important factor in an effective rain harvesting system is how much water it can collect and store. The larger the capacity of the unit, the more useful it will be for the homeowner due to a higher water pressure. That's also due to longer lasting water supply for the garden.
We also considered the ability to connect several units. That would effectively increase the total amount of water stored for smaller units.
Ease of Use
Many homeowners don't have the ability to make the adequate adjustments to their gutter system. So, we made it a priority to find units which require the least amount of effort and technical knowledge for installation.
It's true that most systems do require at least some adjustments to make downpipes a bit shorter. However, we selected those that needed minimal work.
Frequently Asked Questions (FAQs)
Why should I bother harvesting rain when tap water is cheap?
While accessing the water grid is as simple as turning a knob in most areas, there are some major drawbacks to relying solely on tap water. Collecting rainwater has several important benefits for individual communities and the world at large:
 Reduction in water bill: With a comprehensive rain harvesting system, the average homeowner can expect to save around 40% or 50% on their water bill.
Improved stormwater management: Rainwater harvesting reduces the amount of damage stormwater does to cities and helps reduce the effects of erosion and flooding. The capturing of this water imitates natural spaces that absorb water more easily than paved, concrete-filled urban areas.
Happier gardens: Rainwater is usually pH neutral and free of minerals which makes it far better for most plant species in your garden.
Reduces environmental impact: City water consumption often has a massive impact on local ecosystems due to the building of dams, tapping of groundwater and use of energy to transport. Reducing water demand in cities is an impactful way to lessen pressure placed on our environment.
How do I adapt my gutter's downpipe to fill my unit?
In order to fill a unit effectively during times of rain, you must redirect a gutter system's water flow onto/into your rainwater harvesting unit. There are several solutions to this relatively simple problem:
How large does my roof surface need to be?
Here's a simple calculation to work out how much water you could catch with the size of your roof:
Amount collected (gallons) = roof area (ft2) X precipitation amount (inches received) X 0.623

The larger the roof that is draining into your gutter, the more water you will ultimately be able to divert into your barrel to be stored for later. Obviously, losses can happen in times of heavy rain when the gutter may overflow, but if it truly is raining hard, your unit will be filled regardless. Keeping your gutter system clear of debris and in tip-top shape is always a good idea if you plan to harvest rain.
Can I drink my harvested rainwater?
In theory, you can drink harvested rainwater, but it is largely not worth the risks involved. There are several factors to consider when harvesting rainwater for consumption and we have listed some of these below.
Chemical contaminants
Water that has been harvested from roofs may be contaminated by building materials. These harsh chemicals aren't an issue when used to water plants as they are filtered by soil but are quite harmful to the human body. BPA may also leach from the plastic water tanks.
Pathogens
Pathogens have a remarkable knack for getting into water no matter where it may be. Dust, bird droppings, and other nasties that may find their way into water will contaminate otherwise clean rainwater. You can deal with pathogens by using chlorine tablets or boiling the water.
How do I keep my water fresh?
There are several ways to maintain freshness in your rainwater storage tanks.
Pick a good location: The sun is not your friend when it comes to rainwater storage units as it causes algal growth, degrades plastic containers and warms water, allowing bacteria to flourish. Try to keep your unit in a location that has shade and cool. The shade of a building is always better than that of trees due to the risk of debris getting into the water.
Collect pure water from the start: Try to keep the water entering your unit as pure and uncontaminated as possible. A good mesh/filter system that prevents debris from entering the unit will help keep the water sterile. The cleaner the water entering your system, the longer it will stay fresh.
Use your water: Using the water you have stored means you won't give it the opportunity to spoil. The amount of time rainwater will stay fresh largely depends on your environmental factors, but you should check it regularly in any case. If the water is not looking in the best of condition, it is a good idea to empty your tank.
Routine cleaning: Emptying and cleaning barrels every so often is a great way to keep them fresh and avoid bacteria build up in the vessel. If you're using the tank for drinking water, you should do this once every 10 days.
Decontaminating your drinking water: In situations where you're storing water for drinking purposes, you can use chlorine tablets to kill bacteria. Just make sure that you aren't using this water on plants as chlorine can sometimes harm them. The addition of a pump or aerator to circulate water within the unit is a good way to keep water fresh for longer and is advisable for larger scale setups.
How do I control mosquitoes?
Mosquitoes entering your unit and laying their eggs in your water supply is an issue for some with units that don't have fine mesh covered entry holes. An obvious solution to this problem is to seal your unit as well as possible but if this is not an option or practical other options do exist.
Using fish to control mosquito larvae is far from a new idea. It is often the most practical solution to dealing with these annoying invaders.
The Western mosquito-fish is the most commonly used fish in this respect. That's because they are hardy and don't require much to thrive and begin breeding.
Adding a few of these to your tank will clear up your mosquito larvae in a matter of days. Also, their feces will make your water more nutritious for your plants.
You can also try using mosquito dunks. Those are small blocks or rings of dissolvable materials. They effectively kill off all mosquito larvae present your water source. These chemicals are completely harmless to humans and animals.
They work by using bacteria that naturally occur in soil to kill off the larvae who eat them once present in the water source. After adding a dunk to your unit, all the larvae in your water system should be dead in under a week and your water will stay mosquito-free for about a month.
Another option is to add a bit of cooking oil to your water. This works by effectively suffocating any larvae in the water.
That's because their breathing tubes cannot pierce the oil film which rests on the surface of the water. If you choose to use oil to kill your mosquito larvae, a tablespoon should do the trick.
Ecavo is reader supported. When you buy through a link on our site we may earn an affiliate commission. As an Amazon Associate Ecavo earns from qualifying purchases.