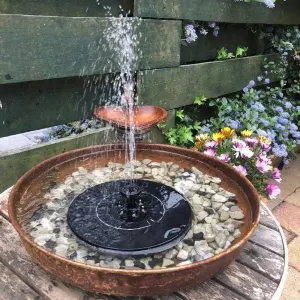 Any of the best solar bird bath fountains on the market can easily boost your backyard's appearance by adding a sustainable charm to your landscape. Requiring only direct sunlight to power it, a solar fountain or pump kit can put your garden or yard in the spotlight and make a very appealing and eco-friendly bird bath.
In this article, you will learn all you need to know about them and also take a look at some of the best solar fountains and pumps, so let's begin!
See our related article on the Best Solar Garden Lights. Pair one of these with your new solar birdbath to complete the desired backyard experience.
Table of Contents
Do Solar Powered Bird Bath Fountains Work?
Solar bird bath fountains include a pump that's utilized to run a bird bath. And by manipulating the pump, you can determine the trajectory of the water. You can decide what way you want it to move in and how high you want it to go. The pump operates through solar power; it powers itself by consuming direct sunlight and turning it into energy.  This energy is then utilized to manage the direction of the water.
Once you've determined how you want the water to flow, you can adjust the system in that manner and watch wild birds approach your solar fountain and play in the water. One of the best benefits of utilizing solar-powered water fountains is that they're eco-friend. Thus they don't emit any fumes or gas. They're also easy to clean and maintain.
Solar-powered fountains actually work! They will attract wild birds, boost your backyard's aesthetics, and stop insects from utilizing the water as a breeding spot. Also, these fountains eliminate the need to connect them to your property. Meaning, there's no need for a wire that can be a tripping hazard for kids, adults, and pets. Also, utilizing solar energy is favorable for the environment.
4 Common Types of Solar Bird Bath Fountains
Solar fountains gained popularity over the years as more homeowners became aware of the importance of utilizing solar energy that benefits both the environment and their electricity bill. You can pick from many solar fountains and pump kits for your existing fountain with different specs and features. That being said, let's review the most common types of solar fountains and pumps.      
1. Solar-Powered Fountain Pumps that Float
The pump and panel come as one unit that can be positioned over the water to work. Unlike fixed solar panel pump kits, the floating pump offers better water circulation and efficiency.
2. Solar-Powered Pump Kits that are Fixed
The panel is situated at the base of the fountain and operates underwater at all times. It's easy to install, i.e., DIY-friendly. However, it's also very reliant on the fountain position.
3. Separated Solar Panel Pump Fountain
You can put this panel in a different spot from the fountain spot. The bird bath fountain pump is incorporated and secured inside the existing fountain. The fountain and the power source aren't dependent on each other, and the efficiency is increased.
But here's the real kicker – wiring isn't required.
4. Pedestal Bird Baths
These conventional designs come in different colors to choose from and ensure that they blend with your outdoors. The best part? They're typically designed with a spacious bowl.
So, the birds will have enough space for playing, drinking, and splashing. Moreover, you can add smaller stones or a layer of sand or gravel underneath the basin to give a more solid footing.
This will make wild birds feel a lot safer when playing. It will also encourage more birds to visit, drink and bathe in your fountain. 
 
Product
Details  
 
Best Overall: Solatec Black Solar Fountain
• Eco Friendly
• Can be used as bird bath, in a small pond
• 4 different spray patterns.
Check Price
Best in Versatility: Ankway 1.4W Solar Fountain
• 1500mAh long-lasting battery.
• Very efficient solar panels
• 6 spray patterns.
Check Price
Best Free-Standing: Lewisia Solar-Powered Fountain
• Flexible installation options.
• Net-bag to prevent pump blockage
• Supports multiple applications
Check Price
Best with Backup Battery: Viajero 2021 4W Solar Fountain
• 4W panels and 3000mAh Battery for power
• Continuous spray even if 3-4 panels are dirty
• Automatic shut off
Check Price
Best Fully-Automatic: OKMEE Upgraded 4-in-1 Nozzle Solar Fountain
• 4-in-1 Nozzle for easy pattern change
• Comes with water-shortage protection
• Perfect for bird bath and other application
Check Price
Budget-Friendly: VOROSY Upgraded Solar Fountain
• Only needs 3 seconds to operate automatically
• Has water-shortage protection and filtration box
• Comes with an exclusive fixer to stay in place
Check Price
Best Solar Powered Bird Fountain
Having a solar fountain for a bird bath sounds appealing. Moving water will bring all the birds to your yard. However, choosing the right solar fountain or pump kit matters! Opt for a solar-powered bird bath with a larger solar array and a battery backup. The battery should be at least 1200 mAH, the panel should be at least 2.5W, and the water flow should be at least 180 L/h.
The following reviews can help you make a well-informed choice. Just pay attention to the key features, pros, and cons of each product, and you will find what suits your needs in no time.
The Solatec solar bird bath fountain is a high-quality product with a broad circular panel that consumes sunshine. It has a very powerful pump. Thus, the sprays can reach up to 2 ft high.
What we like most about the Solatec solar fountain are the 4 kinds of spray nozzles. So, if you're not happy with the final result, you can always try the other three – it's super versatile! However, this solar fountain is super lightweight. Of course, that's perfect for floating. But, whenever the wind blows, it also effortlessly glides to the sides of the bird bath.
Overall, it's a great solar fountain. So, if you're looking for a super-versatile, eco-friendly, and affordable product that saves money while attracting more wild birds, look no further than Solatec. Just make the floating pump float on the water, and once the panel absorbs sunlight, it will automatically work within a few seconds. 
What We Liked
Wide, circular panel
4 nozzle options for various spray styles
Versatile and cheap
What We Didn't Like
Unstable due to the lightweight design
See Price on Amazon
---
The Ankway solar bird bath fountain has a convenient function design and 8 types of spraying styles. It's ideal for all homeowners because it's easy to install, user-friendly, and low-maintenance.
You can easily install it in your bird baths, water containers, or small ponds. It doesn't have batteries and doesn't need electricity to work, so most homeowners prefer it over other products out there. It just pumps water automatically and gets the job done at a very acceptable price.
What we appreciate most about this solar fountain is the 1-year limited warranty. The customer support is also excellent.
What We Liked
1-year limited warranty
Super-versatile and compact
Functional design and low-maintenance
Responsive customer service
8 different spraying heads
What We Didn't Like
It works only when exposed to sunlight.
See Price on Amazon
---
If you're searching for a super-powerful solar bird bath fountain pump, then Lewisia is the perfect choice for you. It's a standing pump that goes right into existing bird baths. The great thing about standing pumps is that they can work even in the shadow because the solar panel and the pump aren't connected. Thanks to the 10 ft long cord, you can put your panel in spots with a lot of sunlight and let the bird bath be visited and enjoyed by birds in covered places.
The only downside is the super-sensitive solar panel, so if there's even the smallest shade wrapping your panel, it stops working. But if this isn't a deal-breaker for you, opt for this product.
What We Liked
Wide application
You can put the fountain in the shadow
The included filter bag prevents pump blockage
Different nozzles for different spray styles
Low-maintenance
See Price on Amazon
---
The Viajero solar fountain pump makes a perfect choice for most bird baths because it's 7 inches in diameter. It packs powerful premium-quality panels, internal battery and comes with a backup battery.
It has a safety shutdown feature. When it stops operating, you would already know there's something wrong with your solar-powered fountain and intervene on time. However, unlike other pumps that would stop running when the solar panel is partially covered, this one has been created so that the fountain will continue to operate and spray water at a consistent flow.
The only disadvantage is the restarting process. It takes too long to restart! Other than that, it's ideal for most homeowners who prefer a high-quality fountain with durable PET laminated solar panels.
What We Liked
Durable solar panels
Internal battery and backup battery
Operates even when there's partial shading or clogging
Affordable and intelligently designed
Auto-shutdown function
See Price on Amazon
---
OKMEE is a top-notch solar bird bath fountain with a unique 4-in-1 design that enables you to spin the nozzles and alter the styles of the sprinkling water. People like this fountain because it doesn't produce loud noises to scare the wild birds and annoy you. It requires a depth of at least 1.2 inches to work.
The diameter of 6.3 inches makes it suitable for most bird baths, and the PET laminated solar panel offers great durability. It's a fully automatic fountain that performs without any manual interference. You can utilize it with other artificial water tanks.
With this product, you can enjoy a gentle burbling sound and various water styles up to 20-27 inches on sunny days. The filtration box ensures consistent work. It's excellent for blocking dust, dirt, and leaves, but most importantly, it extends the life of your fountain. The panels work in a harsh environment too!
What We Liked
Calming sounds
Unique nozzle design
PET laminated solar panel
Affordable but durable
Super-versatile
See Price on Amazon
---
If you're on a budget, VOROSY has a perfect option for you. It's their upgraded 2.5W solar fountain with PET laminated solar panel for continuous operation. The best part about this product is that it's DIY-friendly. You can easily install it in your garden, yard, or patio and choose from the 4 different spraying styles.
It's also suitable for use with various water tanks because it not only keeps a constant flow of water but also purifies it via the filtration box at all times. It needs seconds in direct sun to work automatically with a spray height of 20-27 inches (no battery or electricity required).
According to satisfied homeowners, this eco-friendly fountain attracts hummingbirds, thanks to the fixer that keeps the fountain from moving randomly and saves water. Your fountain will never spray the water outside of the bird bath and drain quickly. Lastly, it's super easy to install and adds beauty to any garden or backyard.
What We Liked
4 nozzles
Highly-efficient
Multiple applications
Budget-friendly
DIY-friendly
See Price on Amazon
---
Looking for a free-standing solar bird bath fountain pump? If so, this product by Biling is the ideal choice for you. It makes a great option for spots where you only get sunlight for only a few hours. You will get this affordable pump with a built-in 800 mAh battery that ensures a consistent operation for a few extra hours after the sun has set. However, it's so powerful that it absorbs lots of debris.
You have to clean it at least two times a week to ensure consistent operation. If your solar bird bath fountain isn't working, restart it, check if there's enough water, or disassemble the pump and clean it.
The high-quality solar panels won't deform or break, and you receive a professional after-sales service with a free return within 3 months, but we doubt you will be dissatisfied with this pump.
Overall, it's worth the investment and makes a lovely gift for your friends and family. It will enhance the appearance of any property and attract birds. Now, let's list the pros and cons.
What We Liked
Durable build-in battery
Provides amazing water sprays
Affordable and DIY-friendly
What We Didn't Like
It's so strong that it absorbs a lot of debris.
See Price on Amazon
---
Create a relaxing and elegant outdoor living space by installing the Smart solar ceramic device. It's a unique yet eye-catchy solar bird bath fountain. It's a lovely design piece that provides a steady water flow and calming sounds.
We have included this product in our list of reviews because it's a full set – both a fountain and bird bath with beautiful flowing water. Thus, you won't need to purchase an individual bird bath. However, you can't utilize it during cold days. It's made of ceramic and will break when the liquids freeze over. So, keep that in mind and store it at home during the cold days.
The Smart solar fountain works in direct sunlight and includes a 10 ft cord. You can also add an extra AC adapter for inside use. However, this additional adapter isn't included in the package.
What We Liked
Unique ceramic appearance
Includes an individual solar panel; thus, the fountain/bird bath can be situated in the shadow
A lovely fixture for many setups
What We Didn't Like
Not suitable for harsh conditions
See Price on Amazon
---
If you're a fan of pedestal solar fountains, Best Choice Products has the perfect product for you. It's their elegant bird bath with 2-tier construction and pedestal style. This traditional yet solar bird bath fountain could make a beautiful outdoor addition to your home. What makes it more appealing and eye-catchy is the water lily and blossom engravings.
It's made with textured and weathered finish poly-resin material. You will get a total of 4 LED lights and a bird bath fountain pump. You also have 4 spout water types to choose from. However, what caught our eye was the lights on the bottom board. They light up the water spray!
In the evenings, this provides a lovely feature. As for the solar panel, it's reliable and capable of keeping the bird bath running all day while providing very calming sounds.
What We Liked
No electrical cord
Easy to put together
Created with long-lasting materials
Lovely addition to gardens, decks, patios, and backyards
A perfect gift for friends and family
Modern and elegant
Impressive lights
What We Didn't Like
Lack of stability due to lightweight design
See Price on Amazon
---
We have another excellent option for you. If you wish for a solar bird bath fountain that will bring all the birds to your yard, look no further than the Wishing Well fountain. It's capable of making a lovely gurgling sound that's not annoying but calming. It can perform amazingly even when there's no direct sunlight on cloudy days.
Furthermore, it's a perfect choice because you can also utilize electricity to run it if there's no sun. What you will like most about this product is the circulating water that attracts birds to visit.
This fountain can serve as the centerpiece for your lawn, garden, or backyard due to its lovely style and design. 
What We Liked
Strong and energy-efficient
Can hold up to 2 gallons of water
A great system that can utilize both electricity and solar power to work
Created with stone powder, sand, and poly-resin
Easy to put together
What We Didn't Like
Unstable base
Small water pump
Frequent refill
See Price on Amazon
---
10 Things to Consider When Buying a Solar Bath Fountain
Different solar-powered bird bath fountains come with various features and specifications to meet the needs of different types of homeowners. Some customers prefer a straightforward solar bird bath fountain with restricted spraying modes, while others look for a multi-functional product with varying elements of style and operations.
The following buying guide can help you determine what fountain fits your lifestyle and needs. So, keep these features in mind and make a wise buy.
Size
Unless you purchase a whole pedestal solar fountain, you need to pay closer attention to the size of the pump. Bird bath pumps come in different sizes and fit different fountain frames. These pumps perform at various depths and come with a different number of spray nozzles. So, you should look out for this crucial feature to stop any malfunction in the future.
Build Quality
Most bird bath pumps and bubblers aren't durable because they're made of plastic. Thus, you should be very careful if you're taking the DIY route. Once installed, you shouldn't take off the pump any time soon. So, if a brand provides a water pump made of more durable materials, go for it!
Applications
The greatest thing about bird bath pumps is that you can also utilize them in various water tanks beside fountain frames. So, before purchasing a water pump, make sure it's loaded with this feature.
The reviews above contain a few multi-purpose solar fountains and pump kits that you can pick from. So, determine your needs and choose a product according to your personal preferences.
Price
If it's expensive, it doesn't mean it's a high-quality product. First, make sure it's loaded with all the main features to prevent any bad experience when purchasing a low-quality solar bird bath.
The price depends on the brand, applications, warranty, and other features you will find in this buying guide. Hopefully, the detailed reviews can help you make a smart pick and invest your money wisely.
Capacity
The capacity of the solar bird bath pump is measured in gallons per hour and represents the volume of water that runs via the pump in 1 hour. So, the higher the rating, the stronger the stream.
A pump with a GPH rating of 45-60 is enough for a smaller bird bath, whereas a pump with a GPH rating of 120-250 is more suitable.  So, choose what suits your needs and the existing water fountain.
Warranty
Not every solar pump comes with a warranty. However, since most solar pumps aren't durable because they're made of plastic, opt for a product that provides at least a 1-year warranty.
Placement of the Pump
The placement of the solar pump will depend on your personal preferences, whether you prefer it to be hidden from view or displayed. Keep in mind that a hidden panel will require longer wiring to connect it to your water fountain. So, make sure that your solar panel isn't blocked from the sun.
If you want it to be displayed, you can situate it near the fountain. Fortunately, there's a wide selection of designs you can select from.
When Should the Product Work?
These units also differ in the amount of period that they stay turned on during the day. You can choose a solar-powered pump kit that works during the day only. Or opt for one that works for 24 hours.
If you plan to have it working all day, you need to buy a model capable of keeping energy in a rechargeable battery. That way, it will have something to rely on when there's no direct sunlight.
Safety Features
If you plan to own a high-quality solar bird bath fountain that will last for years, you should also pay close attention to the safety features. For instance, consider the fountain's motor. Ensure there's a safety feature that will automatically turn off the unit if dirt and debris end up inside the motor and block it.
Motors without this feature will keep on working even when there's a blockage and burnout eventually. Here too, the safety feature turns off the unit to prevent more damage. If you obtain a solar fountain with safety features, you receive a device that continues to operate longer than units without safety features.
Backup Battery
If you want your fountain to work at dusk and in the evenings, then you should pick a unit that includes a battery backup. They can work for 3-5 hours on their stored energy without requiring sunlight.
Key Advantages and Disadvantages of Solar Bath Fountains
Like other types of products, solar bird baths have their advantages and disadvantages. Therefore, keep the following in mind before you purchase a solar fountain.
Advantages
You will attract more and bigger birds.
Most solar fountains require minimal maintenance.
The moving water attracts more wild birds while enhancing your home's appearance.
The moving water stops stagnation and obstructs the algae growth and the breeding of larvae.
Solar products rely fully on renewable energy, so you're lowering your carbon footprint.
Some devices come with LED light mixes doubling as outdoor lights.
Solar fountains with a battery backup have a longer lifespan with minimal care, with the battery lasting 12 months and 4-8 hours when fully charged.
You can put a detachable solar panel almost anywhere on your property as long as it's in the sun.
Hassle-free and straightforward installation
Disadvantages
Extra costs due to possible damage and replacement of the solar fountain pump
Models that don't include a backup battery are vulnerable to poor conditions.
Units with backup batteries, detachable solar panels, and LED lights can be expensive.
Additional costs of different types of power to keep the solar fountain pump operating
The bird bath needs to be stored indoors during the winter months.
Useful Maintenance Tips & Usage Advice
Keep the following tips in mind:
Keep your solar fountain pump clean. Otherwise, it can get clogged with bird and organic debris. Most of the pumps include a sponge so you can clean it with a blast utilizing a hose.
There are no self-cleaning solar pumps available on the market. But you can easily clean the filter with a solution of 9 parts water and 1 part weak bleach fluid. Then, rinse it well.
Don't let the water level get too low. If your solar pump keeps working dry, you will damage it. This will also affect your solar-powered bubbler as well.
Opt for a bird bath with enough depth. Operating a solar fountain will enhance the evaporation in the bird bath. So, you will need more water with a deep bowl. The water in the bowl should be enough to cover your pump.
Moving water attracts birds like magnets. Therefore, it's best to position the solar fountain where you can enjoy the show at all times.
Solar-powered fountains, pumps, or bird baths aren't hard to utilize. Once you've set the unit in your preferred place, you won't need to do anything else except for checking whether it's clean and firmly installed. So, they're low-maintenance and user-friendly.
Frequently Asked Questions
Do Birds Like Solar Fountains?
Yes, birds love solar fountains because they enjoy moving water. So, any water pump or solar fountain would work amazingly. And they remove the need for annoying extension cords.
Are Solar Water Fountains Any Good?
A solar water fountain will save you money since it's charged via the solar panel. Also, it's very effective to install them without utilizing any annoying cords. Just install the solar panel in the right spot (exposed to the sun), and you're good to go!
Why Won't Birds Come to My Bird Bath?
The most common reason why birds don't visit bird baths is the lack of running water. So, your bird bath may not provide proper shelter. Keep in mind that its place shouldn't make your wild birds feel exposed. It's best to place it near a larger bush.
Should Water Fountains Run All the Time?
It's preferable because moving water attracts more birds. Also, moving water is much cleaner. Thus it's a good idea to keep your solar fountain operating at all times.
Should it be in the Sun or the Shade?
The solar bird bath fountain itself can be installed in the shade, close to bushes. However, the solar panel will need to be situated in the sun.
How Deep Should a Fountain Bird Bath Be?
It's possible to purchase a solar bird bath fountain as a single piece. However, a solar panel that can be positioned underwater costs a lot less and provides the same results.
Your bird bath fountain should be about 2 inches deep and have a diameter of 17-21 inches. Filling to a depth of 2 inches needs about 2 gallons of water, so keep that in mind when shopping.
How Long Do Solar Fountains Last?
Your solar fountain will last between 2-4 years with proper maintenance, so keep your unit clean at all times. Also, opt for a product with a backup battery that will extend the utility life of your water pump.
How Deep Can a Solar Pump Work?
Most solar pumps can work around 650 feet deep. So, beyond this depth, it takes much solar power to spray the water to the surface. Thus, if your static water level is under 650 feet, don't worry because the water pump will likely work in your case.
How Do You Keep a Bird Bath Clean?
You can clean your bird bath with diluted white vinegar.
Just mix the vinegar with water and use the mix to clean the bird bath to loosen any dirt. If it's super dirty, leave the mix to soak for some time but don't forget to cover it first so the wild birds can't get to the bath. Then, scrub again and rinse well.
Do You Have a Favorite Solar Bird Bath Fountain Yet?
The best solar bird baths aren't only excellent for attracting birds but also for keeping mosquitos and insects at bay (they prevent insects from utilizing your water for breeding). You can also utilize your brand new bird bath as the central piece in your backyard, patio, or garden with the help of the best solar pump kits. Overall, they're easy to install and take care of.
However, make sure to look after your solar fountain from time to time to remove any organic dirt and debris. If you do this, the birds will be able to enjoy the bird bath fountain for years to come.