If you love the idea of creating your own nutritious compost with little to no effort, these six best indoor composting units can help. These fantastic little units eliminate the need for a giant, stinking pile of waste. Their convenient size will make them great eco-friendly additions to any home.
Around 24% of the total waste an average American produces is made of compostable materials. Indoor composting is a great way to dramatically reduce this carbon footprint.
It comes with the added benefit of free "black gold" for your garden. Even if you live in a small apartment, you can still compost your waste easily and efficiently.
6 Best Indoor Composting Bins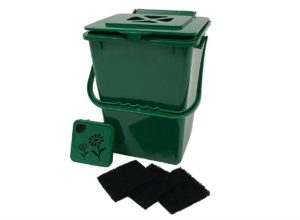 Capacity: 2.4 gallons
Type: Indoor composter
The High Points: Large and durable enough to use effectively as a full indoor compost bin for low to medium waste producing families.
The Not-So: It isn't the prettiest composting unit we've laid eyes on.
Sometimes simpler is better. A great example is the ECO-2000 Plus Composter. This composter is the largest of the small-sized composters.
It can handle quite a bit more than the average countertop unit. The simple but efficient design of this composter has earned it the top place on our list.
This composter comes with carbon filters that reduce any foul odors the decomposing waste may produce. The lid offers a tight seal.
Its carbon filters are replaceable. That makes it a long-lasting and high-performing option.
The compact size of this unit allows it to fit in most kitchen cupboards comfortably. It still has enough volume to be effective.
What Do Reviewers Say?
Reviewers liked the fact that the bin has a latch and handle. That makes sealing the lid securely and transporting it an easy task.
The overall design quality is excellent. The bins' filters have been found to work very well at eliminating foul smells.
Some complaints include the ECO-2000 Composter's attraction of fruit flies, which may be a deterrent for some homeowners who live in areas where these are prevalent.
Some reviewers disliked the fact that they could not open the bin with one hand because of the latch mechanism, which made dumping waste into a larger bin more difficult and messier. However, the reviews for this product are overwhelmingly positive.
Features & Considerations
This nifty little bin is by far the best of the small range units which makes it a great option for those living in cramped apartments. However, the amount of waste some households produce may exceed a single bin's capacity.
Purchasing multiple bins and using them in a composting sequence system is an easy fix. A composting sequence system has a design such that each bin is used for a separate stage of the composting process.
This composter is perfect for those who live in areas that have city-wide compost collection as it can function as a temporary receptacle until it's time for the compost to be collected.
The same can be said for those that have access to a large outdoor composter where the compost can be finished off. Alternatively, it serves excellently as a fully indoor composter.
The ECO-2000 has a long lifespan as you can easily clean and replace its parts. You should replace the carbon filters regularly.
Pros recommend that homeowners buy a few at a time to prevent hassles down the line. The bin is also small enough to fit into most dishwashers when cleaning time comes.
Capacity: 4 gallons
Type: Worm composter
The High Points: This unit can handle a large load of organic matter and the compost produced from it is arguably the most nutritious.
The Not-So: It isn't suitable for homeowners who don't have time to nurture and care for the wriggly babies this system depends on.
I bet you never thought you'd willingly be inviting worms into your kitchen, did you? With this fantastic indoor composting unit you can safely bring these helpful creatures in to eat your waste. The worms will pay you back with super rich compost and "worm tea" that will help your plants to thrive.
This system is based on the fact that worms are some of the most efficient composters available to us. This method of composting is called vermiposting and it has recently seen a huge increase in popularity as people seek better ways of composting their organic waste.
The final product of vermiposting is called vermicast. This smelly material beats compost in many ways, but its main highlights include a higher concentration of nutrients and far better microbial activity than traditional compost. Now, with the Worm Factory 360 you can produce this eco-friendly wonder without even venturing outside.
What Do Reviewers Say?
Overall, reviewers adore the Worm Factory 360's innovative design, such as the inclusion of a "worm ladder". The unit comes with a handy DVD and guidebook which explains in detail how to care for your worms. This is a great addition as the average homeowner isn't fully versed on taking care of a worm-based compost system.
Some reviewers have mentioned that if you cook a lot, the unit might not be able to keep up with the waste you produce. However, the system can be extended to eight trays and some reviewers report success with using up to ten trays.
Features & Considerations
The Worm Factory 360 comes in a 4-tray size with the option of extending the unit to 8 trays. When upgraded, the system can handle a large volume of waste. For families who produce a lot of waste or have kids who would enjoy watching the little worms in action, this system is perfect.
The method this unit uses is not always the easiest to execute, and not everyone has the time or patience to wait for their worm colony to become established. In fact, some may find the idea of having wriggling worms anywhere near their home to be ludicrous. But for those who don't have the time and interest, this system is an absolute winner.
The system comes in a variety of colors, but none of the options are terribly attractive. The fact that the worms need food regularly may also rule out those who travel often and aren't home to nurture them.
It's also important to note that the worms can process vegetable scraps, paper, cardboard and almost any plant matter, but can't process meats, bones and dairy like most other compost systems.
Capacity: 0.5 gallons
Type: Electric composter
The High Points: Quick, no-nonsense conversion of waste into a pseudo-compost material that can be added straight into soil.
The Not-So: The unit is quite pricey, and purists may argue that the end result is not real compost.
This high-tech unit has the incredible power of being able to turn organic waste into a compost-like substance in as little as three hours.
The system also has the added advantage of requiring little to no management or composting knowledge, making it perfect for those who don't want to be bothered with the nitty gritty details.
The system uses agitators and heaters to break down food scraps into a matter that can be added directly to garden soil for extra nutrition. The Food Cycler boasts the ability to reduce organic waste down by as much as 90% of its original size, which is quite impressive.
The system essentially dehydrates and breaks down waste into a lightweight, odorless matter that is sterile and doesn't attract unwanted bugs.
What Do Reviewers Say?
Most reviewers were impressed by the Food Cycler's ability to handle materials that traditional composters can't, such as meat, dairy and eggshells. The unit is efficient and quiet and can process waste overnight. Reviewers also loved the fact that there's no smell, which keeps their kitchens nice and clean.
Some reviewers were disappointed with faulty mechanisms that caused the system to stop working after a few months. This is not unexpected in a high-tech recycling machine with several different components, but is an inconvenience nonetheless.
Complaints were also made about the final product not breaking down as efficiently as compost when used in the soil, with some reporting their gardens being covered in mold instead.
Features & Considerations
This system's sleek and stylish design is sure to fit into kitchens with ease and will be far more pleasant on the eyes than most other composters. The convenient size of the unit allows it to sit on your countertop, perhaps next to the toaster or microwave, which makes it an obvious winner for neat freaks.
The high price of this unit might be a deal-breaker for some potential composters who don't want to shell out a comparatively large sum for something that could be achieved for free.
That being said, the extra benefits of odorless, super-fast composting that can handle meat and other usually uncompostable materials is something that this unit holds over almost every other system on our list.
One handy feature of the final product produced by this system is that it can be added straight to garden soil to give your plants a nice boost of nutrients. This material will then break down naturally. If you're looking to kick-start your garden, this unit is a great help.
Capacity: 5 gallons
Type: Bokashi composter
The High Points: The unit doesn't produce foul smells and compost can essentially be used twice.
The Not-So: Doesn't fully get rid of organic material and the remnants still need to be dealt with.
This unit works uses a very interesting process called bokashi composting. Bokashi is a Japanese method of composting that creates a nutritious "tea", which can then be used to boost soil fertility for plants. However, the organic matter in the composter won't fully decompose, leaving remnants that must be dealt with.
The bokashi method utilizes anaerobic composting: waste is fermented instead of being broken down. This type of composting produces a slightly sweet and sour odor that isn't unpleasant and smells similar to beer or cider when done correctly.
The unit is quite large but easy to use. The amount of waste that can be processed is more than most composters, and the "tea" that the unit produces can be added to any house plant.
As this composter uses the bokashi method, it can deal with waste that other traditional composters may not be able to, such as dairy products, meat and bones.
What Do Reviewers Say?
Reviewers spoke at length about the unit's ability to keep the undesirable fermenting smells contained. The low maintenance of the unit and bokashi method was also revered by reviewers.
Reviewers liked the large capacity of the unit and its ability to handle waste like citrus, meat, and bones that would ordinarily find their way into the trash.
Some reviewers have reported issues with the nut that seals the spigot, which has resulted in leaks for some. Others complained that the spigot didn't work at all. Reports have been made that the lid can be warped which results in gross odors escaping.
Features & Considerations
The unit's spigot makes for convenient drainage of the nutritious tea that the unit produces. Without a tap, getting the tea out of the container would be difficult and messy. The overall design is efficient and not entirely unattractive.
It's important to note that if you don't have a garden or another composter then this might not be the best unit for you. This method doesn't fully break down the organic matter. It leaves you with waste that is slightly shriveled and looks as if it has been pickled.
The process of bokashi fermentation is low-maintenance. It is sure to score points with those with a limited amount of time on their hands.
To create the bokashi "tea", you simply layer food waste in a bucket. Then you add some starter ingredient (active cultures). Then, you seal it with something that will prevent air from reaching the waste.
The fermented waste that comes out of the unit can be buried in the garden or added to a traditional composter to "finish" it off. The byproduct is quite acidic. It should take about two weeks before it is ready to be used on plants.
Overall, the unit works excellently in combination with another composter. It will increase the amount of waste that can be composted in a small kitchen.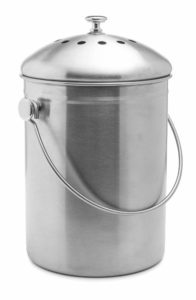 Capacity: 1.3 gallons
Type: Small compost receptacle
The High Points: The unit has a stylish, modern look and is small enough to fit in any apartment.
The Not-So: It is very small and not suitable for those who cook often.
This sleek little bin is the perfect addition to any modern kitchen. It is made from stainless steel that is rust-resistant and is molded in one single piece with no welds or joints. Overall, the Epical Stainless Steel Compost bin is built to last a lifetime.
Even though the company has marketed this bin as a composter, it is too small for most households and will serve better as a compost receptacle. You can empty the organic waste into an outside/larger indoor compost bin or put it in compostable bags for collection if your city offers this service.
That being said, you can successfully use the Epica Stainless Steel Compost Bin to fully compost indoors if you only produce small amounts of organic waste.
The bin can is not airtight and can breathe, unlike normal bins. This means that the helpful bacteria that we rely on to break down our waste can flourish, using as much oxygen as they need.
What Do Reviewers Say?
This compost bin is the highest rated on our list. Reviewers love the quality of design and easy cleaning.
The sturdy build and well-fit lid prevent odors from escaping into the kitchen, which was a high point for most buyers. The fact that the bin can sit on kitchen countertops makes it more convenient for those who don't enjoy stooping down to throw away waste while cooking.
Some reviewers found that removing the carbon filter from the lid to be a bit difficult. Others also complained about some construction defects. Overall, however, buyers were resoundingly positive when reviewing the product.
Features & Considerations
The bin's lid has carbon filters that stop any odors from escaping while the organic matter breaks down. These carbon filters need to be replaced so it's recommended that buyers get a few replacement filters with their initial purchase, but this is an extra expense to be considered.
Its small size works both for and against this bin. The small capacity of the bin is of huge benefit in small kitchens and its countertop application is convenient. However, this is countered by the fact that composting in such a small vessel is quite difficult if you produce normal amounts of organic waste.
The bin is far better suited as a "receptacle" which stores organic waste temporarily, which can later be placed into a larger compost bin. But, like any other bin, the Epica will still work as a mini-composter and can produce compost as needed.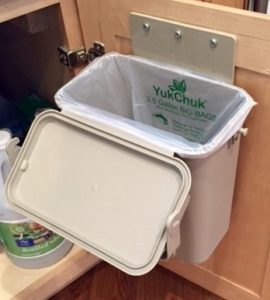 Capacity: 1.5 gallons
Type: Traditional composter
The High Points: Easy to install and relatively cheap.
The Not-So: The air flow isn't very good which may slow down composting process.
The YukChuk Under-Counter Indoor Kitchen Composter is a simple and convenient unit that can fit inside cupboard doors to save space.
The bin comes with a tightly sealed lid that prevents any odors from escaping into the kitchen, helping to control fruit flies. This bin is one of the few that comes with the ability to mount it on a cupboard.
The bin is slightly larger than other small bins, and this makes it a more practical choice for those who produce higher amounts of waste. In many cases, it would be a good idea to purchase more than one bin.
This mid-range compost bin is fairly average in all respects. It's a mid-sized bin, comes with a mid-range price tag and can handle a mid to low amount of waste when compared with other bins. The YukChuk has utility on its side, however, and its slim design allows it to fit into tight areas.
What Do Reviewers Say?
One aspect reviewers constantly praised the YukChuk for was its ability to keep odors locked away with its tight lid. This is an important factor for small apartments as no one wants a smelly enclosed space.
The bin's slim design also found favor with many reviewers as it was able to squeeze into even the smallest of kitchen cupboards.
Some reviewers didn't like how small the bin was and found that it wasn't big enough to suit their waste needs. This could be a problem for those who haven't adequately measured the amount of waste they produce.
Features & Considerations
As a simple bin with no real air flow, the most practical application for the bin would be to use it as an initial receptacle for compost that you can transfer to a larger composter or worm bin. However, for people who produce small amounts of waste, the bin may be all you need, and you could complete the entire composting process in the bin.
Without the airflow, the bin requires no filters, making it cheaper and lower maintenance. The bin is a far simpler version of others that we have mentioned on this list. The tight seal of the lid is great for those who don't want any unsavory smells finding their way into the kitchen.
The cheaper price of the Yuck Chuck makes it a viable choice for those that want to do their part for the planet but don't want to break the bank. The tight seal on the bin means you can also use it as a DIY bokashi composter that's far cheaper than a ready-made bokashi composter. Overall, this is a basic, but solid, little indoor unit.
The Complete Indoor Composting Units Buyer's Guide
What to Look for in an Indoor Composting Unit
The perfect composter for your household will largely depend on the kind and volume of waste you produce and how much time and space you have available to dedicate to the process. The compost bin that's right for you may not be the same as your neighbor's.
Some qualities to look out for are breathability (good oxygen flow), larger sizes, odor containment and ease of access. You should also consider the speed at which the composter will be able to process your waste. Overall, it's important to ask yourself these questions before investing in an indoor composting unit:
How much space do I have for a composter?
Space is often in short supply in modern apartments or homes. However, when it comes to indoor composters, bigger really does mean better.
In most cases, a bigger bin will have a quicker composting process. Luckily for us, there are many different options that suit both micro apartments and giant sprawling kitchens.
Often the best place for a composter is in a pantry or a cupboard under the kitchen sink, but there are some attractive designs that work well on a countertop. A large garage offers even more opportunities as it will allow you to choose from a wider range of units.
When the options are there, a large compost bin or a system of several individual bins is recommended to ensure all your organic waste is captured and processed fully.
How much organic waste do you produce?
People produce different amounts of waste based on their lifestyle and the size of their family. One person may fill a 5-gallon container in a week, and another may take two months to do so, so it really does depend on the household.
Those who cook regularly and peel and prepare their vegetables at home will produce far more than a person who eats out most nights. The best way to determine how much organic waste you produce is to separate your waste (organic verus non-organic) and measure how long it takes you to fill a gallon container.
Once you've determined how much organic waste you produce, you can select a composter that will be able to handle this amount.
How much time and effort are you willing to spend on composting?
Some composting units take very little time and effort, while others require some attention to detail and nurturing. An electronic composter requires almost no effort, while a worm farm will require some time and dedication to get it right.
Traditional composting falls somewhere in the middle and ultimately one should decide how much time they are willing to spend on the endeavor before buying a unit.
Do You Have a Garden Where You Can "Finish" the Compost?
As you may know by now, indoor composting is often much slower than composting on a larger scale. This is due to several factors, but one of the main ones is that larger compost heaps can sustain more microbial life and decompose waste faster.
Due to this, it may be a good idea to finish your composting in a larger heap outside if you have a garden.
Some methods, such as bokashi, actually leave you with some of the semi-decomposed waste which you will then need to further process. With the bokashi method, you can simply bury the semi-decomposed waste that it produces for two weeks or added to a compost heap in order to turn it into decent compost.
For small bins that use traditional composting, they work best when you empty them directly into a bigger, outdoor compost bin where the process can finish at a faster rate and you can temporarily store more waste.
This is not an essential requirement but will result in a far easier composting experience. Of course, not everyone has the luxury of a garden and these processes can take place fully indoors if no other options exist.
Selection Criteria: How We Ranked the Best Indoor Composters
Based on our specified criteria, we've narrowed down a competitive list of options to feature the 6 best indoor composting units.
Our rankings specifically focus on the capacity of the composting units (in gallons) and the type of composter based on how it processes organic waste. It also takes into consideration the quality and extra features of the overall system.
Capacity
The capacity of each indoor composter is probably the most important factor. This is because most indoor composters (or bins that companies market as such) are quite small and may not be able to handle the waste output of an average household. Units that can handle larger amounts of waste are a better option than smaller ones.
One should think carefully about the amount of organic waste you produce weekly. If you find that on average you would fill a 2-gallon bin with organic waste within two weeks, then a compost bin smaller than this may not be enough. At the same time, you can use more than one compost bin at the same time, and in many cases, pros recommend that.
Type
The type of system these compost bins use is another important factor. There are a myriad of different systems and composting methods available out there that will suit your composting needs.
Here are the main types of compositing units we've chosen for the average user:
Traditional: Best for those who produce little waste.
Worm: Best for those who are looking for super nutritious compost and have the time to take care of the system.
Bokashi: Best for those who have large gardens.
Electric: Best for those with little time to spend composting.
Frequently Asked Questions (FAQs)
How does composting work?
Traditional composting uses bacteria as its main decomposer to break down waste into something useful. These little guys require oxygen and that is why you'll see farmers and keen gardeners alike turning their compost regularly to ensure the whole pile gets enough oxygen.
This process is sometimes slow when used on a small scale, but in large compost heaps it can be quite quick. In optimum conditions, the temperature inside the center of the pile can reach as high as 170 degrees due to bacterial activity.
Non-beneficial pathogens are killed off, as well as weed seeds and any undesirable critters along with it. When compost is produced this way, it is safe and quite quick to make.
Why should I compost my organic waste?
Composting reduces your carbon footprint significantly. While organic waste in a landfill produces methane gas, compost doesn't.
Methane is a huge contributor to greenhouse gases and estimates put it at around 16% of the total greenhouse gases emitted. In 2010, an estimated shocking 800 million metric tons of methane were released into our atmosphere from landfills alone, and now people have the opportunity to do something about it.
What can I compost?
In a traditional compost bin or heap, you an add almost any vegetative waste. Exceptions include:
Oily Vegetable Scraps
Seeds of Nuisance Plants
Citrus Peels
Diseased Plants
You should generally exclude meats, bones, and dairy from the traditional composting process as these materials decay anaerobically and will also attract unwanted pests at a higher degree than other decomposing materials.
However, if you're working with a bokashi system, you can actually use them as the bokashi system is wholly anaerobic.
Cardboard and paper are great in the indoor composter and will balance well with wet, sloppy vegetable waste. However, it's important to note that anything you add to your compost heap should be shredded or at least cut up into smaller pieces so that it can compost quicker. The less surface area the decomposing matter has, the faster it can mix and break down.
How quickly can I turn my waste into compost?
The short answer to this question is anywhere between two to four weeks. However, and this is a big however, the speed at which your organic waste becomes compost is dependent on many variable factors.
The type of system you're using, the temperature of the composter, the size of the composter, and the material you're decomposing all have an enormous effect on the speed of compost production.
Creating compost quickly sometimes takes skill and knowledge. The process for various systems is different and it's always a good idea to do your homework on how to optimize the set up you have.
Once you have mastered your own system, you'll be rewarded with endless amounts of free nutrients for your plants.