If you're worried about keeping your family or property safe and secure, one of these 6 best solar security cameras can help to ease your fears. Solar security cameras can be used to protect all sorts of areas: doorways, garages, dangerous spots for kids, perimeters, construction sites, cabins and more. Simply install one of these wire-free devices in your area of choice and connect it to your phone or tablet.  
The app-based security functions allow you to do everything with the touch of a button- from chatting with a delivery person on your doorstep to helping the police identify a car burglar. Solar security cameras don't require any costly electricity or pesky wiring, and they're better for the environment too.  
See our related article on the Best Motion Sensor Lights, another form of home security.
Table of Contents
6 Best Solar Security Cameras
---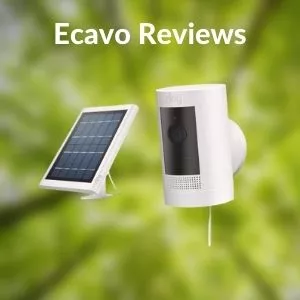 App: Amazon Ring, Amazon Alexa 
Field of view: 110 degrees 
The high points: A "smart" product that's highly customizable and app controlled. 
The not-so: Amazon has experienced worrisome data breaches in the past. 
Amazon has been producing top-quality smart home devices for several years, and their newest generation of the solar powered Ring Stick Up Cam is a real winner. With a whole range of device integrations and customization options, the Ring easily tops our list of best solar security cameras. The Ring can meet any home security needs, and for those who require a little more help, the Amazon team has excellent customer support.  
What do reviewers say? 
Reviewers are more than pleased with their Ring security cameras. Highlights include the ease of installation, integration with other Ring devices and small size. Buyers particularly liked how all of the camera's functions could be controlled through one central phone app.  
Those that did have issues with the camera were pleased with Amazon's helpful and efficient customer service. New updates fixed previous problems related to device integration and customization. Reviewers did notice that the battery life is quite poor, although this shouldn't be as big of an issue with the solar powered option. 
Features & Considerations 
Like all Amazon "smart" home devices, the Ring security camera offers a host of app-friendly functions. With the Ring app, homeowners can control their cameras, view and share footage and live stream. It also allows users to see, hear and speak to guests straight through the app via the two-way talk function- a handy option for those who are regularly out of the house.  
The camera easily connects with other Amazon devices, like the Ring doorbell, alarm system or Echo, to create the ultimate home security system. With Alexa, homeowners can use voice-control to immediately see who's nearby. For larger properties, simply install multiple Ring cameras and control them all through the Ring app. 
Through the Ring app, homeowners can customize their cameras. Adjustable motion and privacy zones allow users to focus on important areas, create alerts and more. This unique feature is ideal for those looking for more control over their home security. 
The camera itself can be installed on any flat surface or mounted to the ceiling with a separate bracket. It offers 1080p HD image quality, stellar night vision and a wide field of view. It's weather-resistant and comes with a 1-year limited warranty.  
See Price on Amazon
---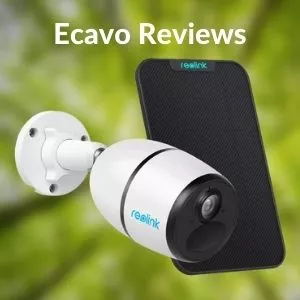 App: Reolink Cloud 
Field of view: 110 degrees 
The high points: Doesn't require a Wi-Fi connection. 
The not-so: SIM card is only compatible with certain carriers.  
Reolink is a notable brand in the security camera industry, and their 3G/46 Go model is one of the finest in their line of solar powered devices. The camera doesn't require a Wi-Fi network connection so it can be used the secure cabins, trailers, gates, trails and other just-out-of-reach places. With a variety of extra functions, this top-quality camera packs a punch. 
What do reviewers say? 
Overall, reviewers are impressed by Reolink's Wi-Fi free capabilities. This allows for the camera to be used in off-the-beaten-path locations, like construction or camping sites. The image resolution and audio quality were also notable. 
Some reviewers weren't entirely satisfied with the camera's nighttime functions. They pointed out that the recording only shows about 5ft of distance in the dark. Others were unhappy with the limited data options as the accepted service providers didn't cover their properties.  
Features & Considerations 
One of the best features of the Reolink Go model is its 3G/4G network compatibility. Unlike other security cameras, this one doesn't rely on a Wi-Fi network and can be used anywhere within the range of cell service. The provided SIM card can be used with prepaid T-Mobile data, Ting, Freedompop, Cricket or Mint. 
The camera saves all footage to an SD card, which is perfect for those who prefer a "hard copy". Otherwise, users can stream footage through the Reolink Cloud for up to 7 days. As with other high-tech security cameras, Reolink also offers a free app that allows for two-way audio with visitors within the camera's line of sight. 
Reolink produces some of the best image quality on the market. Its infrared, motion-activated cameras have an impressive 110-degree field of view and records in 1080p full HD. For nighttime recording, the starlight CMOS image sensor can capture sharp images up to 33 feet away. 
The camera connects to the separate solar panel via a micro USB charging port, so it can also be used with an alternative battery source in case of sub-optimal weather conditions. The whole device can be screwed into any wall, pole or tree. It has IP65 weatherproofing and is easy to maintain.  
See Price on Amazon
---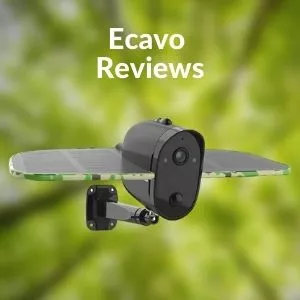 App: SOLIOM 
Field of view: 160 degrees 
The high points: The solar panel doesn't require separate installation. 
The not-so: Has a weak Wi-Fi sensor and may require a Wi-Fi extender. 
As both a cheap and versatile option, the SOLIOM S60 Outdoor Security Camera is a great option for basic security. Homeowners can record short clips after motion is detected and view them later via the app or SD card. It's a perfect choice for those who don't want to install a separate camera and solar panel as the entire unit is self-contained. 
What reviewers say? 
Reviews are a mixed bag for the SOLIOM S60 solar security camera. Overall, most rate the device highly and note that it's a simple solution for wire-free home security. They like the clear picture and weatherproofing. 
On the other hand, reviewers have reported a variety of complaints regarding installation, Wi-Fi connection issues, motion triggers and the app itself. Overall, this cheap model is good for a back-to-the-basics approach. 
Features & Considerations 
As both its biggest pro and con, the attached solar panels make the SOLIOM security camera a unique option. On the plus side, the solar panels don't require extra installation, save space and reduce the amount of frustrating drilling. However, this also means that the entire camera unit must be installed in an area with adequate sunlight which can limit the amount of property coverage. 
Besides its construction, the SOLIOM S60 functions like any other top solar security camera. It connects with a free app that allows for account sharing and provides alerts, live streaming, two-way audio, and footage playback. The recordings are also saved on an SD card, although one isn't provided in the set.  
Homeowners will appreciate the great image quality: 1080p full HD video during the day and built-in LEDs for better "night vision". The camera has a visible distance of 33 to 49 feet and will automatically switch to night mode after dark. It's Wi-Fi enabled, but may require a Wi-Fi extender if the router is too far away as the sensing range is weak. 
See Price on Amazon
---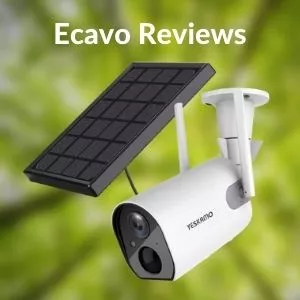 App: CloudEdge 
Field of view: 138 degrees 
The high points: Comes with antennas that extend Wi-Fi connection distance by 50%. 
The not-so: Is not inconspicuous.  
As one of the more reasonably priced options on our list, the YESKAMO solar security camera is a great choice for any homeowner. Although the price is cheaper than top-shelf models, the YESKAMO doesn't sacrifice quality. In fact, the field of view and digital zoom capabilities are more impressive than other expensive options. 
What do reviewers say? 
Reviewers overwhelmingly favor the YESKAMO solar security camera. They love the ease of installation, motion detection sensitivity and SD card option. The excellent picture quality is also a buyer's favorite.  
Some buyers were not pleased that the YESKAMO can only be operated through a phone app. However, this is a standard practice in the industry. Another reviewer had some trouble with the battery holding a charge.  
Features & Considerations 
The YESKAMO solar security camera is packed full of excellent features that rival even the best on our list. One of the most important considerations that sets this pick apart from the rest is the built-in Wi-Fi antennas. The two vertical antennas can connect with a router that's about 50% farther away than standard security camera models can while still maintaining a strong and stable network connection.  
Another key highlight is the long battery life. Although the camera should be installed in a location that receives adequate sunlight, it only needs direct sunlight for 4 days per month to keep its charge. And in case of inclement weather, the camera is IP65 waterproof certified.  
With a 1080p HD image resolution, 4X digital zoom, and PIR heat signature motion sensor, the YESKAMO boasts impressive recording capabilities. The camera is triggered by movement and has a visible range of up to 65 feet. The built-in infrared LEDs will automatically turn on when ambient light decreases for the "night vision" mode.  
As with most other solar security cameras, the YESKAMO comes with a handy cloud storage app for footage playback, live streaming, two-way communication, alerts and customizable alarms. For long-term storage needs, a mini SD card will record a hard copy of all footage. 
See Price on Amazon
---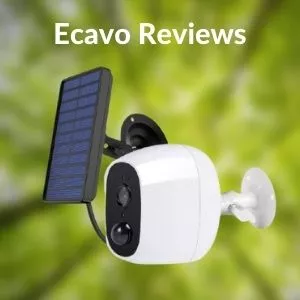 App: i-Cam  
Field of view: 138 degrees 
The high points: It is more weatherproof than other models. 
The not-so: The viewing distance is only 16 feet. 
Although the BenyTech Solar Security Camera is the cheapest option on our list, it's also one of the most reliable in terms of quality. It comes equipped with all the standard capabilities – Wi-Fi enabled, app-based cloud storage, two-way audio – and really does check all the boxes. For those looking for a good entry-level option for green home security, the BenyTech is a perfect choice. 
What do reviewers say? 
Previous buyers are really satisfied with their purchase of the BenyTech Solar Security Camera. Reviewers have commented on how portable, cheap, simple and efficient the camera is. They're also pleased with the app. 
Several reviewers have noticed that the battery power is quite weak. This may be because the motion sensor is particularly sensitive. Of course, poor battery health may be a problem for those installing their cameras in an area without consistent and strong sunlight. 
Features & Considerations 
Don't be fooled by the BenyTech Solar Security Camera's size and price- it still packs quite a bang. In fact, the BenyTech model is more weatherproof than any of the other options on our list. It's certified IP67 rather than the standard IP65. 
The BenyTech camera also has a surprisingly large field of view with a wide-angle of 138 degrees. However, it does fall short in one category: the camera can only detect images up to 16 feet away during the day. This may be a problem for homeowners who are trying to keep an eye on a larger piece of property.  
All the recordings are store as short video clips on the SD memory card and streamed to the encrypted i-Cam app. Through the app, you can share with friends and family, keep yourself up to date in real-time, view alerts and speak to guests via two-way audio. 
See Price on Amazon
---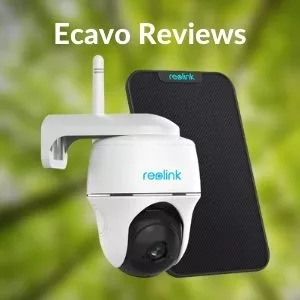 App: Reolink Cloud, Google Assistant, Amazon Alexa 
Field of view: 355 degrees (horizontal), 140 degrees (vertical) 
The high points: Users can pan and tilt the camera for an almost 360-degree view of their property. 
The not-so: Only 7 days of previous footage is available for free playback. 
The ReoLink Wireless Pan Tilt camera is another unique addition to the ever-expanding roster of fantastic ReoLink products. This model operates just like a traditional ceiling-mounted panoramic security camera but doesn't require any pesky wires or electricity fees. With a huge field of view, adaptive motion sensor and multi-app compatibility, the ReoLink is a steal at its low price point. 
What do reviewers say? 
Reviewers are very satisfied with their Reolink Pan Tilt solar security cameras. The image quality and push alerts are great selling points for most buyers. They also like how easy it was to set up the whole system.  
One buyer recommends purchasing a longer Wi-Fi antenna if you aren't installing it close to the house and Wi-Fi router. Some buyers had issues with the Reolink Cloud app which caused their camera to malfunction. Others complained that the camera was very slow moving when they used the pan/tilt function. 
Features & Considerations 
The Reolink Pan Tilt camera's best-selling point is right in its name: the Argus PT camera head that can turn 355 degrees horizontally and 140 degrees vertically. This field of view, paired with its 33 feet vision range, makes it ideal for use on a large property. It also has 1080p HD image resolution, 6X digital zoom, a CMOS image sensor, starlight color night vision, and a sensitive PIR motion sensor. 
One of the best features of this Reolink model is its compatibility with a variety of apps. Users can download the free Reolink Cloud app to live stream, set and manage alerts, speak to visitors or watch old footage for up to 7 days. Google Assistant users can also connect the Reolink to their Google Home Hub or Chromecast-enabled TVs for voice-activated commands. Amazon Alexa subscribers can purchase an Echo Show for even more functionality.   
See Price on Amazon
---
What to look for in a solar security camera
With so many solar security cameras available on the market, choosing the right one can be daunting. Each camera system offers a variety of features that can suit any homeowner's needs: motion detection, recording quality, installation options and app compatibility. By keeping your specific criteria in mind, you can easily find the right option to round out your home security system.  
What type of application or playback device do you want to use?
Each solar security camera system comes with its own local software and application. These apps, which use cloud-based storage, allow users to control their cameras from a phone or tablet. Some cameras are even compatible with more than one app and can seamlessly integrate with other "smart" home devices and services, like Amazon Alexa or Google Assistant.  
If you'd like to completely forgo using an app, you can choose a camera with a Micro SD card slot. All footage will be saved to the SD card and can be accessed should you need it. However, you won't be able to change the settings, receive alerts, live stream or use two-way audio without the app. 
| | |
| --- | --- |
| Solar Security Camera  | Apps  |
| Ring Stick Up Cam Solar  | Amazon Ring, Amazon Alexa   |
| Reolink 3G/4G Outdoor Security Camera  | Reolink Cloud  |
| SOLIOM S60 Outdoor Security Camera  | SOLIOM   |
| YESKAMO Solar Security Camera  | CloudEdge  |
| BenyTech Solar Security Camera  | i-Cam  |
| Reolink Wireless Pan Tilt Security Camera System  | Reolink Cloud, Google Assistant, Amazon Alexa  |
How big is the area you're trying to secure?
Most homeowners are just looking to secure a specific zone, like a front door, and will only need a shallow field of view and range. All solar security cameras will meet these basic needs. In this case, the greatest concern will be the distance the camera can see in the dark as that's when most intruders are active. 
If you're looking to keep an eye on a larger area, like a construction site or big backyard, you'll want to choose a camera that has a large field of view, good digital zoom capabilities and preferably a pan or tilt function. Otherwise, you can install multiple cameras with overlapping fields of view to make sure every nook and cranny is covered.  
Where will you be installing the camera?
The placement of a solar security camera affects a few key factors: 
Wi-Fi network strength 
Battery power 
Weather damage 
Every camera must be connected to a network, whether that be through a Wi-Fi router or 3G/4G SIM card. Most cameras use a Wi-Fi connection, which can vary in strength depending on how far away the camera is from the router. If a camera with small antennas is installed in the front of the house and the router is in the back, the camera's connection will be very unstable. 
Of course, solar security cameras rely on the sun to charge the battery. Most systems have a detached solar panel that can be installed separately from the camera in a sunny spot. However, there are units that have the solar panels built-in so their batteries will be consistently weak if they are installed in a shaded alcove or under a tree. 
All outdoor security cameras have a certain level of weatherproofing. However, some are better than others. If you live in an area with particularly extreme weather, like frost, heat or heavy rain, then choose a model with a higher IP code (its weatherproofing certificate). 
Do you have access to a Wi-Fi network?
As we mentioned earlier, solar security cameras must be connected to a network as they use the cloud to store data. The majority of cameras run on 2.4GHz Wi-Fi and need to be placed close to the router for a stable connection. If your router is too far away, you can simply buy a Wi-Fi extender or a longer antenna. 
For those with no access to Wi-Fi, like cabin dwellers or campers, a 3G/4G camera is the best option. These cameras use a SIM card, like the kind you put in a phone or tablet, to connect to a wireless carrier network. You'll have to buy a monthly data package, but that's a small price to pay for securing a hard-to-reach place.  
Selection Criteria: How We Ranked the Best Solar Security Cameras
Based on our specified criteria, we've narrowed down a competitive list of options to feature the 6 best solar security cameras. 
Our rankings specifically focus on the app compatibility and field of view (in degrees) of each camera. It also takes into consideration the quality and extra features of the overall system. 
Does the Camera have an App?
Each solar security camera system comes with compatible software. While every application has its own set of pros and cons, the best ones will offer a few essentials: 
Livestreaming 
Two-way audio  
Push alerts or alarms 
Playback of old footage 
Customization settings for controlling the motion sensor, alarms and operation time 
Field of view
A security camera listing will always highlight the field of view and range of sight. This determines how far the camera can "see" during daylight and nighttime hours. Of course, this will affect how secure your property is since you will only be able to capture a clear image of a small area.  
Field of view = how wide of a view it has (angle) 
Range = how far away it can see (distance) 
Most homeowners will be fine with a standard 110-degree field of view. But those with larger areas to secure should look at cameras with 160 degrees or more. 
| | |
| --- | --- |
| Solar Security Camera  | Field of view (in degrees)  |
| Ring Stick Up Cam Solar  | 110   |
| Reolink 3G/4G Outdoor Security Camera  | 110  |
| SOLIOM S60 Outdoor Security Camera  | 160  |
| YESKAMO Solar Security Camera  | 138  |
| BenyTech Solar Security Camera  | 138  |
| Reolink Wireless Pan Tilt Security Camera System  | 355 horizontally, 140 vertically  |
Can I access my Security camera on a computer?
Unfortunately, most camera software is only available for IOS or Android devices. Homeowners who want to access their cameras through their PC may have some difficulties with setup. The only true PC-friendly camera is the Amazon Ring as it has a Windows app. 
Where can I access my security footage?
All solar security camera systems save recent security footage to a cloud drive. Users can access the cloud through the camera's local app. Alternatively, if your camera has a SD card slot, you can download and save the files directly with card reader. 
Will my Security camera ever run out of battery?
One of the great things about solar powered security cameras is that they very rarely run out of battery. As long as they're installed in a location with adequate sunlight, their batteries will remain charged. The cameras conserve energy by only turning on when motion is detected.  
Can I turn my wireless security camera into a solar powered one?
Some wireless security cameras can be converted into solar powered devices. For example, instead of buying a brand new solar Ring, you can purchase this separate solar panel to convert the one you already own. If you're unsure about whether your camera is suitable, just check with the manufacturer.