With at-home chicken coops quickly gaining in popularity, now's the time to buy one of the best solar chicken coop lights.
Solar lights are a great eco-friendly alternative to traditional wired lights. These lights can help to extend your chickens' egg production, allowing you to continue collecting farm fresh eggs during the long winter months.
There are several different types of outdoor solar lights suitable for chicken coops. Outdoor flood lights, hanging bulbs, and pendant lamps are but a few of the choices. Each type has its own set of pros and cons, but ultimately they serve the same purpose: to keep your chickens happy all year long.
6 Best Solar Chicken Coop Lights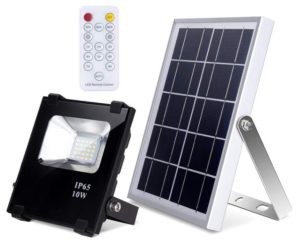 Watts: 10W
Battery: 8-10 hours
The High Points: Comes equipped with a remote to manually change settings.
The Not-So: The remote has a few design flaws.
With a low price and a plethora of features, the Solar Flood Light is the perfect choice for a backyard chicken coop. While the light itself isn't designed specifically for coops, it easily fits the bill. Remote functionally, an incredibly bright light, and a waterproof design are just a few of the Solar Flood Light's selling points.
This light is best suited for those with large coops that are more than 200 square feet. However, the light comes with dimming options to significantly reduce the brightness. This feature is great for those with small coops looking to up-size as you can start low and increase the brightness as you expand.
What Do Reviewers Say?
Overall, reviewers are very pleased with the Solar Flood Light. The light is bright and easy to install. Many users have successfully used it in barns and sheds.
However, several buyers have had problems with the remote. They claim that the remote can only be used in close proximity to the light, so it reduces the practicality. The remote also doesn't come with an instruction manual.
Features & Considerations
The otherwise unflashy Solar Flood Light comes with one of the best remote controls on the market. It offers three modes: auto (based on the dawn-to-dusk sensor), timer (1-8 hours or keep it on/off) and dimming.
The half-light option is energy-saving and offers homeowners the ability to manually adjust the brightness to their chickens' liking.
In terms of brightness, the Solar Flood Light has 25 LEDs that emits a combined 10W of light. This provides more than enough light for a large coop. Moreover, the battery lasts a notable 8 to 10 hours before exhaustion so your chickens will keep warm and happy all winter long.
The solar panel is attached to the light via a 16.4 ft. cable, so the panel does not need to be installed adjacent to the light. This allows for more flexibility in installation. The light itself has a 120-degree beam angle so even the darkest corners of the coop can easily be illuminated.
The entire unit is waterproof and made of durable materials. It can withstand inclement weather, humidity, dust, corrosion and other environmental hazards. Wherever you decide to install your light, you can be safe in knowing it's sturdy enough to last for a few years.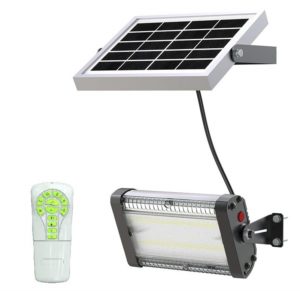 Watts: 10W
Battery: 8 hours
The High Points: Comes equipped with a remote and few different light settings for maximum customization.
The Not-So: It takes a long time to fully charge the large batteries.
With a higher price point and smaller collection of features, the Solar LED Barn Light doesn't beat the Solar Flood Light. However, it is a very close runner-up. Its competitive remote, large battery capacity and super bright light are perfect for larger backyard chicken coops.
The Solar LED Barn Light can be used as an option for homeowners who are considering upgrading their small chicken coop. However, the large battery needs a lot of direct sunlight to charge fully. For those living in particularly cloudy climates, this may not be the best choice.
What Do Reviewers Say?
Reviewers are happy with the brightness of the light. It has the ability to light up even large, dark barns. The installation is fairly simple, and it works as it should.
On the other hand, some reviewers have complained that the remote is difficult to operate as it doesn't come with adequate instructions.
Others have complained that their lights stopped working after a few months of operation or not at all. These may be because of either manufacturing errors or design flaws.
Features & Considerations
The Solar LED Barn Light is similar to the Solar Flood Light but has a more limited set of features. The large and wide light is great for large chicken coops, but you can reduce the brightness for smaller coops. Overall, this 1,000-lumen light is great for a variety of applications.
The compact remote offers a few different settings beyond the normal on and off switch. Homeowners can reduce the brightness, set a timer for 3 or 5 hours or select a "weather" setting to harvest the most power. However, there is no dawn-to-dusk sensor and you cannot select a specific time for the lights to come on.
On the left side of the light, there's a handy power gauge with LED indicators that display the battery's charge. The large 4,000mAh battery has a long life span and will last for years. However, the solar panel will need to receive several hours of direct sunlight for the batteries to fully charge.
The Solar LED Barn Light is waterproof and you can use it in inclement weather or dusty outdoor sheds. The solar panel comes with a 12-foot cable, which allows for homeowners to install the panel separate from the light. No matter where you plan on placing your light, the Solar LED Barn Light can accommodate it.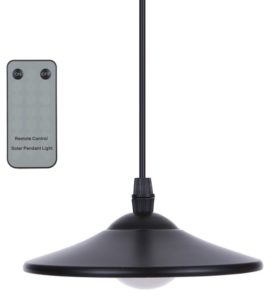 Watts: 3W
Battery: 8-10 hours
The High Points: Comes with both a pull cord and remote control.
The Not-So: Doesn't have any type of timer.
As the most stylish choice on our list, the moderately-priced Lixada Solar Pendant Light is a steal.
The beautiful stainless-steel pendant shape can provide enough light to keep your chickens satisfied for the long winter months. For medium sized coops, consider buying two lights.
The Lixada Solar Pendant Light comes with a few great features, like a remote control and a pull cord. The battery length is also quite competitive, and installation is straightforward. However, there is no timer option which is quite inconvenient for chicken breeders.
What Do Reviewers Say?
Reviewers are generally pleased with the brightness and efficiency of the Lixada Solar Pendant Light. Just one light is enough to illuminate a small shed. Also, buyers appreciate the combination of a remote and pull cord for powering the light.
However, some reviewers have an issue with the remote. The listing claims that the remote is RF, which means that it can signal the light from a decently far distance. Unfortunately, the remote is actually IR, meaning you need to be within 5 meters of the light for the signal to be received.
Features & Considerations
The Lixada Solar Pendant Light is the most stylish choice on our list. With a classic vintage look and feel, the light doesn't initially appear to be solar-powered. It has a 3W bulb that produces 250 lumens of "daylight". For a small coop, two pendant lights should be more than enough.
The light fixture is easy to install and hang above a coop. It comes with a 3-meter cable that connects the solar panel to the lamp, which allows for the light to be placed inside the coop. The solar panel is also adjustable, so you can angle it in the best position for harvesting sunlight.
A small remote control makes turning the lamp on and off a breeze. It also has a pull-cord switch for when you're physically in the coop. The lamp can stay on for 8 to 10 hours before exhausting the battery.
Moreover, the light is water-resistant and can withstand humidity, dampness and other environmental hazards inside a shed or barn. In the right conditions, the light should last 30,000 hours before it needs to be replaced.
Watts: 1.5W
Battery: 6-8 hours
The High Points: The lights can be easily moved around.
The Not-So: They are very low wattage.
As one of the most budget-friendly options on our list, the Viewpick 2 Pack Solar-Powered LED Bulb is perfect for new chicken coop owners.
The lights require virtually no installation as they use a USB connection for charging and a carabiner hook for hanging. This allows for maximum flexibility in placement and less stress for those who are unfamiliar with solar devices.
Each bulb only produces a small amount of light, but together they produce enough for a small coop. If you'd like to light up a large coop, then purchasing two sets would be the safest choice. Overall, the lights offer a good amount of functionality at a dirt-cheap price.
What Do Reviewers Say?
Several reviewers have used the Viewpick solar lights in chicken coops, greenhouses and outdoor sheds with no complaints. They claim that the lights work as advertised and they appreciate the USB charging system. The solar panels can even be used to charge other devices as well.
Some buyers report that their lights don't hold a charge and barely produce any light. However, this may be affected by the amount of direct sunlight they received in their area. It's important that the bulbs' solar panels be exposed to 8 hours of sunlight per day if you'd like to fully charge the batteries.
Features & Considerations
The two-for-one Viewpick Solar-Powered LED bulb is a great choice for small coops that need light in hard-to-reach places. The lights are naked bulbs that can attach to any hook with a carabiner.
They don't require installation because they are charged via USB. This means you can stick your solar panels outside and recharge your bulbs, then disconnect them and hang them inside when they're full.
If you want to permanently install the lights, you can keep them connected to the solar panels and use a cord to hang them from the ceiling of your coop.
You can also place a shade over the bulbs, like a traditional pendant lamp, to disguise the look of the solar bulbs. This may be a good choice for homeowners that don't like the bright orange "emergency" design.
Each bulb is 1.5W, which is not much on its own. However, the set comes with two bulbs, which produces enough light to comfortable illuminate a small coop.
The lights come with three settings: emergency flashing, full brightness and half brightness. You can toggle between the settings with the switch button.
The lights will last around 6 to 8 hours on a full charge. There's an indicator light on each bulb that shows whether it's charging or fully charged. And should you lack sun on a particular day, you can recharge your bulbs using an electricity supply as it's connected via a USB cable.
Watts: 8.14W
Battery: 8 hours
The High Points: It can be used in any weather.
The Not-So: It must be installed on an outdoor fence or wall.
The LITOM Original Solar Light is the best choice for large outdoor coops. Although the unit is small, it can produce a substantial amount of light for your chicken coop. This is perfect for long winter nights in mild climates.
You can only use the light outside because of its design. There are no options for indoor installation. However, you can easily install the light on your coop's fence or wall as long as the solar panels have access to direct sunlight.
What Do Reviewers Say?
Overall, reviewers are happy with how bright the LITOM Original Solar Light is. Although the model is quite small, it produces a lot of light. They also appreciate how sensitive the motion sensor is.
Some buyers have had defective units that stopped working after a couple of weeks. This appears to be a common problem for solar-powered lights. It is important to test the light first before going through the hassle of installing it.
Features & Considerations
The LITOM solar light is a powerful option for any outdoor chicken coop. You must install it outside because the solar panel is attached to the top of the light, rather than separate from it. You can place it on a fence or a wall that receives direct sunlight during the day.
The LITOM produces a generous amount of light, and can illuminate a medium to large sized coop. It has a 270-degree illumination range which will reach even the darkest of corners. The light is also waterproof and can withstand inclement weather and high temperatures.
The light is meant to be a solar security light, so one of its main features in a motion detection function. This is unnecessary for chicken coop lighting but is a good feature if you'd like to use it to scare away predators. However, you'll mostly be using the consistent lighting mode.
Watts: 1.5W
Battery: 8 hours
The High Points: It is cheap and easy to install.
The Not-So: It's not long-lasting.
With a low price point and easy installation, the LightMe Solar Light Bulb is a great option for small coops. The bulb emulates a traditional light bulb, so you can place a shade over it for a more attractive look. Unfortunately, you will need to make modifications if you plan to permanently install it as the power switch is inconveniently on top of the bulb.
For small coops and new chicken breeders, the LightMe is a great option. It charges quickly through a solar panel with a USB connection and lasts for 8 hours on a full battery. You can also charge the light via an electrical outlet if there is a lack of sun.
What Do Reviewers Say?
Most buyers are happy with their purchase and have successfully used them to light sheds and tents. The light emits a decent level of brightness and is very easy to move around. You can use it for a variety of applications.
Unfortunately, some units are defective and don't charge properly. This is more than likely a manufacturing error. Some also report that the brightness of the bulbs decreases over time. For permanent use, this bulb may not be the right choice.
Features & Considerations
The LightMe Solar Light Bulb is very similar to the Viewpick 2 Pack Solar-Powered Light Bulb in style and design. With a naked bulb shape and a metal hook for hanging, the LightMe model offers a no-frills approach to brightening up a chicken coop. It's easy to install, maintain and even better, it's incredibly cheap.
The bulb charges via a USB cable that connects to a small solar panel. You can disconnect the bulb and use it separately once it has a full charge. On a full battery, the light can last up to 8 hours which is more than enough time.
The small metal hook fixed on top of the bulb allows homeowners to easily move it around. It can also be attached to a cord for more permanent installation. One annoyance is that you'll need to physically switch it on and off using the button placed on the top of the bulb. This may be inconvenient for daily use.
The Complete Solar Chicken Coop Lights Buyer's Guide
What to Look for in a Solar Chicken Coop Light
There's a lack of solar lights on the market specifically designed for chicken coops. Instead, homeowners can use flood lights or security lights as an alternative. These lights function just the same and will provide enough light to keep your chickens happy.
When choosing your light, you'll want to make sure it fits your specific criteria. Because the lights aren't designed for chicken coops, it's important to check the specifications before purchasing. You'll need to look at details such as wattage, battery length, installation requirements and extra functions.
How large is your coop?
The size of your chicken coop will ultimately determine how much light you need. When lighting a chicken coop, you're trying to artificially simulate the sun during the winter months.
A very bright, low-hanging solar light will unintentionally stress the chickens out. On the other hand, a dim bulb that's tucked away in the corner won't provide enough light to make a difference.
Large chicken coops will need at least 6W of LED light while small coops will need around 3-4W of light. Some solar lights are only 1.5W, so you'll need to purchase a few units to meet your chicken's needs. Having more lights means you can customize your coverage, especially if you have a uniquely shaped coop.
How much daylight do you receive in your area on average?
The amount of daylight you receive will affect two things:
The efficiency of your solar panel
How many hours of light your chickens will need in the winter
In terms of the solar panel, it's important to remember that they need access to direct sunlight in order to fully charge the batteries. Generally, you'll need to install them on the roof or exterior wall of your coop, facing a southerly direction.
If your coop is not in a great location for harvesting solar power, you'll need to purchase a light with a long connector cable. This will allow you to place both the solar panel and light in the correct position without issue.
In terms of the chickens, they need at least 14 hours of "daylight" per day to continue laying eggs. During winter months, a normal day may only provide 8 hours of light, leaving you to make up the other 6 hours with a solar chicken coop light. In this case, you'll need to find a light with a battery that will last that long without exhaustion.
Do you want an automatic timer?
Some solar-powered chicken coop lights come with timer functions which can be very useful for homeowners. You can use these timers to keep the light on for a certain amount of time, like 3 or 5 hours, depending on how much artificial daylight you'd like to provide.
However, most solar lights can't be programmed to turn on or off at a specific time of day, unless they are using a dawn-to-dusk photo sensor.
If you are manually turning your lights on and off, you'll need to be careful to do it at a consistent time. Otherwise, you can confuse your chickens. If you're not able to handle that responsibility, a timed solar light can be incredibly useful.
Is your coop fully covered?
Some chicken owners have coops that are half-covered. Since the light needs to be placed away from bedding, it may be exposed to the elements. If your light regularly encounters rain and other environmental hazards, you'll need to make sure it's fully waterproof.
There are several different waterproof options on the market. Since solar panels are designed to be used outside, most devices have some level of water resistance.
However, some climates experience more rain or snow than others, so it's important to purchase a model with an adequate amount of weatherproofing to prevent damage.
Selection Criteria: How We Ranked the Best Solar Chicken Coop Lights
Based on our specified criteria, we've narrowed down a competitive list of options to feature the 6 best solar chicken coop lights.
Our rankings specifically focus on the watts of the bulbs and the battery length. It also takes into consideration extra features, like timers and weatherproofing.
Watts
For coops that are roughly 100 square feet, you'll need around 40 watts of incandescent light or 4 watts of LED light.
For larger coops that are 200 square feet or more, you'll need at least 60 watts of incandescent light or 6 watts of LED light. You should hang the lights 7 feet or so off the floor.
Battery
How long the battery lasts on a full charge is of paramount importance. If the battery dies after only a few hours of use, you'll plunge your chickens into full darkness which can be stressful and counterproductive. You should be choosing a reliable light that can last 6 to 8 hours before exhaustion.
Some options also come with USB chargers which can use electric power if the solar panels fail to harvest any energy. This can come in handy during periods of cloudy skies and inclement weather as you can guarantee your coop will be lit every night.
Frequently Asked Questions (FAQ)
How do solar lights work?
In the most basic sense, solar lights harvest energy from the sun, store the energy in a battery and then use the stored energy to illuminate a light.
They come in a variety of shapes and sizes, all with different types of practical applications. By using renewable energy, solar lights offer an eco-friendly alternative to traditional wired lights.
Why do chickens need lights in their coop?
For full egg production, chickens require a solid 14 hours of daylight. During short winter days, chickens often don't receive enough daylight and will stop laying eggs. If you depend on your chickens for their daily supply of eggs, this may be very inconvenient.
You can use lights to "extend" the day using artificial means. A warm LED bulb with a decent wattage can simulate the sun and indicate to the chicken that they can continue producing eggs.
However, you must use the light as a supplement to the sun, so you can't turn it on and off abruptly as it will disturb the chickens. It's best to use the artificial light in the pre-dawn morning hours if at all possible.
Will the lights still work in cloudy conditions?
Most solar lights need a full day of direct sunlight to work properly. Depending on the quality of the solar panel, cloudy conditions may make it very difficult to fully charge the battery. In this situation, it's good to have a light that you can move and place in an area with the most sunlight.
Overall, solar lights are reliant on the sun. If you're worried about a lack of sun in your area, you can purchase a hybrid type that you can charge via USB. That way the light will always be functioning regardless of the weather.
Do the lights have to be installed outside?
Most solar chicken coop lights have detached solar panels. That means you don't need to place the light outside.
Instead, you can use the light indoors with a long cable attaching it to the solar panel that you have placed outside, generally on a roof or exterior wall. However, some solar lights have a design with the solar panels within the unit. In this situation, you must install the light outdoors and in direct sunlight.