Whether you're a millennial looking to live in a van or a family going on an RV adventure, RV solar panel kits are the answer to powering your rig while you're exploring the backcountry. It's the perfect way to free yourself from faulty campsite hook-ups and to start to explore the true wilderness, all while still having access to the amenities that you need.
Good RV solar panel kits have all the tools you need to get you started. They include high-quality pieces that leave room for future expansion of your solar panel setup.
You'll also never have to worry about buying extra cables or compatible tools. They include everything you need to get the solar panels on your RV in no time.
6 Best RV Solar Panel Kits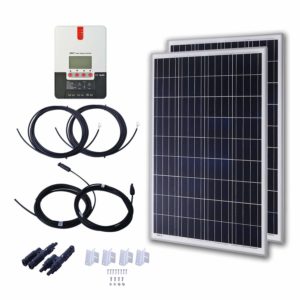 Watt Hours: 1000Wh per day
Panel Dimensions: 47.2 in. x 21.7 in. x 1.4 in.
The High Points: powerful, high amps, long cables, very weather-proof
The Not-So: heavy, less space-efficient
The most powerful kit on our list takes the top spot. Because, let's be honest, to run an RV setup you need quite a lot of power.
For that reason, we value how KOMAES combines its highly efficient solar panels with useful tools to create an ideal RV solar panel kit.
This setup also takes extra care in its design to make sure it is completely weatherproof. All of the parts of the kit are rated at least IP 65 for water resistance.
The panel itself has undergone testing to ensure that it is able to handle strong winds and even snow loading on the panel.
What Reviewers Say
Most reviewers were very pleased with the solar panels. In general, they have good output. When connected to batteries, they lasted as long or longer than expected.
The biggest positive for most users was durability. Most expressed that the material felt solid and that they expected the panels to last for a long time.
One thing that many reviewers cautioned was to be careful when installing. They said that the included instructions weren't very clear.
They also said that the order of installation of certain pieces was very important. That was something which was complicated by incorrect labeling on pieces and instructions.
Features & Considerations
In ideal sun conditions, users can expect that the KOMAES Polycrystalline Solar Panels for RV Starter Kit will put out 1000Wh per day. This is because the kit consists of two 100-watt panels that put out 5.63 amps.
Being polycrystalline solar panels, the panels included in the KOMAES Polycrystalline Solar Panels for RV Starter Kit are not as space-efficient as other options. They are the largest panels on the list, and as such as also among the heaviest. The panels weight 18.1 pounds and their size dimension are 47.2 in. x 21.7 in. x 1.4 in.
In order to achieve 200 watts, two panels are required, occupying even more space. So in order to have this setup, you must have a lot of sun-exposed space for it.
One positive about this kit in regard to the space required for it is that all of the cables included in the kit and required to install it are quite long. That makes its setup very flexible.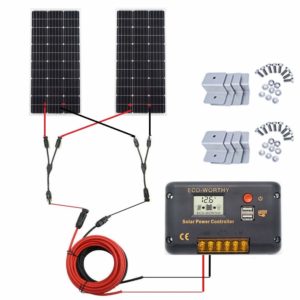 Watt Hours: 900Wh per day
Panel Dimensions: 39.8 in. x 20.1 in. x 1.4 in.
The High Points: reasonable price, good output
The Not-So: heavy, short cables
We love the ECO-WORTHY 200 Watt Monocrystalline Solar Panel Complete RV Kit. That's because it has a lot of power and a useful setup, all at an accessible price, considering the price to output.
It can be expected to put out 900Wh per day with ideal sunlight. That puts it among the options with the most output on our list.
The ECO-WORTHY Kit includes everything that someone new to solar power needs to get started. In addition to the two 100 watt solar panels, it also comes with a pair of solar cables, 2 sets of Z style mounting brackets, a 20 amp CMG Solar Controller and a pair of Y branch cables.
With the helpful instruction manual and ECO-WORTHY's customer service, the kit can be put together in just a matter of minutes.
What Reviewers Say
Reviewers consistently rate the ECO-WORTHY 200 Watt Monocrystalline Solar Panel Complete RV Kit high for efficiency and charge. All had experiences of the panels performing well even on cloudy days. Their capability was enough for most users' needs.
For some reviewers, the RV kit was a starting set, which they hoped to add to eventually. In those cases, the included charge controller was not ideal.
That's because it has a much more limited capacity than any other of the aspects on this list. Some reviewers were unhappy that in order to expand, a new charge controller was necessary in most cases.
One of the biggest positives according to most reviewers was installation. They recounted spending an afternoon on setup and most were able to get the whole kit up and running within an hour or two.
A few reviewers suggested testing the solar panels with all the pieces. That way, they could ensure that it is correctly set up prior to attaching it to an RV to ensure that all the pieces are in working order before they are firmly placed.
Features & Considerations
Despite also being a setup of two 100W solar panels that output a total of 200W, the similarities between the ECO-WORTHY 200 Watt Monocrystalline Solar Panel Complete RV Kit and the KOMAES Polycrystalline Solar Panels for RV Starter Kit mostly end there.
To start, the ECO-WORTHY kit includes monocrystalline solar panels, which tend to be more space-efficient than polycrystalline, a fact that holds up in this case as well.
For very similar functionality, the ECO-WORTHY solar panels are 8 in. x 1 in. shorter and slimmer than the other options. They actually weigh more, though, meaning that these solar panels are very solid.
The ECO-WORTHY kit also has shorter cables than the KOMAES kit. Because the solar panels are significantly smaller, users may find that they are able to install their solar panels closer together, thus eliminating the need for longer cables.
Watt Hours: 500Wh per day
Panel Dimensions: 47.2 in. x 22 in. x 1.4 in.
The High Points: good charge controller, high-quality installation kit
The Not-So: not as powerful
What sets the Renology 100W Monocrystalline Starter Kit apart from any other options is its user-friendliness. The installation kit includes more than enough pieces to ensure that the solar panels are secure on any sort of surface and for any off-road adventure.
Renology offers a variety of solar panel kits, specifically for RVs and off-road vehicles as well as for houses and other applications. With the RV-specific kit, they also offer a number of different options in terms of what the kit includes in regards to the number of solar panels (and thus how much power).
What Reviewers Say
Reviewers say that they love that this kit has everything you need to get started, but it also has everything you need to get ready for an expansion in the future.
They noted that although it is relatively more expensive than some of its peers, it will save money in the long run for those who might add more panels to their setup because the included charge controller and cables will work for a number of different combinations.
Another area that reviewers say that the Renology setup shines is in durability. They recounted stories of driving through forests and all sorts of weather with the panels on top of their vehicle and explained that the solar panels hold up to the task and that the included wires, which are often weak spots in similar products, also made it through many different situations.
Features & Considerations
The Renology 100W Monocrystalline Starter Kit includes 30A PWM Wanderer Charge Controller, 20ft 10AWG MC4 Adaptor Kit, 8ft 10AWG Tray Cable and Z-brackets. In addition to including all the tools necessary for mounting, the kit also includes all necessary cables for attaching to a battery and cables that allow for expansion of the kit, if you choose to purchase more panels.
One of the best things about the Renology kit is that it includes a charge controller with a capability of up to 30 amps, which means that even if you decide to expand your set of solar panels, it can handle the expansion. A 30-amp charge controller should be able to handle up to four similar panels.
Given ideal conditions for solar charging – long, sunny days – the Renology 100W Monocrystalline panel should convert at a rate of approximately 500Wh per day. This is somewhat less powerful than other options on this list, but it is an excellent starting place for those hoping to get their feet wet with RV solar panels, and the Renology kit leaves lots of room for expansion in the future.
Watt Hours: 500Wh per day
Panel Dimensions: 40.5 in. x 26.7 in. x 1.4 in.
The High Points: good charge controller options, good value
The Not-So: no instructions, not great cable quality
For a simple kit that keeps costs low but quality high where it matters, the HQST Polycrystalline Solar Panel RV Kit is your best choice. The most important pieces perform as well as other options, but costs were cut in its design where possible to also make it a remarkably affordable option.
One thing that we really appreciate about this kit is that HQST offers the option to vary which charge controller you choose to buy with the kit. We opted for the version that includes the 20W charge controller as it was the middle option – it was still cheaper than other options and within a price range that seemed reasonable to us, but still allows for the potential for expansion.
If you do not plan to expand, there are other, cheaper options that might work better for you, and if expansion is a for-sure future plan, then choosing a charge controller with a 30 watt or higher capability might be in your interest.
This consideration from the manufacturer of the value of being able to choose pieces based on budget and interest is very helpful for a mid-range price option.
What Reviewers Say
Most reviewers were completely satisfied with the HQST 100 Watt Polycrystalline Solar Panel RV Kit. They said that it met their capacity needs and its no-frills design kept prices down.
Some reviewers said that the cable and charge controller quality is not top-line, but both are passable for the needs of the HQST panel.
One of the most important flaws with this kit, according to reviewers, is that it doesn't include installation instructions. Instructions as to how to connect the different wires are available online and mounting instructions can be implied based on similar solar panels, but reviewers note that having easily accessible instructions makes installation much easier.
Features & Considerations
The HQST 100 Watt Polycrystalline Solar Panel RV Kit does not sacrifice power for price. It is on par with other, more expensive options in terms of watt hours that it can be expected to produce per a day. With the HQST panel, you can expect it to produce 500Wh per day in ideal conditions, which is similar to the panels that come with the best kits on our list.
In comparison to other traditional solar panels on this list, the HQST Polycristalline solar panel is the smallest one, which makes it an excellent option for those who might have limited space. It weighs 16.5 pounds and its dimensions are 40.5 in. x 26.7 in. x 1.4 in.
The kit includes one 100W 12V polycrystalline solar panel, a 30A PWM LCD charge controller, a pair of 20 ft. 12 AWG adaptor cables, a set of Z-brackets and all necessary mounting hardware. Like others it is all-inclusive.
With the HQST 100 Watt Polycrystalline Solar Panel RV Kit it's hard to say what you're giving up in quality to reach such an accessible price. It has all the equipment you need to get your RV solar-powered in no time, all at a reasonable, mid-range cost.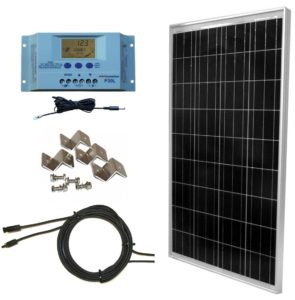 Watt Hours: 350Wh per day
Panel Dimensions: 40 in. x 26.4 in. x 1.4 in.
The High Points: reasonable cost, good charge controller
The Not-So: less powerful, heavy
WindyNation makes RV solar panel setups affordable with the 100 Watt Solar Off-Grid RV Kit. In order to do so, they choose elements that utilize efficient but older technology to keep prices down, but still produce a quality kit.
The kit includes a particularly sturdy charge controller, which even has its own temperature sensing battery. It is also rated for 30 amps, which means that if you were to want to further expand your set, the included charge controller could still be used with up to three more solar panels.
What Reviewers Say
The most important positive about this RV solar panel kit is that it's cheap and flexible. Although it comes with the minimum needed to get your RV powered by solar panels, the materials that it comes with are high-quality and can be taken advantage of to set up a fairly sophisticated system.
Most reviewers recognized that with this particular kit, there is a little bit more preparation involved than with other similar kits, though. That's because there are a few pieces that vary depending on which battery you will be using with it, so they must be purchased separately.
Features & Considerations
Compared to other solar panels on our list, like the thin, flexible ones, the WindyNation panel might feel a little clunky. It is one of the heavier panels, coming in at about 18 pounds, but also one of the smaller ones, with its dimensions being 40 in. x 26.4 in. x 1.4 in.
One of the good things about these characteristics is that they make for a very durable panel. The frame is made of aluminum and is very solid, which is excellent for keeping it in place, and the entire setup is water-resistant.
The WindyNation set includes the solar panel, an user adjustable LCD 30-Amp Solar Charge Controller with battery temperature sensor, 40 ft of UL listed 12 AWG solar cable, all necessary MC4 Connectors for wiring and 4 Solar Panel Mounting Brackets and Fastener Sets for mounting the panel.
The solar charge controller has an LED screen read-out that has all the information you need to make sure that the solar panel is functioning correctly.
Given ideal sunny conditions, you can expect to get 350Wh out of this RV solar panel kit per day. Although this is lower than some other options, it can easily and cheaply be hooked up with other solar panels and is an excellent starting point for those looking to try out solar power for their RV.
Watt Hours: 1000Wh per day
Panel Dimensions: 46.3 in. x 21.3 in. x .1 in.
The High Points: flexible, light, powerful
The Not-So: not as durable, doesn't include equipment to install
One of many solar panel users' biggest concerns is the placement of their solar panel. Getting it into just the right spot, with just the right sun angle and the best connection points is key, and sometimes that perfect placement isn't on a flat surface. For those cases, the XINPUGYANG Semi Flexible 200W Solar Panel Cell for RV should be your go-to.
We love that this setup is suitable for a larger variety of vehicles, since not every RV, jeep or boat are created equal. It is also highly waterproof, so if you choose to put it on a vehicle that might get a little wet, you can certainly count of the XINPUGUANG panels to hold up.
What Reviewers Say
Reviewers say that compared to other flexible panels on the market, these panels are more efficient. In general, they recounted that their past experiences had varied with this kind of solar panel.
They were hesitant to take a risk on a new one. However, they were glad that they did. The XINPUGUANG panels ended up working better than expected.
Some reviewers also commented that although the kit doesn't include tools for installing the panels, they probably wouldn't have used the tools anyway.
That is because oftentimes the installation mechanisms that come with installing solar panels include drilling or otherwise damaging the place where they will be installed. With the eyelets in these panels, it is possible to avoid that process, which some reviewers really appreciated.
Features & Considerations
Instead of being thick with internal wiring and a sturdy frame, the XINPUGYANG panels are actually very thin and very flexible. Rather than the normal 1-2 inch thickness of most solar panels, these panels are approximately .1 inch thick.
They are also on the small side in other measures. Their length and width dimensions are 46.3 in. x 21.3 in.
They are thin. However, the XINPUGYANG panels don't sacrifice power capabilities for their size.
They are actually on par with the most powerful option on our list. You can expect them to convert 1000Wh of energy per a day.
One of the most important drawbacks to these panels is that unlike other kits, they do not include an installation mechanism. The panels have eyelets that allow for them to be hooked in or stapled down. However, XINPUGYANG does not include a specific set of tools to install them.
The Complete RV Solar Panel Kits Buyer's Guide
What to Look for in a RV Solar Panel Kit
Installing solar panels onto an RV can seem daunting, especially if you've never dabbled in solar energy before, but it doesn't have to be too difficult. With the right tools and pieces for your RV and your energy needs, it can be a painless task.
The key is choosing an RV Solar Panel Kit that includes all the right parts. In order to determine which parts are necessary for you, there are a few factors to consider.
Size and Shape of RV
The first requirement for a solar panel for the roof of an RV is that it needs to fit the RV. It is important that the roof has enough room for the panel and can support its weight.
For smaller RVs and vans, smaller panels might work better. For larger vans with larger energy needs, a larger panel might be more convenient.
To consider which product is the best, it is first important to size up the place where you'll be installing the panels. Consider which parts of the roof are suited for a panel and then how much space is available. To match up those restrictions with a panel, see the list below with the panels' dimensions and weights.
Weather Conditions that the Panels Might Encounter
Since RVs and other similar vehicles are often used in off-road situations, durability is particularly important for RV solar panel kits. Some solar panels are tested and proven to be well-equipped for wind and snow,.
Others shine particularly well in their water resistance. There are also some panels that handle extremely high or extremely low temperatures better than others.
Knowing where you might take your RV and what conditions the panels might encounter can help you make the decision about which of these options are better for your setup. It is also possible that you might encounter all of them. In that case, the most durable solar panel might be the best option.
Energy Needs
Perhaps the most obvious, but also the most important factor that determines a solar panel's usefulness, is how much energy it will put out.
Depending on what you plan on charging with the battery hooked up to your solar panel, a kit that includes one or two solar panels might be better for you. Kits that have easy opportunity for expansion might also be important for demanding energy needs.
Selection Criteria: How We Ranked the Best RV Solar Panel Kits
Beside overall quality, durability and functionality, there were a few specific factors by which we measured the RV solar panel kits that allowed us to rank them. We always chose products that are of high quality and can be relied on. There are also a few specific aspects that we considered particularly important for RV Solar Panel Kits.
Watts, Amps and Volts
One of our main considerations in ranking the RV Solar Panel Kits were the energy-related stats. That is because these produce a clearer front-runner.
We tended to favor kits with better solar panels and more solar panels, both of which lead to a higher ideal output, which in turn allows for more devices to be powered.
Potential for Expansion
There are a few factors that favor the possibility of expanding your setup in the future. We favored sets that include items that make the potential for expansion easier in the future and that might save the money and hassle of needing to replace parts. Some of them are, in order of importance:
Good charge controller with a capacity of ideally 30 amps or more
Long cables for connecting multiple panels if necessary
Smaller panels that occupy less space
Frequently Asked Questions (FAQs)
What does Wh stand for?
Wh stands for "watt hours" and in the context of RV Solar Panel Kits, they are put in terms of how many watt hours you can expect a solar panel to produce in one day.
Watt hours describes the amount of time that you can power a device at the given number for one hour. So, if a particular solar panel produces 350Wh per day, then the energy that it produces could power something that needs 350 watts for one hour.
How many devices can I really power with these kits?
Different kits have different capabilities, so each individual kit serves a different purpose. The most powerful kits on the list have two to three times the capability of the least powerful ones.
That said, to give some frame of reference, keeping in mind watt hours, charging a cell phone uses 2-6 watts, so in order to fully charge a cell phone that takes 2 hours to charge, 4-12 watt hours would be necessary. The lowest watt hour production of a solar panel on our list is 350 watt hours per a day.
Other activities, such as those that use larger electronics and appliances use significantly more watts. With that in mind, taking stock of what you might hope to power with your battery can help serve as a reference as to how much power your panels might need to convert per day.
Will the solar panels fit on the roof of my RV?
All of the solar panels on this list should fit on the roof of most RVs. For reference, RVs range in size between 21 to 45 feet long and generally are around nine to ten feet wide. Most of the solar panels on this list are slightly larger than three feet by two feet.
There are other factors that might limit the space on an RV roof. That includes whether there are a vent or racks already installed on the RV.
These extra features not only limit the surface area. They also might limit the area where direct sunlight can hit the panel.
It is also important to make sure that the panels are close enough to the battery to be able to be hooked up to it. This problem can be solved by choosing options with longer cables, if the battery placement is difficult to reach.
Generally, if you will only be installing one or two panels (as the kits in this list include), most RVs have plenty of room for the solar panels.
Will the solar panels work while I am driving?
Although each individual setup has its limitations, depending on where the battery is hooked up and how the panels work with the rest of the RV's system, the general answer is that yes, the solar panels should still charge if you're on the move during the day.
This is all subject to sun exposure, though. So they might not charge much if you're trekking through a shady forest.
The ideal situation would be to spend the day stationary in direct sunlight. However, any time the panels are receiving some sunlight and everything is correctly connected, they should work.