Whether you're looking to go green, save some money, or are just on the market for your next DIY project, hydroelectric generators might be an excellent choice.
Based on your location, you could be saving a ton on your electricity bill. 
Some hydroelectric generators have been in use for more than 500 years. While you definitely won't need that type of power, acquiring a micro-generator can help you live off-grid or provide your power needs during an outage. 
If you're looking for passive mechanical energy, micro hydro power systems, or putting that canal on your property to work, we got something for you.
After reviewing dozens of products on the market, here are the 6 best hydroelectric generators we found. 
Our Top Picks
|   | Product | Details   |   |
| --- | --- | --- | --- |
| | Best Overall: Scott Hydroelectric Turbine Generator   | Scott hydroelectric generators are some of the best on the market. Easy to install & largely maintenance-free. | Check Price |
| | Runner-Up: SAVEMORE4U18 Water Turbine Generator | A micro hydro power system that can generate electricity and appeals to any budget no matter your living situation. | Check Price |
| | Best For Camping: Waterlily USB Portable Power | Waterlily's turbine can be used in rivers, streams, wind, or hand-cranked to charge small electronics in an outdoor setting. | Check Price |
| | Best All-In-One Kit: WindZilla PMA Pelton Water Wheel Adapter | Can double as a wind turbine. Requires decent water pressure to produce electricity but ready to go right out of the box. | Check Price |
| | Best Budget Buy: Beduan Micro Water Turbine Hydroelectric Generator | A great hydro generator to combine with other forms of renewable resource tech. | Check Price |
| | Best For Large Projects: CHIXIA Horizontal Household Hydroelectric Generator | High output and head requirements make it ideal to produce energy for mining operations, mountainous landscapes, or tourist attractions. | Check Price |
How We Chose the Best Hydroelectric Generators
While sustainable, hydroelectric generators can be limited in the amount of power created and require a consistent flow of water (which isn't suitable for everyone). Maximizing your hydroelectric output depends on your location.
If you would like to understand how this works on a larger scale, check out our article where we discuss the advantages and disadvantages of tidal energy. 
Most consumers think you need to live in a rural area next to a large river to generate electricity.
In actuality, a small hydro turbine generator can be hooked up to pre-existing piping in your home and some can double as a wind turbine.
While all are efficient, some are better in certain situations. 
We also considered the type of hydroelectric generator tested ranging from portable micro hydro power systems (great for hiking and camping), multi-use (wind and manual power), in-pipe (at home or in irrigation), cross-flow (river, stream), and wheel (one of the most efficient) designs in our evaluations.
Practicality is certainly an important factor when considering how your hydro turbine generator will be used.
Some of the tested generators also come with manual and wind options, making them less reliant on location to create energy.  
Some of the larger models can require several feet of water head (the vertical drop in water) to effectively build pressure, so consider your home layout and landscaping.
Keep in mind your DIY capabilities when choosing a hydroelectric generator. Some of these units come ready to use right out of the box and only need to be mounted.
Micro hydro systems may require some simple plumbing skills to attach them to preexisting home piping, while some of the larger hydroelectric power plants may even require the redirection of water on your property.
Best Hydroelectric Generators Reviewed
1. Best Overall: Scott Hydro Turbine Generator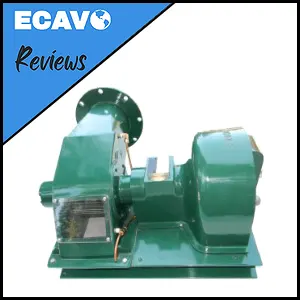 Product Ratings
| | |
| --- | --- |
| Power  | 4/5 |
| Ease of Install | 3/5  |
| Budget  | 1/5 |
| Practicality  | 4/5  |
| Type  | Crossflow  |
Brand: Scott Hydro | Dimensions: N/A | Voltage: 12, 24, or 48V | Wattage: 1500W | Weight: 95 lbs 
What We Liked
Quality construction and built in the USA 
Good amount of power production with low water head 
Minimal maintenance costs 
Several additional options including batteries, charge controllers, inverters and more 
What We Didn't Like
More expensive when compared to similar units
A ready-made and complete unit, the cross turbine is an excellent option to generate power in locations with potentially low water flow.
Rated at 1500W and capable of delivering 2000W, enough to power your average home. Full efficiency is generated at a water head height of 25 feet.
It's an overall very powerful unit that will deliver results if you need its function.
The installation of this hydroelectric generator can be tricky for the average homeowner, but they offer great troubleshooting and advice.
Getting it done right will result in some very worthwhile results. Surely this generator will require consistent water flow, so make sure you have enough water available before purchasing.
See Price
---
2. Runner-Up: SAVEMORE4U Water Turbine Generator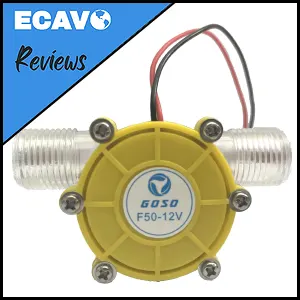 Product Ratings
| | |
| --- | --- |
| Power  | 2/5 |
| Ease of Install | 5/5  |
| Budget  | 5/5 |
| Practicality  | 4/5  |
| Type  | In-Pipe  |
Brand: SAVEMORE4U18 | Dimensions: 3.46″ x 2.28″ x 1.54″ | Voltage: 12V | Wattage: 10W | Weight: 0.2 lbs
What We Liked
This item is a great budget buy 
Extremely easy to install
What We Didn't Like
Only generates a small amount of power 
The small diameter of the device can make flow difficult at times
This water turbine generator is designed to use your average household piping. Keep in mind that this would only be used to supplement your existing energy.
It's nearly the exact opposite of the Scott Hydro product, but it's still a great place to start and much more affordable. 
While you certainly will not be running your entire house on this generator, its low cost and ease of installation make it a viable option for anyone to go a little greener.
An easy install for showers or irrigation systems, as well. 
Supplements well with other forms of power like wind and solar. With different avenues of renewable energy, your house will be more environmentally sustainable. 
See Price on Amazon
---
3. Best for Camping: Waterlily USB Portable Power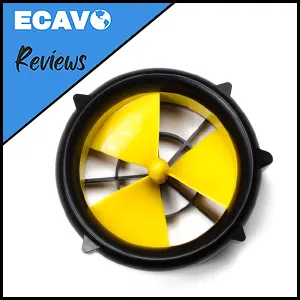 Product Ratings
| | |
| --- | --- |
| Power  | 2/5 |
| Ease of Install | 5/5  |
| Budget  | 3/5 |
| Practicality  | 3/5  |
| Type  | Portable |
Brand: Waterlily | Dimensions: 7″ diameter x 3″ thick | Voltage: 12V | Wattage: 15W | Weight: 2.85 lbs 
What We Liked
Exceptionally durable unit, great for camping and hiking 
Capable of charging small devices reliably 
Requires very little water
USB & 12V options available
Very versatile (manual, wind, water)
What We Didn't Like
It does require a decent flow of water to get going 
Only small devices
This durable unit is great for outdoor enthusiasts and is praised for its extreme portability.
It's easy to use and comes with an optional dry bag to protect it from rainy weather or very fast-moving water.
It comes in a USB or 12V option and can be used with wind or even hand-cranked! 
Hydroelectric systems require flowing water to extract energy from the rotational energy produced by placing the propeller turbine in the water.
If you're near a river or a faster-moving stream, this will function in direct correlation to the flow rate of the water.
Keep the available water flow rate of your camp site in mind before pressing buy on this product. 
Consider a solar charger instead if you're in a more arid location or have little water movement. 
Interested in other solar products that are great for camping? Check out our review of the 6 Best Solar Refrigerators TESTED!
See Price
---
4. Best All-In-One Kit: WindZilla PMA Pelton Water Wheel Adapter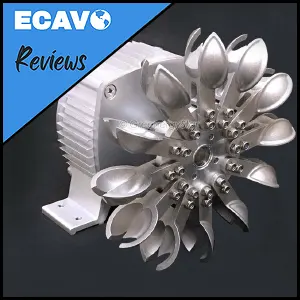 Product Ratings
| | |
| --- | --- |
| Power  | 3/5 |
| Ease of Install | 3/5  |
| Budget  | 3/5 |
| Practicality  | 3/5  |
| Type  | Wheel  |
Brand: Windzilla | Dimensions: 8.03″ diameter | Voltage: 24V | Wattage: N/A | Weight: 1.3 lbs 
What We Liked
Minimal set-up required, just about ready to go, right out of the box 
The wheel style is great for efficiency 
Great for low-pressure environments
Spoon wheel design can also be used as a wind turbine
Great mid-range option
What We Didn't Like
Might not be able to power the average home on its own 
While the turbine comes ready to go, the installation can be difficult depending on your technical expertise
The Windzilla is a great option for small-scale projects.
A nice feature of this unit is that it comes with a mounting plate to help bolt into place and can also be used as a wind turbine.
A great alternative, depending on what weather you might be experiencing that day. You can see what gives you more power and adjust accordingly.
The Windzilla is a great mid-tier option. It doesn't have the massive generating power that some others do on this list, but it provides great power.
It's also a lot cheaper, and the versatility gives it some higher marks.
See Price
---
5. Best Budget Buy: Beduan Micro Water Turbine Hydroelectric Generator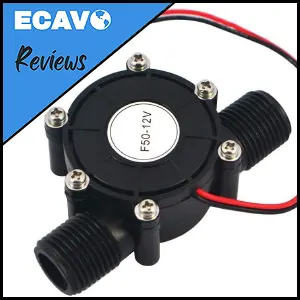 Product Ratings
| | |
| --- | --- |
| Power  | 2/5 |
| Ease of Install | 2/5  |
| Budget  | 5/5 |
| Practicality  | 3/5  |
| Type  | In-Pipe |
Brand: Beduan | Dimensions: 5.75″ x 2.76″ x 1.38″ (package dimensions listed) | Voltage: 12V | Wattage: 10W | Weight: 0.2 lbs 
What We Liked
Viable option to charge small electronics 
Great for showers or water hoses 
Cost-effective model
Universal ½" G Thread is easy to install
What We Didn't Like
This micro turbine unit can be noisy 
Small diameter unit can cause backpressure
A low-cost and low-return option for trying to reclaim some lost energy, Beduan's micro hydro power system is the epitome of "what you see is what you get."
Its compact design makes it ideal for household use, and it can be used especially well in narrow waterways where other turbines might not be considered.
It might be a little bit less reliable than some of the smaller units, but it can still handle smaller-scale jobs.
It does require optimal water pressure and can be quite loud sometimes. 
See Price on Amazon
---
6. Best For Large Projects: CHIXIA Horizontal Household Hydroelectric Generator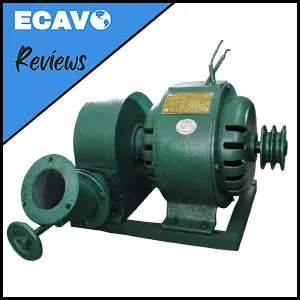 Product Ratings
| | |
| --- | --- |
| Power  | 5/5 |
| Ease of Install | 2/5  |
| Budget  | 1/5 |
| Practicality  | 2/5  |
| Type  | Wheel |
Brand: CHIXIA | Dimensions: N/A | Voltage: 220V | Wattage: 1000W | Weight: 99 lbs 
What We Liked
Very efficient wheel design 
Highest power output of models tested 
Great for mountainous areas or mines development
Very durable generator design
Enough power for larger projects
What We Didn't Like
Requires high amount of pressure and water head making it suitable for niche locations
Heavy model compared to other hydroelectric generators of similar size 
This CHIXIA horizontal household hydroelectric generator is great for large homes and commercial and larger-scale projects alike.
This hydroelectric generator can be cumbersome and is best used in mountainous or rugged landscapes because of the high water head required to get high volume power output.
It is a very heavy-duty hydro turbine generator that stands tall over most of the turbines on the market.
That being said, it is quite cumbersome, which makes it a little bit more difficult to install compared to its competitors.
Its large size also requires a large amount of water pressure. 
It's a niche product that, when working right, will provide all the power necessary. Otherwise, it could be more trouble than it's worth. 
See Price on Amazon
---
Comparison Chart
Products
Best Overall
  Runner-up 
  Best for Camping     
Best All-in-one Kit 
 
Best For Large Projects 
Best For Budget 
 
Overall Rating 
4/5 
4/5 
3/5 
3/5 
2/5 
25 
Power 
4/5 
2/5 
2/5 
3/5 
5/5 
2/5 
Ease of Installation 
3/5 
4/5 
5/5 
3/5 
2/5 
2/5 
Budget 
1/5 
5/5 
3/5 
3/5 
2/5 
5/5 
Practicality 
4/5 
4/5 
3/5 
3/5 
1/5 
3/5 
The Winner
For us, the clear winner was the Scott Hydroelectric Turbine Generator.
For ease of installation, power generated, and the support provided by the Scott company (if you are not into DIY – the customer support is invaluable), this quiet-running turbine was the all-around favorite. 
How to Choose the Best Hydro-electric generator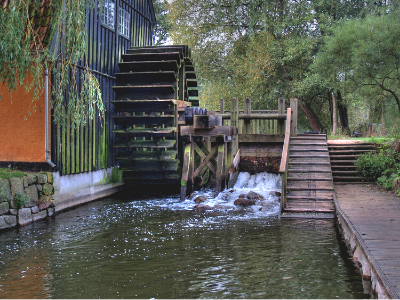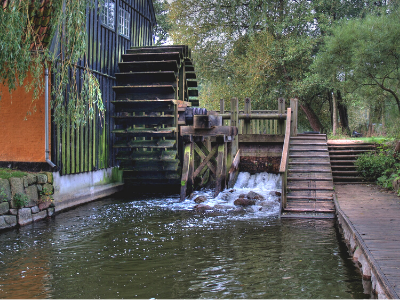 There are several things to consider when considering the purchase of a hydroelectric generator. 
First, you will need access to water. While this seems like an obvious requirement, generating hydroelectricity will often depend on location.
Knowing how much power you will need and what your surroundings are is valuable in answering this question. 
Getting an idea of how much water goes through your home piping is also helpful if you'd prefer something smaller.
Each home has different incoming water pressure, so knowing this will help you choose the right hydroelectric generator.
If you plan to utilize the generator at home and create a decent amount of power, you will need to determine your water head and flow.
Any location with less than a two-foot vertical drop for water can make it difficult to generate the PSI needed to move the turbines. 
The more pressure generated by the water, the greater the potential energy could be. The vertical distance of the waterfalls is referred to as "head." 
Flow is the gallons per minute passing through the turbine, this can be determined by filling a receptacle with a known volume and timing the flow. 
Once you know your water head and flow, it's time for some math to determine your potential watts using the formula (Pth = Ï x q x g x h) 
Variables: 
Pth = power theoretically available (W) 
Ï = density (kg/m3) (~ 1000 kg/m3 for water) 
q = water flow (m3/s) 
g = acceleration of gravity (9.81 m/s2) 
h = falling height, head (m) 
A more in-depth guide can be found on the Department of Energy's website. Although everything sounds very complicated, it is important to understand your situation and limits. 
Once you find out what kind of power you can generate and what kind of power you need, you'll have the information you need to select your best hydroelectric generator from our list. 
Frequently Asked Questions
I Have a Stream On My Property. Will it Be Able to Produce Hydroelectricity?
A: In order to answer this question, you'll need to take several factors into account. First, you'll need to calculate the head and flow of your stream using the steps we provided above.
Once you calculate the head, you'll be able to gauge how much pressure you have at your disposal to drive a hydroelectric generator's turbine.
The minimum amount of elevation for any form of hydroelectric production is 2 feet.
A good height is more around the 25-foot range, and at these elevations, top-tier generators will be producing considerable amounts of power.
You can also artificially lift and optimize elevations with the creation of weirs and small dams if you're really serious about your setup.
If your flow is under 300 gallons per minute, your source of water might have some difficulties producing energy if it isn't at a good height, but the flow isn't as important as height when it comes to most hydroelectric systems.
Will I Need to Purchase Any Additional Equipment?
A: Most likely.
In order to convert the energy you produce into something usable, you may need to acquire batteries, alternators, 3-phase rectifiers, inverters, and many other pieces of equipment depending on your setup.
Your hydroelectric generator manufacturer or reseller should be able to inform you of any additional equipment that you'll need.
Will Droughts Affect Me?
A: If the river that flows through your property fluctuates dramatically throughout the year, this may have a considerable effect on the power you're able to produce.
Some areas may only be able to produce power during certain times of the year.
Cities may place restrictions on water usage during times of drought. These situations may pose a problem for your energy production system.
Measuring your flow rates throughout the year and reading up on laws that regulate hydroelectric power production or the usage of water from rivers is a must before installing a generator.
You can view relevant information on your local government's website.