The best way to spread Christmas cheer is using solar Christmas lights that are environmentally friendly and embody your holiday spirit. There are many options in terms of appearance of solar Christmas lights, from simple LEDs to snowflakes, stars and icicles. There are even more variations in terms of the functionality and the durability of these lights.
We developed a list of lights that span many different aesthetics (shapes, sizes, colors), modes, batteries and more. In this search, we also found solar Christmas lights that are suited for the windiest, snowiest days. Winter weather can be a major threat to Christmas lights, but these are made to withstand the elements.
8 Best Solar Christmas Lights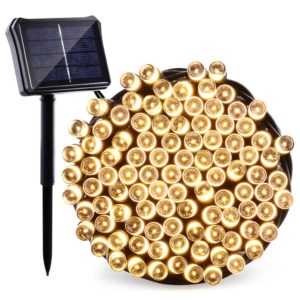 Product: One 72 ft. string of lights
Runtime: 16-hour runtime
The High Points: long string (many lights), waterproof, long runtime/short charge time, many modes
The Not-So: one pack, simple
The Qedertek Upgraded Solar String Lights are our pick for the best solar Christmas lights out there. They are somewhat simpler than other Christmas lights that we'll discuss.
However, they pack a punch in terms of power and reliability. That makes them much more versatile than the average lights.
One thing that we absolutely love is the length of these lights. At 72 feet, you'll be able to string them far along your house for a holiday glow.
Our favorite lights from Qedertek are the warm white. However, if you're looking for a different vibe, they also offer a multi-colored option for those who are really festive. There is also a blue option for those looking to match a winter theme.
What really distinguishes these lights from other options, though, is the excellent runtime to charge time ratio. On a full battery, these lights can last up to 16 hours. That is enough to get them through even the longest winter nights.
Reaching that full battery only requires 6 hours of charge. That is ideal for shorter winter days, as well.
What do Reviewers Say?
Reviewers reiterate the importance of the runtime/charge time ratio, especially those in snowy climates and places with especially short days and long nights through the winter. They say that these are the only lights they've found that are still lit up in the morning even after a day of spotty charge and a whole night of use.
Another aspect that reviewers point out as important is the lights' ability to hold up to those kinds of extreme weather events, like a snow storm, which is extra important in the winter. In their experience the lights held up well even after days of snow on end.
The one gripe that a few reviewers had with the lights is that the battery backup isn't very strong. The lights have a place for two AA batteries to act as a backup if the light doesn't get enough charge. However, some reviewers said that they felt like those batteries didn't last as long as they should or didn't work at all.
Features & Considerations
Based on what reviewers said, it's easy to see in practice that these lights are weatherproof. They also have an official rating that confirms that.
They are rated IP65, meaning that no particle or dust will be able to enter the lights. It is protected from jets of water from all sides. They are not submersible, but for any weather event, they are very protected.
A hidden feature that isn't immediately obvious are the modes available with this solar Christmas light. It has eight different modes plus off.
Users navigate through that by repeatedly pressing the mode button until they've found the desired mode. They are as follows: combination, in-wave, sequential, slo-glo, flash, slow fade, twinkle, steady on and off.
One thing to keep in mind is that this particular solar Christmas light just comes in a one-pack. However, many other ones come in packs of two, bringing down the overall price.
The other colors also cost a bit more than the warm white versions. In any case, the lights live up to the price because of their reliability.
Product: Two 72 ft. strings of lights
Runtime: 8-12 hour runtime
The High Points: many color options, long runtime, long string (many lights)
The Not-So: not that many modes, not that waterproof
If you want double the trouble, Vmanoo Solar Christmas Lights are the same size as the Qedertek ones. They measure 72 feet in length each (they come in a 2-pack).
These lights are perfect for someone that wants to string up their lights in long strands. They'd be great for lining houses or shrubbery during Christmastime.
Our favorite color for these particular lights is the blue option. However, Vmanoo also offers them in warm white, cool white and multicolored. So if your vision doesn't include blue lights, you have other color options at a similar or cheaper price point.
This flexibility – the pure quantity of lights (between both packs there are 400 individual LED bulbs) in combination with the length of the lights – makes the Vmanoo lights our second favorite of the list. You'll find that they hold up year to year and you can arrange them differently every time.
What do Reviewers Say?
Reviewers noted that the manufacturer does not provide much information about whether these lights are waterproof or dust-proof. However, they said that in their experience they hold up well.
They said that it would be preferable if there were a guarantee from the manufacturer to make replacement easier in the event of a weather-related problem with the lights. However, at the end of the day, they still felt that the lights performed well enough not to worry.
One reservation that some users had is that they felt that the lights didn't always give off the super-bright glow that they prefer for Christmas lights. Instead, on days of lower charge or at the end of the runtime, they felt that the lights had more of a soft glow than a true Christmas feel.
Features & Considerations
The Vmanoo Solar Christmas Lights have a reasonably good runtime to charge time ratio. On a full battery, users can expect them to remain on 8-12 hours. In order to achieve that full battery, users should expect them to need 6-8 hours to charge.
The positive about this ratio is that although charge time is longer than ideal, the runtime is such that even on a half-charge, they will last a good portion of the night.
One thing to keep in mind is that some of the different colors have different mode settings. For example, the blue lights have a timer setting as well as steady on and flashing on and off.
The multicolored option has a twinkle setting which the blue lights do not include. If you choose to combine different strings, it's important to keep in mind your end goal. That way, you can be sure that the combination of modes fits your needs.
Product: Two 33 ft. strings of lights
Runtime: 8-hour runtime
The High Points: many modes, simple design, easy to hang
The Not-So: moderately waterproof, unsure of charge time
Bynhieo's LED Solar String lights are the product of when fairy lights meet outdoor Christmas lights. They have the dainty aesthetic that people love about fairy lights.
They also have the durability and features that we've come to expect from high-quality Christmas lights that are meant to be outside. This makes them another one of our favorite solar Christmas lights.
Compared to other choices, the string of fairy lights is much shorter. However, they do pack a lot of brightness into small LEDs. They also are closer together and more incorporated than in the traditional Christmas light design.
Hanging them is also a little bit easier than a traditional string of Christmas lights. That is because the fairy lights are mounted to a stiff, but bendable wire.
That makes installation a breeze. It also allows users to shape them exactly how they imagine their dream decorations. That makes them extremely versatile.
What do Reviewers Say?
Reviewers also love the Bynhieo LED Solar String Lights, and praise them for being much brighter than expected, especially considering the small size of the bulb. They also were pleased with the variety of mode choices, and some reviewers were pleasantly surprised with just how different the modes are, making for great flexibility for the lights.
Even more than about the functionality, many reviews addressed the appearance of the Christmas lights. They described the lights draped across houses, in yards and over bushes as almost magical.
Features & Considerations
The runtime of these lights is average – you can expect them to last for 8 hours after a good day of charging. What makes this a little bit difficult to judge is just when these lights' battery is full of charge.
Since there is no indicator or other feature that allows users to know when they're fully charged, it can be hard to anticipate how long they'll last, but if they're getting a good amount of light, they should last a fair amount of the night.
Another thing to keep in mind with regard to these lights is that the string of lights is a bit shorter than previously mentioned options. Each string is 33 feet long and this package consists of two strings of lights, so both together almost make up the same distance of one string of other choices.
The lights seem to hold up well against the weather, especially thanks for the easy installation, which also makes it easy to secure them well. That said, they are not officially rated as waterproof.
Thankfully, the design of fairy lights in general protects against water entering, so these lights hold up well, but they should probably not be trusted in the most intense conditions.
One of the highlights of the Bynhieo LED Solar String Lights is that the come with a number of different modes to use the lights on. They include: combination, fireflies, waves, fading, chasing, fading slowly, twinkle, steady on and off. The various modes match the aesthetic of the lights extremely well, so they are a great feature to have with these particular lights.
Product: Two 23 ft. strings of lights
Runtime: 10-hour runtime
The High Points: waterproof, high light-to-length-of-string ratio, bright
The Not-So: short string
The GIGALUMI Solar Flower String Lights might look a little more spring than Christmas at first glance, but considering them more closely reveals that they actually can work well as Christmas lights and you can leave them up through the spring. They're extremely bright for their small size and their unique shape makes them easy to arrange exactly right.
These lights also have the advantage of having many lights in comparison to the length of the strand of lights. They pack 50 LED flower-shaped lights into just 23 feet of wire. The lights are very close together which makes their color pop even more and helps make up for the relatively short string.
The lights pack a lot of brightness and many lights into a relatively small package. They also have a reasonable price for that package, which is what lands them our title of Best Mid-range Option – for a medium price, they have most of the functionality of the more expensive options.
What do Reviewers Say?
Reviewers were surprised at how much they liked the flower lights strung through their trees, wrapped around their wreaths and draped over their bushes to decorate for Christmas.
They noted that the color combination of these light is pleasant and when far away, it's hard to distinguish them from other Christmas lights, but when approached, you can see the unique shape.
They also noted that their runtime with the steady-on mode for these lights was not as long as they had hoped (users noted experiences from around five to seven hours), but when switched to the flashing mode, they lasted much longer, sometimes superseding the expected runtime of 10 hours. Given this trade-off, most users were pleased with the capability.
Another aspect that reviewers raved about is that the lights actually look nice even when off. The flowers are clear when not illuminated and are on a green wire. They resemble real flowers even when off, especially when strung through greenery, making them far more aesthetically pleasing 24/7 than other options that are just plain.
Features & Considerations
These lights are rated IP65 in terms of waterproof and dustproof-ness. That means they are resistant to any particles and are resistant to jets of water from all sides. Although they can't be dunked, they will be just fine outside, sun, rain or snow.
They have 3 modes: steady on, flashing and off. On the most efficient mode, flashing, the lights can be expected to stay illuminated for ten hours and generally charge.
There is just one choice of colors for these lights – multicolored. The colors include green, yellow-green, yellow, orange, red, pink and purple and are mixed throughout the string.
The GIGALUMI Solar Flower String Lights are a great option for anyone looking to step a little outside the box with their Christmas lights, while still maintaining good functionality, all at a reasonable price.
Product: One 24 ft. string of lights
Runtime: 8-12 hour runtime
The High Points: unique, good runtime vs. charge time ratio
The Not-So: no modes, not that many lights
Users with a lower budget for their Christmas decorations might have to look for Christmas lights that aren't exactly typical to find the best Christmas lights for their needs, but the Vmanoo LED Solar Icicle Lights are a good way to make that process easier. They're large, tube-shaped lights reminiscent of icicles. They are a perfect budget option because they make the most of a limited number of lights.
Each tube has 36 LED lights, so in total, with eight tubes of lights, the Vmanoo LED Solar Icicle Lights have 288 LEDs. That makes these lights super bright, even if their design is quite simple.
What do Reviewers Say?
Reviews like both the price and the color options of these lights. They say that they look especially great hanging in trees at different heights, and in a variety of colors, which they can afford because of the budget price point.
Another feature that reviewers appreciate is the battery life. Although some found that the manufacturer overestimates the battery, most said the lights were able to stay on through the night almost every night. When the battery started to weaken, reviewers were happy to be able to easily replace it without replacing the whole light.
Features & Considerations
These lights come in a few different color options, although we think that the blue ones resemble real icicles the most. If blue isn't your color, you can also find them in white, warm white and multicolored.
In terms of runtime vs. charge time, for being a budget option, these lights perform well. You can expect a full battery after 6-8 hours of charging, which can last 8-12 hours. Even without a complete full charge, these lights can last a long time.
One downside is that some colors do not come with multiple modes. They are either on or off, which means that the runtime is set, and can't be made to last longer in a less stressing mode. That said, given the already good run-time, it probably won't make a difference to most users.
For an option that is easy on the pocketbook and still produces a beautiful, eco-friendly look, the Vmanoo LED Solar Icicle Lights are a great choice. They're sure to stand up to the test of time and weather, especially considering their IP65 rating, which is on par with other, more expensive lights.
Product: One 31 ft. string of lights
Runtime: 6-8 hour runtime
The High Points: shape, material, waterproof
The Not-So: not that many lights, not good runtime/charge time ratio
The warm white version of the Windpnn Solar Star String Lights looks like it's straight out of a painting, which is why we love them so much.
They are made of a durable ribbed plastic material that throws the light in just the right way. It appears clear when off, meaning that the lights, rather than the plastic, is what colors these lights.
Unfortunately, the runtime/charge time ratio for these lights is not good. For 8-12 hours of charging, you should only expect 6-8 hours of light. Realistically, in most places in the winter, you can only expect to get about half that amount of time of sunlight, so these lights just aren't going to stay on that long – probably around 3-4 hours per a night.
The good thing is, the manufacturer is upfront about this and potential users of this light can consider how long they'd like to leave the light on and plan accordingly. Many people don't leave their Christmas lights on all night, so if that's you and you love the star shape of these lights, they can still be a great choice.
What do Reviewers Say?
Reviews reflect this sentiment – those that recognized that they wouldn't get enough sunlight to fully charge the batteries, but that also knew that the lights would go off sometime around when they were going to sleep were pleased with the lights, because they lasted exactly how much they expected.
Some users even found that the lights lasted somewhat longer than expected even on cloudy days, making it past midnight some nights.
What reviewers do love are the lights themselves. They say that they're unique and pretty, and versatile enough that they can be used for other holidays or throughout the year just as general decoration.
Features & Considerations
As noted above, the biggest thing to keep in mind about the Windpnn Solar String Lights is the runtime/charge time ratio, which isn't great. The lights also have 3 modes: steady on, flashing and off. If runtime is a big concern, the flashing mode can also help to extend the battery life of these lights.
Another consideration about these lights is that they are bought individually, and the string of lights is just 31 feet long, with 50 lights per string. There are quite a few lights per a string, but because they just come with one string, the number is still limited.
The lights are waterproof, like other options rated IP65 to be resistant to jets of water and to dust particles. They are also available in two colors: warm white and multicolored.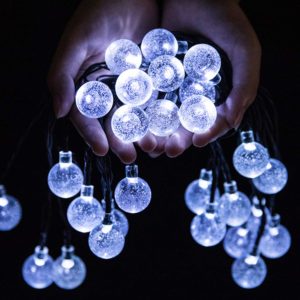 Product: Two 14 ft. strings of lights
Runtime: 8-10 hour runtime
The High Points: many modes, Christmas-y shape
The Not-So: short strings, not that waterproof
We consider these lights to be the quintessential non-Christmas light, Christmas light. Many people decorating their houses and yards for Christmas go for the typical, small LED bulb lights to create their desired effect, but one way to step away from this while maintaining a traditional Christmas vibe is by using globe lights. NIDNIONLED offers exactly that, their cool white Globe Solar String Lights.
These globe lights look a little like the spherical ornaments that are the most traditional Christmas ornaments, with plastic details that give the illusion of snow on the globes. Even in the warmest winters, these lights will keep you in the holiday mood, which is why we named them the Best Christmas-Tree Inspired Lights.
What do Reviewers Say?
Reviewers love the design of these lights, especially the special glow that the lights create because of the globe's exterior decoration. They were somewhat surprised by the size of the lights, noting that they were much smaller than they had expected, and more specifically much smaller than the spherical ornaments that they usually would put on their Christmas tree.
They also said that the lights held up well in light rain, but a few had incidents of a globe coming off of the string in the most extreme snowy weather. That said, reviewers did say that they were pleased with the materials that they were made of, because the plastic feels durable.
Features & Considerations
These lights offer a decent runtime/charge time ratio. Users should expect these lights to stay on for 8-10 hours depending on the mode and expect that they will need 6 hours to reach full charge. They come with eight modes, so in the least demanding mode, the lights should stay on even longer.
They come on two strings of 14 feet. Each string has 30 one-inch by one-and-a-half-inch lights, which are mounted to a black wire.
One thing to keep in mind about these lights is that they are not as weatherproof as other options. They have an IP rating of 44, which means that they are protect from object entering great than 1 mm and from splashes of water. The manufacturer also notes that they are not as resistant to wind as they are to the other elements.
Product: One 20 ft. string of lights
Runtime: 8-12 hour runtime
The High Points: good runtime, flexible design, waterproof
The Not-So: few lights
Some people want to get the winter spirit on even before the holidays and the Inngree Snowflake Solar String light is the perfect way to do so.
They're festive and wintery, but not explicitly Christmas-y, so they're an excellent way to start the wintertime off right with little snowflake lights that are sure to last through the whole winter because of their great durability.
With an IP rating of 65, they can be expected to withstand jets of water (and real snowflakes). Between that and their wintry shape, they qualify as our Best Wintry Lights.
What do Reviewers Say?
All reviewers were pleased with the brightness and durability of these lights. They noted that the hard plastic of the snowflake shape made them very resistant to even snowy weather, although the shape is somewhat prone to getting tangled with the wire if not installed spaced out enough. The lights were overall much brighter than they expected, so reviewers were pleased.
Some reviewers were disappointed that because each individual snowflake light is somewhat small, that from far away, it was hard to identify that the lights are snowflake shaped. They said that they were happy with the brightness and color from far away but wished that the actual snowflake was bigger.
Features & Considerations
The Inngree Snowflake Solar String Light comes in two different color options: white and multicolored. The white is neither cool nor warm white, but rather specifically a white that is reminiscent of snow, perfect for snowflake lights.
This model includes just one string of lights. That string is 20 feet long and includes 30 snowflake lights on the string. In the multicolored option, each color has seven to eight snowflakes that correspond to it, for a total of four different colors (yellow, green, red and indigo).
In terms of runtime/charge time, these lights are average. They have a long runtime, 8-12 hours, but also a long charge time, 8-12 hours. On an average day, users can probably get a little more than half a charge, but that half of a charge is still worth quite a long time of the lights being lit, given the long runtime.
The Complete Solar Christmas Lights Buyer's Guide
What Makes a Good Solar Christmas Light?
Solar Christmas lights should be festive. That's what first comes to mind in terms of all Christmas lights – but there are a few other things that go into solar Christmas lights beyond just aesthetics, although their appearance is a key factor in what makes a good solar Christmas light. With that in mind, some of the other important things to remember are as follows.
Type of Light/Type of Bulb
Christmas light fanatics know that the design and plan for Christmas lights is essential for a good display and having solar Christmas lights adds another layer to that design and plan.
For those up to the task of planning, simpler lights with long strands make for the most room for creativity. Choosing a few lights of different colors can make the best blank canvas for those hoping to put the lights into shapes.
For those that prefer to let the lights speak for themselves, shapes and modes come in handy with the lights. Our list features a number of lights that don't need an elaborate design to make an impression, like:
Snowflake-shaped Lights
Star Lights
Flower Lights
Icicle Lights
The Strand
One of the things that makes solar Christmas lights particularly useful is that they don't need to be plugged into an electricity source. That makes their placement a lot more flexible, but it also doesn't mean that they can be put anywhere – you must be able to place the solar panel kit somewhere.
So, as in the situation where the light needs to be plugged in, solar Christmas lights that come on longer strands are ideal, especially for people with elaborate plans, because it is a pain to change a plan because there isn't enough sunlight for the lights in a certain space.
Another thing to consider is the lead that the strand has. Most strands of lights have some sort of multi-foot lead between the solar panel and the first light, giving the decorator some space to set up the panel in the most strategic way possible.
Selection Criteria: How We Ranked the Best Solar Christmas Lights
Choosing the best solar Christmas light means finding ones that combine reliability with durability and aesthetics. While we know that appearance is key, we also want your solar Christmas lights to last you through many Christmases.
We considered a number of different factors to come up with a list of solar Christmas lights that are sure to perform well, so you can keep your Christmas cheer even on cloudy or snowy days.
When choosing lights for the list, we also considered what lights are most flexible in allowing users to create their own display, not limited by length of cords or placement of outlets. Here are some of the most important factors that we looked at.
Runtime vs. Charge Time
For outdoor solar lights, runtime and charge time is essential to their functionality. There are a few different combinations of this possible:
Long runtime, short charge time
Long runtime, long charge time
Short runtime, short charge time
Short runtime, long charge time
Lights with long runtimes and short charge times are best, and lights that fulfill at least one of those (either long runtime or short charge time) are also desirable, with lights that have short runtimes and long charge times only being useful in certain situations.
In our list there are many with long runtimes and short charge times, as shown above, and in our reviews, we were sure to note when this feature is present. These are especially great if you'll be putting them up in areas where full sunlight is scarce, because even on a half-charge they will still last you a few hours.
Length, Number of Lights per Strand, Number of Strands Included
For solar-Christmas-light-users looking to get the best bang for their buck, this is the most important category, especially for those looking to set up an elaborate display, all reliant on solar power.
Options with longer strands, more lights per strand and more strands are the best, in this case, because for a similar price, you can either have 30 lights on a short strand or 400 lights on a long one.
There are a few exceptions to this. Often, more decorated lights, such as those that come in particular shapes, or lights that are larger, tend to come on shorter strands, so keeping that in mind is also important.
Weatherproof and Durability
The last essential factors that we looked at were weatherproof compatibility and durability. This implies considering the materials that the lights are made of and how well they can be expected to hold up in the case of mild or even extreme weather.
When using seasonal lights that go up during one of the toughest times of the year in terms of weather, these factors are especially important. We looked at the IP rating of the lights when available and when not, we considered the personal experiences of users in order to determine how well the lights can be expected to perform.
Frequently Asked Questions (FAQ)
What do you mean by runtime and charge time?
Runtime refers to the amount of time that you can expect the light to stay lit if the battery has a full charge. Depending on the product, this can refer to the amount of time lit either on the least or most demanding. We tend to give the measure based on the least demanding setting and we will note if that is not the case.
Charge time refers to the amount of time needed for the light's battery to fully charge based on ideal conditions (consistent direct sunlight). Usually the actual charge time is slightly more because conditions are not always ideal, but often the light doesn't need a full charge to stay lit for a long time, so even under less-than-ideal conditions, the light will still be lit for much of the night.
Where do I put the solar panel that powers the lights?
In all of the choices from this list and the vast majority of all solar Christmas lights out there, the solar panel comes attached to a small yard stake which holds it to the ground. If this isn't appropriate for your needs, you can somewhat easily mount most of the panel to a wall, either with existing hanging mechanisms that the product includes or by other means, such as with zip ties.
The most important thing to keep in mind in terms of placement is making sure that the lights are in the sun. Putting them in direct sunlight is the best way to make them charge as quickly as possible, but as long as they are in the sun, they will at least receive some charge.
What if my light doesn't get fully charged during the day?
If your light isn't able to be fully charged, due to short winter days or cloudy weather, then it may not last the full advertised "runtime." Most of the batteries for the solar Christmas lights on our list need at least full 8 hours of sunlight to be fully charged, so if they don't get those full 8 hours, then the batteries won't work as long as they would otherwise.
This translates to the same outcome as any other battery that you regularly interact with, like your phone battery: less charge means less time lit up. At the end of its charge, the lights may also be much dimmer than normal or the more energy-consuming modes might not work.
When do the lights come on? Do I need to manually switch them on?
Almost all solar lights, including all of the lights on this list, run on an automatic on/automatic off system. The system turns them on when the sun goes down (or when it detects that it's dark) and turns them off when either the battery has run out or the sun has come up (or when it detects that it's light).
This can be a little bit annoying with Christmas lights because many people like to switch them on for festive occasions, even if it's not totally dark yet. One workaround for this is to cover the light sensor to make it "dark," at which point, the lights will come on.